Five-time World Motocross Champion and former Suzuki World Motocross team manager Eric Geboers has died in a tragic accident near his hometown of Mol in Belgium.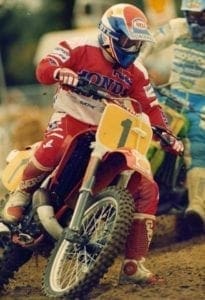 Geboers was reportedly sailing on Lake Miramar near Mol in Belgium on May 6th when he jumped from the boat to save a dog that had fallen overboard – but he immediately got into difficulties, and disappeared beneath the water. After a comprehensive search through the night and into the next day, his body was eventually found at a depth of 16 metres.
Eric Geboers was a legend in the sport of motocross having won 125, 250 and 500 world titles in the super-competitive 1980s era. The well-liked and respected Geboers was affectionately known as 'The Kid' in the MX world and became the first rider to win the 125cc, 250cc and 500cc World Championships after winning the 125 title in 1982 and 1983, the 250 title in 1987, and then the 500 title in 1988 and 1990. Among other achievements, including endurance car racing, Geboers moved on to team management with the Suzuki World MX1 team in more recent years.
Eric Geboers will forever hold a place deep in the heart of the motocross world, and MoreBikes would like to extend its deepest sympathies to Geboers family and friends.