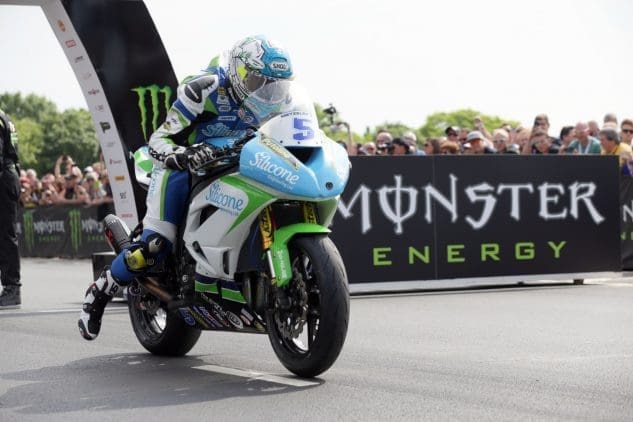 Right from the start of the race it was Dean Harrison who was away, enjoying an early lead on the first lap of two seconds over Michael Dunlop at Glen Helen, in third was James Hillier (but only just) who was half a second behind Dunlop. Peter Hickman however, was taking his usual slow start to get going on the Island and could only muster a best of fourth fastest at the end of the first sector – a full two second behind Hillier.
Hickman had closed the gap to just 0.1s at to Hillier at Ramsey but suffered in the next sector to the Bungalow, losing a second to the third place man on that first lap. Hickman, though, makes up a lot of his pace across the Mountain section.
And so it was for Hickman who got his head down and made a big difference in the final quarter of the lap. At the end of that first lap the top four across the start/finish line at the Grandstand the top four were Dean Harrison (bagging a 128.188mph lap from the standing start), Dunlop was second (127.752) with Hickman third (127.016) now 0.197s ahead of Hillier who'd dropped down to fourth (126.993).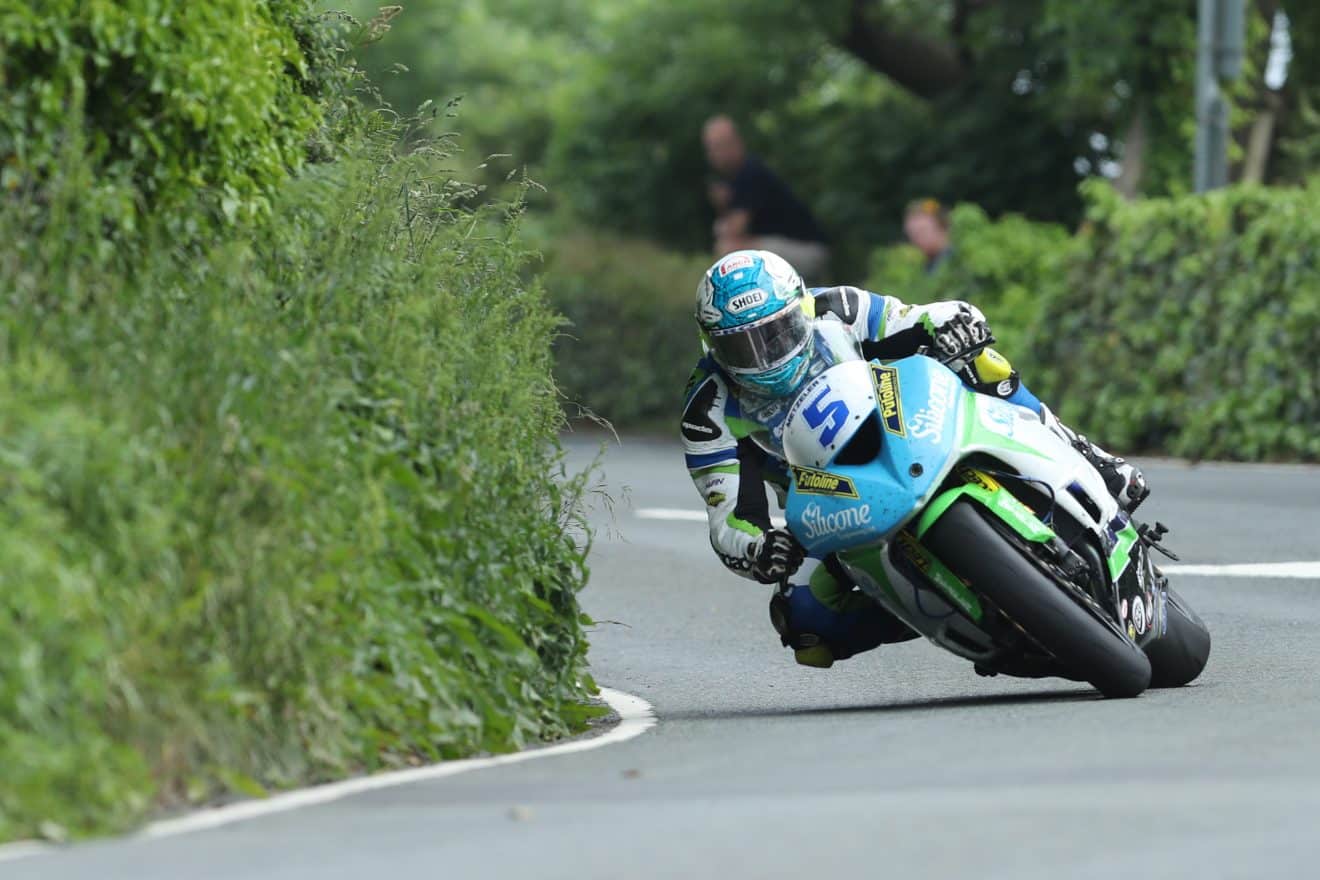 The gap between Harrison and Dunlop grew to 4.5 seconds as the second lap got well underway and at Glen Helen Hickman was in third, 7 seconds back on Dunlop and Hillier a further full second off the back of Hickman.
Into the pit-stops at the end of the second lap and Harrison was ahead of Dunlop by a full 7.6 seconds at the Grandstand bagging a 129.099mph lap – in Monday's Supersport TT race Dunlop stormed to an amazing win on the 600, breaking his own 2013 Supersport lap record en route to a brilliant lap time of 17:31.328 which equates to a 129.197mph lap in the 600cc class, Harrison came close to toppling that incredible run but couldn't quite manage it in Supersport race 2.
Back in the pits and whilst Harrison didn't change his bike's rear tyre, Dunlop did – costing him vital seconds whilst his team went to work at the end of his 128.523mph second lap. Perhaps Dunlop felt the extra pressure of spending so long in the pits, but for whatever reason the nightmare continued when he who was immediately flagged for having exceeded the 60kmh speed limit in pitlane – by doing 60.214kmh on his Honda. That small margin of extra speed for those few yards cost Dunlop dearly with an extra 30 seconds time penalty added to what he managed for the rest of the race.
Hickman was still in third coming into the pitlane, a full 9.8 seconds behind Dunlop (prior to the penalty) and 2 seconds ahead of Hillier.
With the time penalty added, Dunlop dropped down the order to fifth on the timesheets as the third lap got underway, Conor Cummins leapfrogging the Honda man up the order. By Ballaugh Harrison was in command with a strong 20.342 seconds lead over now-second place Hickman who in turn was 1.943 seconds ahead of Hillier in third. Cummins was 12.730 down on Hillier while Dunlop, clearly fuming after the time penalty, had it all to do with an 8 second gap to make it back up to fourth.
Across the Grandstand to start the final lap, Harrison, Hillier and Cummins were virtually together on the road but on the clock Harrison was absolutely flying with a 19.524s advantage over Hickman in second. Hillier in third was a further 7.946s back from Hickman on the timesheets.
By Ramsey for the final time Harrison's lead had come down to 18.8s over Hickman who was safe in the runner-up spot by 11.5s over third place Hillier. Dunlop was still trying and managed to lop three seconds off the gap between his fifth place position and fourth's Conor Cummins.
Coming into the final part of the race, Harrison was leading on the road with Hillier and Cummins in close order. But it was that Dean Harrison, the 2014 Lightweight TT winner, took the win in the Supersport TT Race 2 with a last lap of 127.784mph.
Second across the line was Hickman (127.386mph) with Hillier third (126.930mph).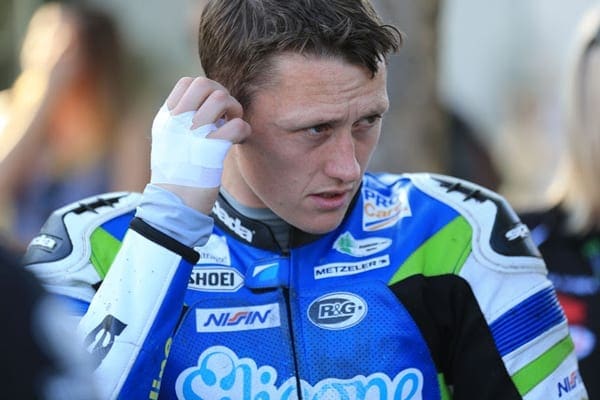 Harrison (above) said: "We've been trying all week and finally it's all paid off. The lads worked flat out. I got my head down at the start and tried so, so hard.
"Weather conditions today weren't so good for the 600 because it's so hot but we went for it.
"I wanted to keep pushing and pushing, i got a board saying +22 and I thought someone had dropped out but I know how hard Pete pushes at the end so I just kept pushing."
Hickman added: "I said before the start that Dean and Michael were proper fast on these bikes and I never go really well on the 600. I said last week that she was something of a little bitch during Practice but I was going for it and she came good in the race.
"I left the tyre in at the end of lap two. I ran the harder tyre but if I ran the softer tyre I don't think it would have made a difference."
Hillier said: "That was not easy but the last lap was really enjoyable. I knew someone dropped out and I was comfortable in third as a result. It was great to share that last half lap with Dean across the Mountain – it must have been a long half a lap for him!"
Supersport TT Race 2 result:
1: Dean Harrison
2: Peter Hickman
3: James Hillier
4: Conor Cummins
5: Michael Dunlop
---
Advert
---
Enjoy everything More Bikes by reading the MoreBikes monthly newspaper.
Click here
to subscribe, or
Read FREE Online
.
Sign-up to the More Bikes Newsletter
Enter your e-mail address below and get regular updates straight to your inbox… You can unsubscribe at any time.