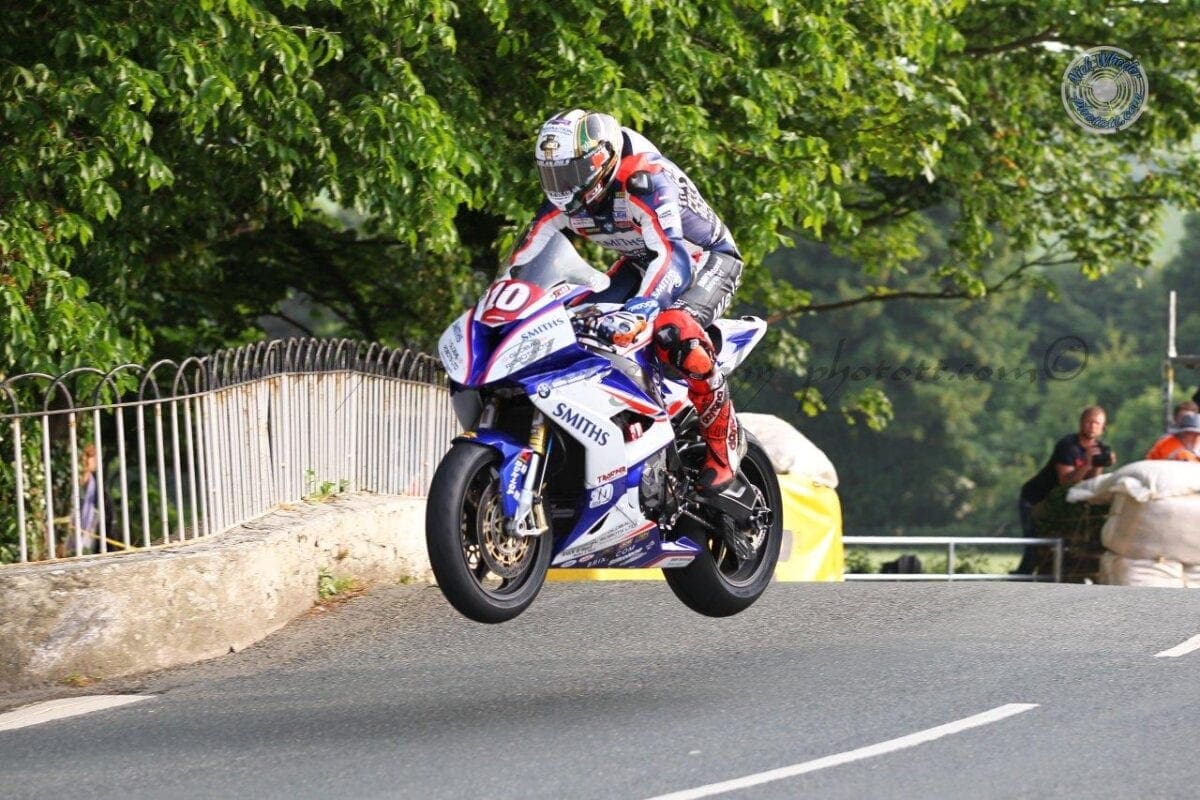 Right from the start of the race it was Dean Harrison who went fastest, quickly opening up a lead on the timesheets of 1.22 over Peter Hickman with Michael Dunlop 1.031s behind in third and James Hillier a further 2.596s off the leading trio.
Dunlop's early form was short lived however when an issue with something on the bike caused him to lose a massive six seconds between Glen Helen and Ballaugh. The huge chunk of time meant that Dunlop had dropped behind Conor Cummins and was now chasing the new third-place man by 0.8s.
At the Bungalow Harrison's lead extended slightly to 1.5 with Dunlop scrapping his way back to third with 1.37 over Cummins.
At the end of the first lap and it was David Johnson who pulled in at Grandstand, retiring from the race on his misfiring BMW. At Glen Helen later in the lap Harrison's pace was fraught, now 3.5s ahead of Hickman who in turn was 14.6s ahead of Cummins (back into third, leapfrogging Dunlop in the run from Grandstand) who had half a second over MD.
Harrison stretched his lead further at Ballaugh to 5.5s but Hickman wasn't about to be dropped so easily and pegged the advantage back; 4.6s at Ramsey turned into 2.64s at Bungalow. Along Sulby straight Hickman clocked 195.1mph as he wound the wick up.
Into the pits and Harrison was quickly in and out but Hickman nearly fell foul of his own eagerness to close down his rival. As Hickman shot away his mechanic only just managed to lock down the bike's fuel cap. It was a close thing.
Cumnins started the third lap in third but he was a huge 33.7s behind Hickman and only 0.5s ahead of Dunlop. Hickman and Harrison looked to be comfortably ahead of the rest in their private scrap at 100% over the Mountain.
The riders had to roll slightly at Barregarrow as they came through the suspension-bottoming compression and subsequent rise with yellow flags waved at them because of dropped oil. Dunlop lost a touch more time and by Bungalow on lap 3 MD was still in fourth place but this time the gap had grown to nearly 11s. Harrison looked to be away though, 6.256s was his advantage over Hickman over the Mountain.
On track, Conor Cummins had provided (intentionally or not) to Dean Harrison over the fast Mountain section and into Cronk-ny-Mona the Cummins tow combined with Harrison's incredible speed should have extended Harrison's lead over Hickman but – as oddly as it appeared – the lead shrunk slightly to 5.817s between the pair. No matter how fast Harrison was managing across the Mountain, Hickman was a bit faster.
At the end of lap 3 Harrison managed a lap time of 17m 52.232 (126.678mph) – that time was with the pitstop at the start of lap 3, Hickman in second was a full 35.6s ahead of Cummins who, in turn was 13.665 ahead of Dunlop.
Lap 4 and Dunlop dropped to nearly 16s by Glen Helen (early on the lap), Hickman had just sneeked a bit back on Harrison (5.477s). Dunlop was starting to stray dangerously close to the attack territory of Josh Brookes who was still a chunk of time back from fourth place but had upped his pace and looked terrific on the Island.
Seven seconds was the gap between Harrison and Hickman at Ramsey on lap 4 with Dean controlling the gap well. 43.4s back was third place Conor Cummins with Michael Dunlop still in the race but a full 23s behind CC in fourth.
Michael Rutter pulled over at Ramsey Hairpin to check something on the Bathams bike before rejoining the race, dropping him from seventh to eighth on the timesheets.
Hickman set a sector record on lap 4 from Ramsey to Bungalow, taking Harrison's advantage down to 4.4s as the pair hit the last bit of the Mountain, that gap THEN fell to 3.083s as they came into Cronk-ny-Mona – it DROPPED further to 1.4s as Hickman came into the pits.
Hickman had just set the fastest EVER lap of the TT in his chase of Harrison on lap 4, bagging a 134.456mph lap (16m 50.202s). Suddenly Harrison's security in the lead that had been up to an advantage of 6s+ a lap ago looked very sketchy indeed.
Michael Rutter and Ian Hutchinson retired from the race in the pits.
Onto lap 5 and Harrison was pushing as hard as ever, head down he blasted through the tree-lined section alone as Conor Cummins, second on the road, was baulked by a slower rider.
Incredibly, Harrison's run from Grandstand to Glen Helen must have been even faster than Hickman's comparative speed (or cleaner with slower riders now coming into play in the order of things) because the gap from leader to second was back up to 6.267s in the first part of the course.
Hickman was safe in second, 54.144s ahead of Cummins with Dunlop a further 29.955s back – pulling away from Brookes in a distant fifth, some 42.443s back.
By the next checkpoint, Ballaugh Bridge, Hickman had pulled 1.6s back on Harrison with the gap now falling, down to 5s splitting them.
Into Ramsey Hairpin and Harrison was right into slower traffic as a gaggle of seven slower riders were scrapping amongst themselves – as Harrison made his way up to Waterworks Harrison had to pick his line carefully.
Up to the Bungalow and Harrison's lead was dropped to 3.639s as Hickman once again got into his stride over the Mountain. With a lap and a third to go such a small gap separating the two – and given Hickman's pace over the Mountain and new outright lap record which he'd just set – the atmosphere was electric. Hickman was coming for Harrison at the end of the Senior.
End of lap 5 and the start of the final lap in the big bike race and the gap was ticking down at Grandstand – 2.5 was the gap at Cronk-ny-Mona between Harrison and Hickman, 1.9s split them on the clock over the line. After five lap-record-setting-pace circulations of the Mountain, Harrison and Hickman were split by less than two second. 37.73 miles of road racing have seldom seemed so focused.
Peter Hickman smashed in another sector lap record with a 56.394s time from Cronk-ny-Mona to Grandstand. As if anyone needed any more indication of just how hard he was pushing…
The last lap thriller continued as Hickman got baulked by slower riders at Glen Helen. The traffic cost Hicky dearly and with no choice but to roll the throttle slightly the gap between Harrison and Hickman grew to 3.738s.  Having hit the traffic at one of the worst stretched of the Mountain Course and Harrison pushing so hard, Hickman had to pick his way past the slower riders carefully and by Ballaugh Bridge the gap was up to 5.742s.
In fact Harrison and Hickman both lapped at over the 135mph mark from Ramsey to Ramsey. Harrison also smashed a new sector record for Grandstand to Glen Helen. Both Harrison and Hickman were destroying the records in a way reminiscent of the Carl Fogarty/Steve Hislop battle of 1992.
At Ramsey it was Hickman who came back at Harrison, pulling the gap down to just 2s and the fast riders continued to make their way through the traffic in the run out of the Ramsey Hairpin and onto the section of the Mountain where Hickman had smashed records and stunned race watchers with his pace – there was barely anything between the front two.
HICKMAN absolutely smashed the Mountain on the run up to Bungalow (another new sector record) on the final lap, taking the lead for the first time in the Senior to lead Harrison by 0.834s in a stunning run up the first part of the Mountain.
Harrison crossed the line with a best of 134.918mph (that, as he crossed the the line, was an absolute lap record) but that was BLOWN away by Hickman who ended his race with a WIN by 2.061s for a new lap AND race record.
Peter Hickman clocked an amazing lap of 135.453mph (16m 42.778s) to take the win ahead of Dean Harrison with Cummins finishing third a minute and 40.433s behind Harrison.
Dunlop eventually crossed the line 54.756s back in fourth.
Hickman said: "What can I say, what a tough race! Dean was absolutely on it you know, credit to him. He was leading the whole race and I was losing it in the first couple of sectors but I could catch him over the Mountain. It was mega.
"The Smiths BMW is working mega. It was a bit difficult in the first couple of sectors but over the Mountain it was sweet and as a nut.
"I passed the slower riders as cleanly as I could. I got held up in KirkMichael which is usually a good place for me."
Harrison added: "Over the moon. I had good pace but it's frustrating to lose four seconds behind slower riders and then lose the race by two in the end.
"Not easy but at the end of the day it's been a really good day and I'm happy with that. I'd have liked the win but there's next year to look forward to for more to come."
Result:
1: Peter Hickman 135.452mph (16m 42.778s)
2: Dean Harrison
3: Conor Cummins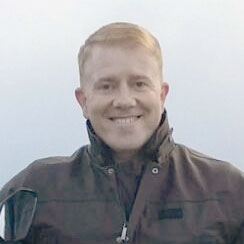 Latest posts by Tony Carter
(see all)
Does this get you revved up? Tell us why...
---
---
Subscribe to MoreBikes Newspaper
Get MoreBikes delivered through your letterbox every month. 12 issues for £15. Click here for more information.
---
Get MoreBikes.co.uk Updates
Enter your e-mail address below and you will receive biking news straight into your inbox...



You can unsubscribe at any time.
---