Over the last few of months, we've brought you news of Bosch's radar system and revealed that KTM and Ducati are working on integrating it into its new models for 2020 – and our friends at Young Machine have spotted a KTM 1290 Super Adventure S kitted out with the clever new tech.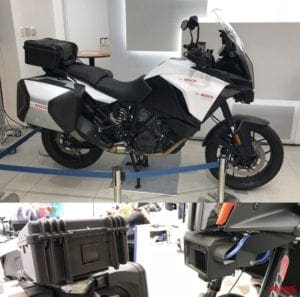 We've covered the details of the technology in previous articles (which you can view at this bottom of this page) – so we know about the ACC (Adaptive Cruise Control), FCW (Collision Prediction Alert), and BSD (Dead Angle Detection) that the system will feature – but we've never actually seen the unit in the flesh. Until now.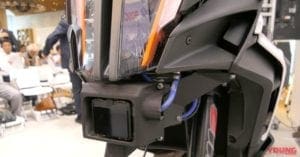 Our friends in Japan have clocked a KTM 1290 Super Adventure S with Bosch's radar unit tucked under the headlight at the front, and a rear radar installed on the cargo rack.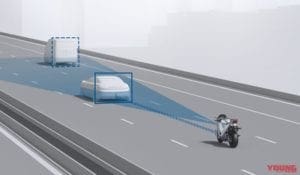 Speaking to Young Machine, Project Manager Thomas Maurer said that the radar rider assistance system for motorcycles is in its first generation – and as you'd expect, Bosch are working on evolving the radar system, developing more sophisticated rider assistance. Maurer also added that enhancing safety using the radar system will not affect the enjoyment of riding a bike.
https://www.morebikes.co.uk/23305/side-view-assist-from-bosch-gives-you-eyes-in-the-back-of-your-head-kind-of/