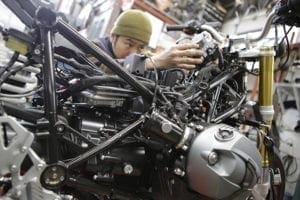 February 2014 was the start of a new and unique BMW Motorrad project. Gathered together in one room in Japan were four professional bike builders and one motorcycle – the new R nineT custom boxer. This meeting was the beginning of a four month plan for the respected artists to develop, build and create their own interpretations of a customised R nineT…
There was no boxing ring and no umpire – it's not that kind of competition – instead, a couch and several chairs. The four men are all highly skilled and respected in the bike-building community, and had been waiting for their first sight, touch and even smell of the new R nineT. Yes, they'd all seen the images, read the technical literature and press reports about this truly original machine, but as the dust sheet that covered the R nineT was lifted, the atmosphere in the room shifted from one of intrigue and interest to deep thought, kindled by imagination.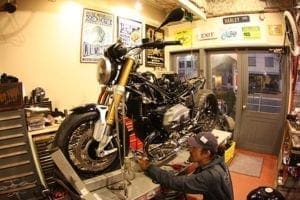 Because the R nineT is a global product, it is only right that BMW Motorrad should showcase the ingenuity of people worldwide. The results of creative minds should not be limited by distance and creed but rather showcased in the best possible way. For this reason BMW Motorrad's latest marketing project is a simple one. In the timescale of four months, respected Japanese custom specialists, Shiro Nakajima, Hideya Togashi, Go Takamine and Kaichiroh Kurosu will ply their trades of skill and imaginative bike building to produce four very individual customised R nineT motorcycles.
The four gentlemen involved may not be instantly recognisable to bike fans outside of Japan, but their company names and previous builds are recognised worldwide. Custom motorcycle championships, media publications and specialised websites have all paid tribute to the immaculate engineering, artistic merit, mechanical beauty and exquisite detail their creations exude. In a nutshell, these are the bikes that make us realise that nothing has to be the same, and personal customisation is another doorway to liberty.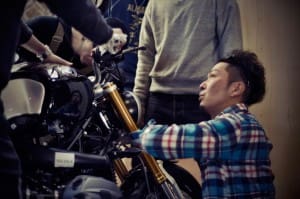 Shiro Nakajima
Shiro Nakajima is the man who formulated the essence of customising BMW motorcycles, in Japan. It stems from his early days as a journalist and editor of Japanese automotive magazines. In 2001, Shiro founded specialist custom and tuning shop Ritmo-Sereno. In no time at all, his café racer BMW bikes caught the imagination of many people, not just in Japan but across the world. Others soon followed his creative style and Ritmo Sereno became a portal for inspiration. Recently, Shiro decided a new challenge in life was needed. From the beginning of this year, Shiro Nakajima has started a new business venture in Yatsugatake, a beautiful mountainous area of Japan and home to many artists and crafts people. Although he will still focus on building special motorcycles and servicing, making classic car parts and furniture are also on his list. 46Works is the name of his new venture.
Hideya Togashi
Hideya Togashi is from Hide Motorcycle, also known as Hidemo in Japan. Hideya has an enviable reputation for building exquisite Harley-Davidson custom bikes underlined by the numerous awards won at major custom bike building championships. These include 'Best Of Show Motorcycle' in Yokohama Hot Rod Custom Show in 2006 and 2007; second place in Jammer Cycle Award in 2007; a top ten placing in the AMD European World Championship in 2007; second place at New Order Chopper Show Kobe in 2008, and more. There is, of course, the fame associated with having his machines placed on the front covers and pages of custom magazines worldwide.
Hide Motorcycle started off in Yokohama in 2001 and relocated to Kawasaki in the Kanagawa Prefecture between Tokyo and Yokohama in 2003. Its machine shop section is geared towards one-off motorcycle fabrication and specialised components – which suggests something extreme for the R nineT could be on the way from Hideya Togashi.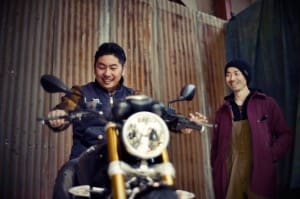 Go Takamine
Go Takamine is a true representative of modern day urban customising. There are not many manufacturers whose bikes have not been sprinkled with Go's custom skills during his 16 years trading as Brat Style. From Harley-Davidson to Triumph, and the old school XS, SR Yamahas and W650/800s of Kawasaki, Go Takamine has crafted original versions of these machines.
Street tracker, chopper and bobber are all build styles that Brat Style specialises in. And if anyone likes the look of a particular machine built in the Brat Style custom house, the chances are the components used on the bike are available as accessory parts via Brat's popular internet shop. Knowing that Go can turn his hand to any style of machine, no one should place a bet on what particular style his R nineT project bike will take.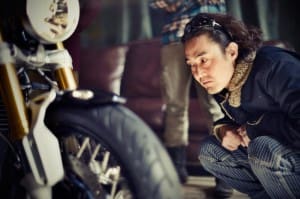 Kaichiroh Kurosu
Kaichiroh Kurosu of Cherry's Company is also a show winner. For the past two years he has walked away from the Yokohama Hot Rod Custom Show (HRCS) with the 'Best Of Show Motorcycle' prize – not bad going considering the quality and amount of competition that attends this world recognised and attended show.
Since the arrival of Cherry's Company in 2000, the Tokyo-based 'chop shop' has always used a simple formula for even its most creative, show-stopping motorcycles. "Run, stop and turn" are the basic elements of every motorcycle. And even though Kaichiroh builds his bikes with the meticulous attention of a cut diamond producer and the artistry of a master, all his bikes are designed to be ridden and turn heads while doing so. Like the other members of this elite group, Kaichiroh has the form and dedication to produce something magical from a standard R nineT.
And so the fun, creativity and sweat are ready to be applied. We now know the leading roles involved in this latest BMW Motorrad project so it's our turn to sit, watch, and wait until the next game changing move. As they say, watch this space for an update on the project, coming soon.
But if you can't wait that long, please visit www.r9t.jp for the latest status, and don't forget to check in at the R nineT webspecial (www.bmw-motorrad.com/ninet) for all the news on this exciting boxer custom.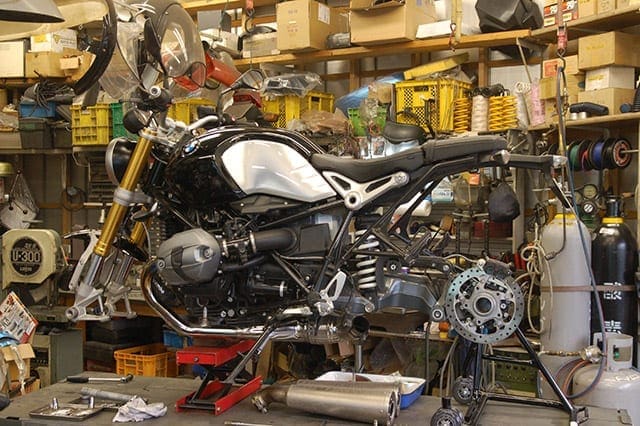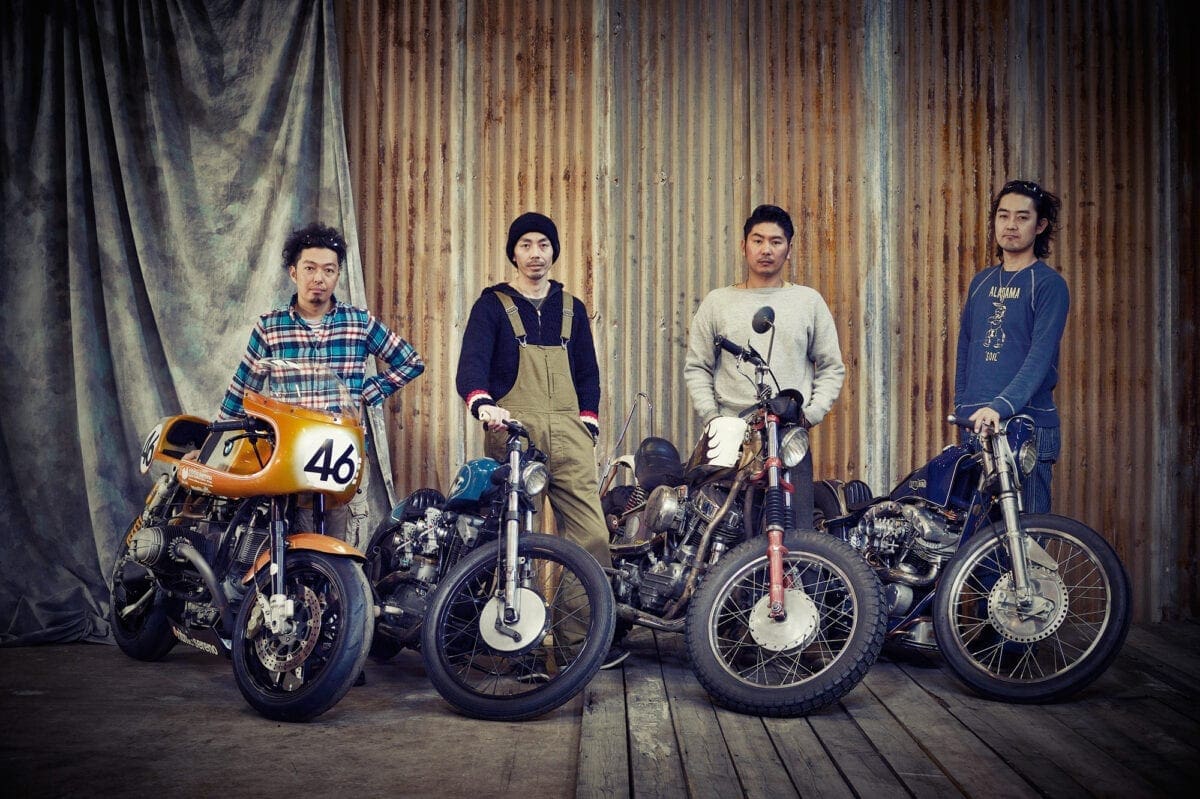 ---
Advert
---
Enjoy everything More Bikes by reading the MoreBikes monthly newspaper.
Click here
to subscribe, or
Read FREE Online
.
Sign-up to the More Bikes Newsletter
Enter your e-mail address below and get regular updates straight to your inbox… You can unsubscribe at any time.