26-year-old Californian student Jeremy Carman has created one of the strangest two-wheeled projects we've ever seen; The MotoHome.
The base bike is a '93 Honda CBR1000F, but Carman's made a few changes to make the bike more capable on challenging terrain (and to take the weight of the cabin at the rear). In essence, he's replaced the entire front end with one from a Honda CR500 – and has redesigned the rear frame to support the bed cabin and storage compartment. The main change is a modified swingarm, which is much, much longer than the standard one – but still houses the original rear wheel. Clever, right?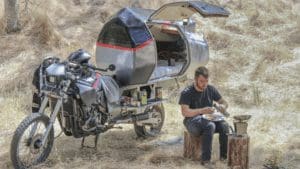 He's managed to keep the weight down, building the cabin from an aluminium frame and covering it in fiberglass. It is 183cm long, about 100cm high and around 86cm – and yet it weighs only 32kg (unladen). Altogether, the MotoHome weighs about 280kg – the same as a big Cruiser.
Carman is planning to use the MotoHome to embark on a long journey through South America, including the Andes, and back again. At the minute, he's looking for investors – but in the meantime has started to test the MotoHome thoroughly. Here's a video of his creation in action…
For more information on the MotoHome project, click HERE.