Ducati has been working with Audi, testing its new vehicle-to-everything (V2X) communication system for motorbikes and cars – that hopes to stop collisions between cars and motorcycles.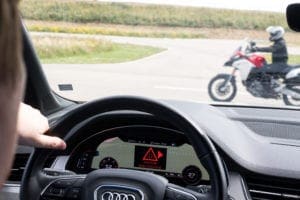 Ducati has outlined a strategic line, called the "Safety Road Map 2025", for the development of new safety systems and technologies for its machines. The first steps in the strategy are to extend ABS Cornering to its entire range, and to introduce a bike with front and rear radars to the market by 2020.
But that's not all; the iconic Italian brand is experimenting, looking at a range of new technologies that will equip its bikes in the medium and long term. Arguably the most exciting of these technologies is C-V2X. Essentially, it is a wireless communication system that talks between cars, motorcycles, pedestrians, bicycles and infrastructure. And they've been out testing…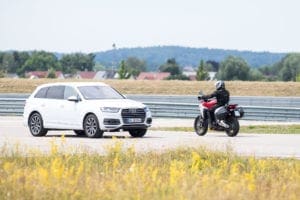 Using an Audi Q7 and Audi A4 and a Ducati Multistrada 1200 Enduro – Ducati demonstrated common situations that can take place between motorcycles and vehicles, and how C-V2X technology can be used to help improve road safety. These include Intersection Collision Warning, where a vehicle equipped with C-V2X technology pulls out from a junction with an adjoining road and avoids hitting a motorcycle rider who has the right of way, as well as Across Traffic Turn Collision Risk Warning, in which a vehicle avoids a left turn collision with a motorcycle. Finally, there's also a warning of sudden braking of the vehicle in front.