The King of Cool's 1970 Husqvarna 400 Cross which appeared in the cult documentary, On Any Sunday and on the front of Sport Illustrated, is set to be auctioned by off by Bonhams.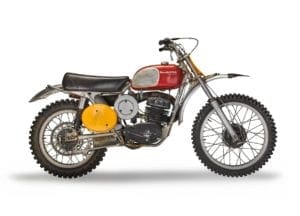 The 1970 'Husky' 400 Cross was owned by the Hollywood legend, and comes with extensive documentation, including the ownership card from the California Department of Motor Vehicles naming Solar Productions (McQueen's own production company).
That's not all – McQueen's entry form for the 1970 Saddleback 500 Senior Race, and a lucky penny – an uncirculated 1960 1¢ coin (1960 being the birth year of son Chad) – that was found inside a clear plastic case tucked away in the cavity of the motorcycle between the engine and frame – are also included in the sale.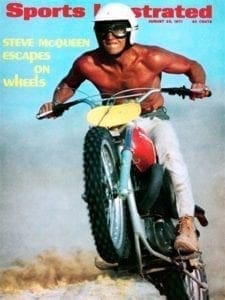 You can register your interest at Bonhams now if you're keen – but don't expect a bargain. In 2009 a Triumph which belonged to McQueen sold for $84,000 (just over £50,000).
The Bonhams sale will be held during the Barber Vintage Festival on Saturday, October 6 at the Barber Motorsports Museum in Birmingham, Alabama, USA. For more information, visit: www.bonhams.com