Yamaha Factory Racing Team has claimed its fourth consecutive Suzuka 8 Hours win despite stiff competition from Red Bull Honda with Japan Post and Kawasaki Team Green. Another Japanese squad also stepped into the limelight: F.C.C. TSR Honda France, the first Japanese team in the championship's history to win the FIM EWC title.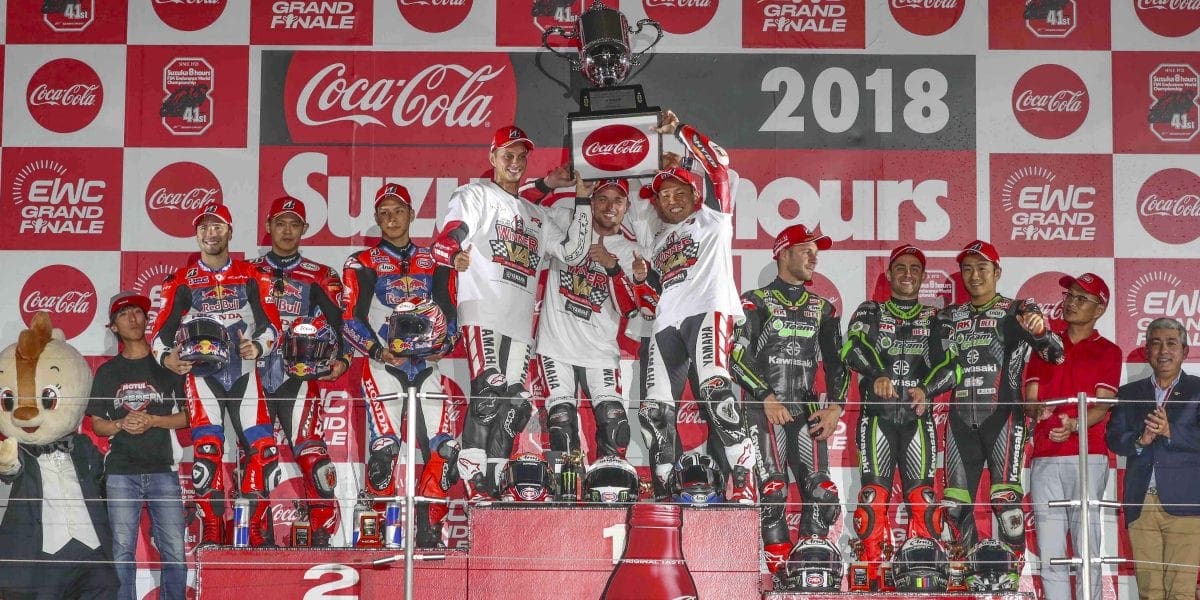 The 41st Suzuka 8 Hours kept viewers in suspense until after nightfall. Following duel after thrilling duel for the lead between Kawasaki Team Green and Yamaha Factory in the early stages of the race ahead of Red Bull Honda with Japan Post, in the end it was Yamaha Factory Racing Team that won the day. The factory Yamaha squad claimed victory with the same rider line-up as last year: Katsuyuki Nakasuga, Alex Lowes and Michael van der Mark. This is the fourth consecutive win for both Yamaha Factory Racing Team and Katsuyuki Nakasuga. The Japanese rider smashed the record so far held by Aaron Slight, the Suzuka 8 Hours winner from 1993 to 1995.
Having led the race at the start on a soaked track, Red Bull Honda with Japan Post (Takumi Takahashi, Takaaki Nakagami and Patrick Jacobsen) finished 30 seconds behind the winner. Kawasaki Team Green, who were one lap behind, came in 3rd after being front and centre throughout the first half of the race. Kazuma Watanabe, Jonathan Rea and Leon Haslam waged a lengthy battle for the lead with Yamaha Factory Racing Team. However, a rain shower threw Kawasaki's plans into disarray. Jonathan Rea crashed as he was entering the pits to switch from slick to wet tyres, causing the Kawasaki squad to lose precious time.
Suzuki S-Pulse Dream Racing IAI (Hideyuki Ogata, Tom Bridewell and Kasuki Watanabe) ran a flawless race to finish at the foot of an all-Japanese podium featuring Yamaha, Honda and Kawasaki.
F.C.C. TSR Honda France crowned FIM EWC champion
A 5th-place finish made F.C.C. TSR Honda France (Freddy Foray, Alan Techer and Josh Hook) the first Japanese team in the championship's history to win the FIM EWC title. Despite stepping up the pace towards the end of the race, GMT94 Yamaha's David Checa, Niccolò Canepa and Mike Di Meglio finished 6th. Christophe Guyot's team are vice-champions of the 2017-2018 FIM EWC, 7 points behind the brand-new world champion. They were also awarded the Anthony Delhalle EWC Spirit Trophy for sheer perseverance in their quest for the world title.