SWM's new importers 3X Motorcycles has just announced a £500 price reduction for its Six Days 440 scrambler – meaning you can get your hands on one of the retro-styled Italian machines for £4999.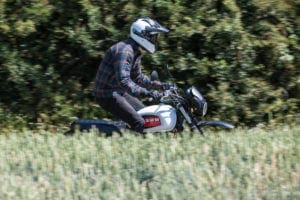 TEST RIDE: SWM SIX DAYS 440
Since its inception in Milan in the early 70s, SWM made a name for itself building a range of innovative, small capacity machines for Trials, Enduro and Motocross. Founded by Piero Sironi and Fausto Vergani in Milan, in reaction to the off-road successes of Japanese manufacturers in the early '70s – SVVM (or Sironi Vergani Vimercate Milano) enjoyed some serious success on the world circuit for twenty years, taking titles across a wide breadth of off-road competition.
But it didn't last. Sadly, SWM went in liquidation in 1984 and production ceased. And that was it for 30 years, until Ampelio Macchi (formerly an engineer with Cagiva, Aprilia and Husqvarna) got his hands on the SWM brand and joined forces with Chinese businessman Daxing Gong – and together they kicked off its resurgence, unveiling six new models at EICMA 2014. Interestingly, despite the Chinese connection, SWM has chosen to keep manufacturing in Italy – and maintain its historic roots to the region, basing the brand at a former Husqvarna manufacturing plant in Lombardia. But that's enough about SWM's illustrious if not brief history; let's get into its latest model, the Six Days.