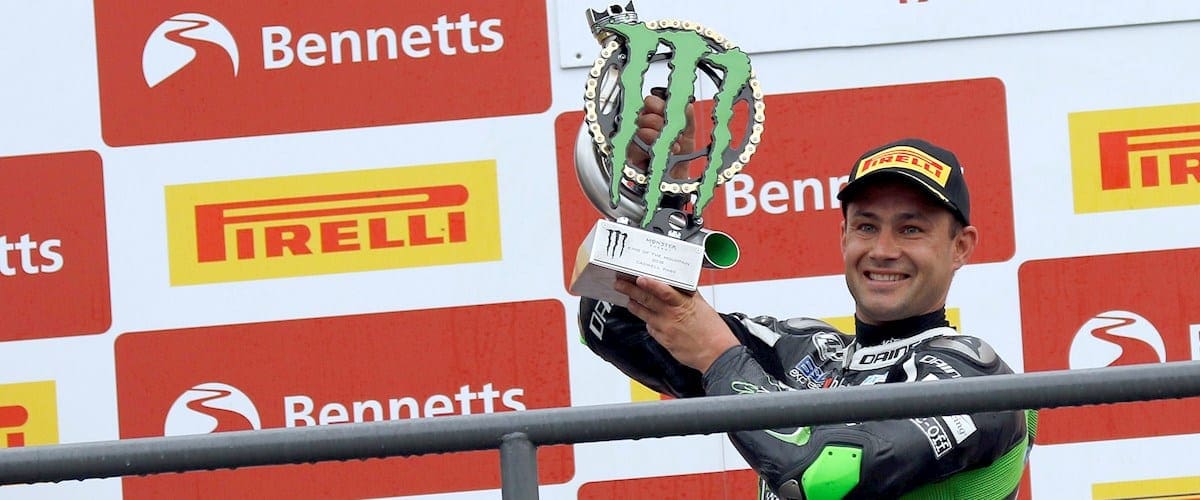 Leon Haslam was crowned the Monster Energy King of the Mountain at Cadwell Park this afternoon after he celebrated a double win at the Lincolnshire circuit despite the attack from Jake Dixon as the pair now have their places confirmed in the Showdown ahead of Silverstone.
Bradley Ray had got the holeshot off the line from Haslam, Dixon and Glenn Irwin on the opening lap with Peter Hickman and Josh Brookes giving chase, but Tommy Bridewell was making moves to fight through the pack and he was soon up to fifth.
Bridewell then made a move on Glenn Irwin on the brakes at Park and that put him into fourth but the Moto Rapido Ducati had his progression curtailed when he crashed out unhurt at Barn on lap six. Tarran Mackenzie was another rider to end his race prematurely when he slid out at Charlies four laps later.
At the front Ray was holding off Haslam as the pair were too close to call, but the championship leader was hunting and he moved into the lead on lap 12 with a move down the inside on the brakes at Park. At the same time Dixon was able to take advantage too which pushed Ray back into third as the leading trio had edged ahead.
A lap later and Dixon grabbed the lead from Haslam, but on the penultimate lap the JG Speedfit Kawasaki rider went for the counter attack and he regained the lead at Park. Dixon was then piling on the pressure and he went for a similar move on the final lap but it cost him as he dramatically ran off track and onto the grass before rejoining allowing Ray to grab second.
Haslam crossed the line with a 5.091s lead after Dixon's error with Ray claiming second and Dixon third with Peter Hickman maintaining his position in the top six in the standings with a strong fourth place on the Smiths Racing BMW, holding off Glenn Irwin.