Romano Fenati isn't the first rider to lose his cool while racing. That's no excuse – but throughout the history of MotoGP, some of the greatest names in motorcycling have made some irresponsible and erratic decisions that have put other riders at risk. Here are some of the most famous incidents…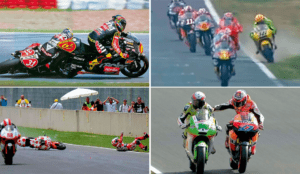 Freddie Spencer vs Kenny Roberts. Sweden GP 1983
Although there are no images of the incident, young Freddie Spencer pushed his way past three-time world champion Roberts in Anderstop – much to Roberts' frustration. Kenny Roberts later said, after losing the title by only two points: "The FIM must have acted because it could have killed us both, for my win it was important, but it was nothing more than a f*****g motorcycle race."
Fausto Gresini vs Hans Spaan. Australia GP 1990
Fighting for the 125cc title at Phillip Island, Italian riders Casanova, Romboni and Gresini decided to join forces and cause some problems for Spaan – and help little Loris Capirossi win. The Italians got away with it; Capirossi won the race and the title – while Spaan finished up in fourth place.
Luca Cadalora vs Helmut Bradl. Italy GP 1991
The Italian and the German riders were battling all season – but their hottest duel took place at Misano, with Cadalora and Bradl fighting (with elbows) right up to the chequered flag. In the end, Cadalora took victory by a scarce 9 thousandths of a second.
Álex Criville vs Mick Doohan. Australia GP 1996
It was the last race of the year and the Eastern Creek circuit helped provide a spectacular battle between the current champion and his challenger. Spirits were high all season – but everything kicked off when Criville took Doohan out as the pair battled for first place. Years later the Criville admitted that his intention had been to hit his teammate.
Loris Capirossi vs Tetsuya Harada. Argentina GP 1998
Capirossi and Harada were battling for the title – with the Italian four points in the lead. During the last lap, Rossi led the race, Harada was second and Capirossi was third – which would have meant that the Japanese rider would win the Championship. Until Capirossi decided to knock him off…that is. Capirossi was disqualified from that GP in the end, but he got his way and was crowned the 250cc World Champion.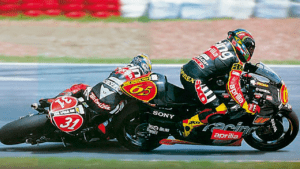 Marco Melandri vs Emilio Alzamora. Argentina GP 1999
Almazora arrived at Buenos Aires at the top of the leaderboard, six points ahead of a very young Melandri. But on the last lap, Melandri waited for him and tried to hold him back – and hinder his pace.  In the end it was Alzamora who ended up claiming the 125cc championship.
Max Biaggi vs Valentino Rossi. Japan GP 2001
It was the first race of the season but Biaggi already knew that Rossi was one to watch. Unable to defend himself from his Rossi on the outside, Biaggi took out his elbow and took Valentino to the floor. On the next lap Rossi passed him and took out his middle finger. Rossi later described Biaggi's actions as "attempted murder".
Fonsi Nieto vs Toni Elías. South Africa GP 2004
Very similar to the incident between Fenati and Manzi – during the first racing of the season Nieto activated the brake lever of Elias, allowing him to overtake. Nieto justified his actions by saying "these things are part of the competition."
Valentino Rossi vs Sete Gibernau. Spain GP 2005
The first race of the season marked the first battle between Rossi and Gibernau. Passing each other several times on the last lap until they reached the last corner, Sete went ahead and made a defensive manoeuvre to prevent Rossi from squeezing through. But Rossi found a way, leaning on Gibernau's Honda and pushing him onto the gravel.
Jorge Lorenzo vs. Alex De Angelis. Japan GP 2005
In his first year in MotoGP, Lorenzo had several accidents that showed him as an overly aggressive rider. Motegi was the big one tough, battling for the prodium with De Angelis. In a controversial and unusually tough decision, Race Management decided to sanction Lorenzo for that accident and his background, with a penalty race. Lorenzo recently remembered this sanction and described it as "just".
Dani Pedrosa vs. Nicky Hayden. GP of Portugal 2006
Hayden lost his advantage over Rossi in the penultimate race of the year at Estoril. The American went to the ground after his teammate, Pedrosa passed him. The manoeuvre itself was not dangerous or unsportsmanlike, rather a rookie mistake from Pedrosa in his first year in MotoGP.
Marco Simoncelli vs Héctor Barberá. Italy GP 2008
Simoncelli and Barberá were fighting for the win, before the Italian intentionally touched the front brake of his Aprilia – throwing him from his bike. Barberá described what happened as an "unsportsmanlike and illegal manoeuvre" and despite the claims of his team, Race Directorate saw nothing punishable as Simoncelli went on to win the race, and later the 250cc title.
Casey Stoner vs. Randy De Puniet. French GP 2011
Stoner pummelled De Puniet in a warm-up session at Le Mans – when the session was already finished. Direction of Race sanctioned him sanctioned with 5,000 euros fine. Speaking about the altercation, Stoner said: "I left the curve at 200 km / h and Randy was about 100 slower, my heart went to my throat because you feel like you're going to die for half a second and it's a horrible feeling."
Marco Simoncelli vs Dani Pedrosa. French GP 2011
Fighting for second race with Pedrosa on the inside, but Simoncelli decided to try and pass him on the outside. Pedrosa ran out of space and ended up on the floor – as a result of the move and Race Management acted immediately and sanctioned the Italian with Ride Through. Pedrosa not only left Le Mans with 0 points, but he also fractured his clavicle and was forced him to miss four races, which left him out of the running for the MotoGP championship.
Johann Zarco vs Nico Terol. Catalan GP 2011
2011 was the year when Terol dominated the 125cc championship – and his main rival was a young and impulsive Zarco. Challenging Terol, Zarco ended up taking out his competitor – and as a result Race Management denied him his first victory, sanctioning him with a 20 second penalty which dropped him back to sixth place.
Marc Márquez vs Pol Espargaró. Catalan GP 2012
Taking advantage of Marquez's wide line, Espargaro tried to squeeze up the inside of the Spaniard. But Marquez closed his line at the last moment and hit Espargaró – knocking him to the ground. Race Management gave Márquez a one minute penalty, but his team appealed and the penalty was lifted.
Marc Márquez vs Jorge Lorenzo. Spain GP 2013
Fighting for second position, Márquez did a "Rossi" and forced his way past Lorenzo on the last corner at Jerez. Back in the paddock, Lorenzo refused to shake Marquez's hand – and didn't want to comment on the young Spaniards move.
Jack Miller vs. Alex Marquez. Malaysia 2014
During the penultimate race of the season in Malaysia, there were a total of six contacts between Miller and Álex Márquez – most with the apparent intention of knocking the leader off course. The Spanish team appealed to the Race Directors, but they decided not to sanction and leave the GP open ahead of the final race of the season.  
Romano Fenati vs Niklas Ajo. Argentina GP 2015
This is another example of Fenati's erratic behaviour. Unhappy with Ajo, Fenati kicked, pushed and then turned his bike off. Race management imposed three pass points to Fenati for unsportsmanlike behaviour, and the Italian had to get to go to the back of the grid.
Valentino Rossi vs Marc Márquez. Malaysia GP 2015
Who doesn't remember that infamous race in Sepang? It all started during the press conference on the Thursday, with Rossi accusing Marquez of helping Lorenzo win the Championship. Márquez answered him back on the track – that is, until Rossi took him out. Was there a kick? Was it all just a part of the highest level of racing. The debate raged on for months and the image went around the world – and it ended up with Rossi being sanctioned and having to start at the back of the grid in Valencia, ending his chances of getting his hands on his tenth title.
Marc Márquez vs Valentino Rossi. Argentina GP 2018
After stalling his bike on the grid, Marquez managed to restart his bike and return to his place – but instead, he should have taken his bike off the grid and started from the pits. Marc was sanctioned with a 'ride through' and after fulfilling it – he launched in a crazy comeback with an unexpected outcome. The Spaniard forced his way up the inside of Rossi – eventually knocking him to the floor. As a result he was penalized with a 30 second penalty once he crossed the finish line.

Latest posts by Ross Mowbray
(see all)
Does this get you revved up? Tell us why...
---
---
Subscribe to MoreBikes Newspaper
Get MoreBikes delivered through your letterbox every month. 12 issues for £15. Click here for more information.
---
Get MoreBikes.co.uk Updates
Enter your e-mail address below and you will receive biking news straight into your inbox...



You can unsubscribe at any time.
---