Tested by: Mikko Nieminen | From £549.99 | www.agv.co.uk
The flip-front helmet has traditionally been the helmet of choice for tourers, riding instructors and police officers, but is shunned by many due to them being rather bulky and heavy (the helmets that is, not the doubters). However, they have been loved by scores of everyday bikers, myself included.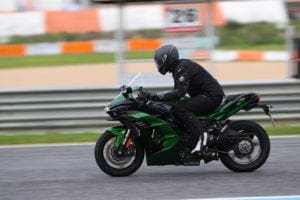 But now you can forget everything you thought you knew about flip-front helmets, because the AGV Sport Modular is rewriting the rulebook big time. The new lid is compact, light, sporty, and looks like a racing-style full-face helmet.
First of all, the weight: This is a full carbon fibre helmet with an official weight of 1295g, but my kitchen scales returned a 1382g. Still, it is an incredibly light helmet. My Shoei Neotech 2, which also feels reasonably light, tipped the scales at 1682g, making it 300g heavier – that's the equivalent of wearing the AGV with a 10oz steak taped to the lid. When you pick up the box in the shop it feels almost like they forgot to put the helmet in there.
The lightness is combined with good aerodynamic performance, so the helmet still feels light at higher speeds and there's no vibes. There's also an adjustable integrated spoiler at the back, which reduces turbulence and maximises stability – I know, it sounds more like a sports helmet, huh?