Operation Soteria was set up in 2016 to help tackle motorcycle crime across Edinburgh – using a range of tactics including DNA tagging and the deployment of off-road bikes. And as a result of its efforts, there's been a significant reduction in motorcycle crime across the region.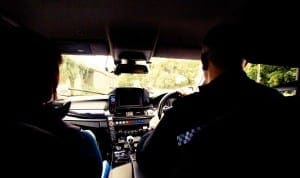 Operation Soteria is Edinburgh Division's response to significant community concerns linked to the theft and antisocial use of motorcycles across the city, set up in 2016. Over the last two years, the multi-agency Community Improvement Partnership, set up by City of Edinburgh Council, has seen the introduction of DNA tagging spray, the deployment of off-road motorcycles as well as revised tactics by officers in Roads Policing to tackle antisocial use of motorcycles. And it seems to be working.
In fact, between 1 April and 1 September 2018, motorcycle theft has gone down by a whopping 60% – equating to a total of 278 fewer offences in Edinburgh.  There's also been a 54% reduction in anti-social motorcycle related reports, with 346 fewer incidents reported in comparison to the same period the previous year.
Of course, the scale of the problem isn't quite as large as it in some other cities throughout the UK – and of course, there's still plenty of bike related crime happening across the region. But Edinburgh Police should still be praised for its efforts (and subsequent success), despite stretched resources as a result of consistent cuts to policing budgets.
Chief Superintendent Gareth Blair, Divisional Commander for Edinburgh, said: "I am delighted with the results we are seeing, as a result of Operation Soteria. Motorcycle crime has undoubtedly had a significant impact across the city, not only in terms of antisocial behaviour and fear of crime, but also on the owners of the bikes stolen. By working in partnership with the City of Edinburgh Council we have created a range of preventative activity and robust enforcement to tackle this challenging issue.
Our off-road Operation Orbit bikes which were funded by the Council, have become an integral part of the daily policing of Edinburgh, improving our ability to prevent and respond to incidents including thefts of bikes. They have improved our visibility in key areas associated with this issue as well as engagement with young people. However, we will not become complacent in our efforts to tackle motorcycle crime further and will continue to use all resources at our disposal to maintain our outstanding work with partners to reduce such incidents across the city."