Celebrating MotoGP's first visit to Thailand, Yamaha has unveiled its latest model of the MT family; the new Yamaha MT-15. And although the 150cc machine won't be making it across to Europe, we reckon it's pretty likely that the unveiling indicates that there are FINALLY some changes afoot for the next generation MT-125.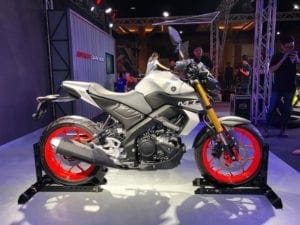 Honda has long since dominated the Thai motorcycle market, selling six times more motorcycles than its Japanese counterpart Yamaha – which is why the Iwata-based brand has taken the opportunity to unveil its next generation MT-15 (also known as the M-Slaz or Xabre), as part of its first visit to Thailand for the MotoGP World Chamionship. And considering the previous generation MT-125 is long overdue a styling update – we reckon the next generation learner-naked is going to look something like this.
One of the main differences we can see in the images is its new front end – which is clearly influenced by that of Yamaha's larger MT models. Above is an image of the front end of a 2018 MT-09 – and as you can see, they're near enough identical (aside from a third lighting unit which sits just underneath the twin setup on the smaller capacity machine).  And while its headlamp is inspired by the MT-09, its rear end and seat unit looks similar to that of the larger MT-10. It also gets painted wheels and gold anodised front forks – like the MT-10SP.