Puig has just unveiled a range of aftermarket winglets for superbikes – meaning you can kit your own bike out with the latest MotoGP technology.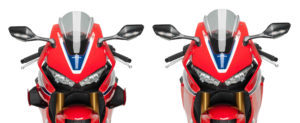 Ever since the first MotoGP bike rolled out of the pits with aerodynamic aids, we've been waiting for someone to take it upon themselves to produce them for the general public. And Spanish parts and accessories specialist Puig has come up trumps.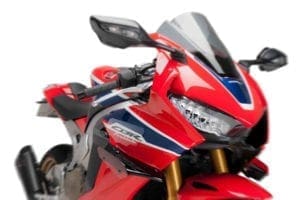 All you've got to do is whack some of these wings onto the side fairings of your superbike – and away you go. The wings will then help keep the front wheel of your bike on the ground during hard acceleration – and the faster you go, more downforce is applied. In turn, that should means there will be less interference from wheelie control systems which cut power to bring the front wheel down – and allow you to keep the throttle pinned for even longer.
The wings are available for the current generation of BMW, Honda, Kawasaki, Suzuki, and Yamaha superbikes – although it's worth noting that each pair of wings creates a different amount of downforce depending on the bike they're fitted too. On the Honda CBR1000RR you're looking at just over five lb-ft of downforce at 100mph – and even more as the speed increases.