It's been a quiet year for KTM so far. At Intermot, the Austrian factory unveiled its new 1290 Super Duke GT, and we're expecting its hotly anticipated 790 Adventure to be revealed at EICMA in just a few weeks' time – but it looks like there's more to come after all, with its new 1090 Adventure caught on camera in nearly finished form.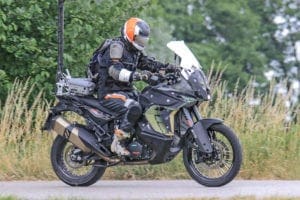 Delving deeper and analysing the image, it seems that many of the new machines components seem to be pulled straight from the existing 1090. We've been hearing whispers that there's a larger displacement engine on the way for 2019, in the form of a 1150cc unit – but looking at the photo, for now at least, the power plant remains unchanged. And it's much the same for its chassis and suspension too. Even its tail bodywork has been left alone.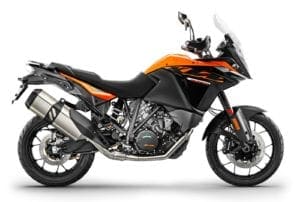 In contrast, the front bodywork has received a bit of an overhaul, with more protection, a new larger screen, and a redesigned low down fuel tank. It's a similar setup to the one KTM is preparing to introduce on its new 790 Adventure for 2019, which offers a couple of benefits over a conventional tank position. First off, it allows the weight of the fuel to be held low down, making the bike feel lighter, less likely to topple and more agile. Plus, it also means the area where the tank would normally be can be made smaller, which in turn means that the bike could be slimmed down and even fitted with a lower seat.
That's not all. The shape of the front end also looks like there could be space to accommodate a radar for an adaptive cruise control system, which KTM has been developing in partnership with Bosch. No guarantees, but considering KTM's proactive attitude towards the technology, we reckon it'll be included on production models across the range very soon.