RRP: £79.99 // www.ghostbikes.com // Tested by: Ross Mowbray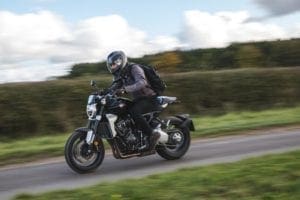 Over the last couple of months, I've been putting Black's all-new ballistic motorcycle jeans through their paces. The first motorcycle jeans to be added to the Black range, they're priced very reasonably, and come equipped with plenty of features to help keep your skin intact in the event that you end up on the Tarmac.
They're lined with 250gsm DuPont Kevlar fibre in all key abrasion areas – which is discreetly stitched, offering the illusion that you're simply wearing a pair of fashion jeans. And there are pockets for knee protection too. Best of all though, they're very comfortable – and I found the fit perfect, thanks to its short, standard and long leg options. You can't ask for much more than comfort and protection from a set of bike jeans – particularly if you're on a budget.