Getting to grips with the Japanese dark art of Moto Gymkhana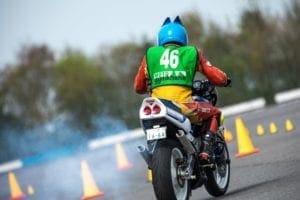 WHAT'S MOTO GYMKHANA?
MotoGymkhana is a high energy, technical motorcycle sport that doesn't take itself too seriously.  It's all about skill – requiring accurate control, bursts of speed and ruthless braking to navigate a pre-designed course in the shortest amount of time, with the least amount of errors.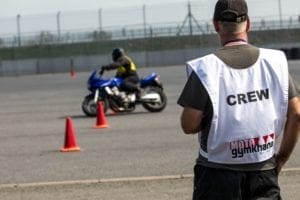 GETTING INVOLVED
All that you need to take part is a willingness to improve and learn, along with your licence and a road legal motorcycle – and from there you'll be able to improve your throttle control, steering and braking, and push your skills in ways you probably never thought possible on a motorcycle. And best of all, it's an open displacement competition – which means you can take part on any machine you like, providing it's road legal – and is all about a rider's ability, rather than about how much (or little) horsepower a particular bike kicks out.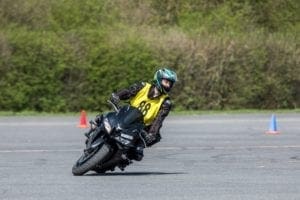 AND HOW DOES IT WORK ON THE DAY?
On the day you'll rock up – grab a coffee, say hello, meet the organisers, sign on, grab a numbered bib and listen to the riders briefing. From there you'll be given a course map and will be partnered up with an experienced rider or a course marshal, who will be on hand to assist you and help you learn the course. You get 40 minutes to walk the course before your first run – and you'll get another crack at it during the lunch break, before your second run.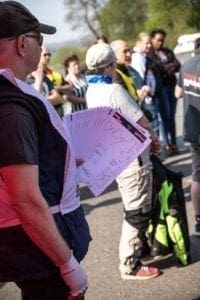 When your number is called, you'll head across to a short warm up course (typically a figure of eight) to get you ready for your run. You'll then be called to the start box by the marshal, and told "When you're ready, in your own time". Then it's over to you – you'll get two attacks to set your best time around the pre-set course, hopefully without any penalties (from touching a pylon, missing a jink line or dabbing your foot down). As soon as your front wheel breaks the beam the clock is ticking, and it won't stop until you make it back to the finish box. Simple. Well, in theory at least – providing you can remember which way the course goes and what the coloured cones mean.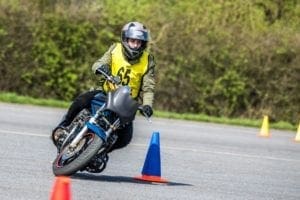 COMPLETING THE COURSE
Moto Gymkhana courses are created using a number of set pieces. There are slaloms, figure-of-eights, full rotations, 180-degree turns and jinks which are linked together to create a full course. Simple. What's not simple is working out which way to go around them. Admittedly, the colour of the cone does let you know from which direction you need to pass. If it's red, you pass on the right, if it's blue, you pass on the left. But, some sections can be completed in any number of ways, so it's imperative that you learn the course in detail at the start of the day – because if you get it wrong, and fail to correct yourself, you won't post a time. Ultimately – having a good understanding of the course is the best way to lower your lap times; you'll be anticipating what's coming next and setting up for the next manoeuvre in advance, rather than hesitating as you think about where you're going and what you're doing. Of course, it's easier said than done – but like anything, the more you do it, the simpler it gets.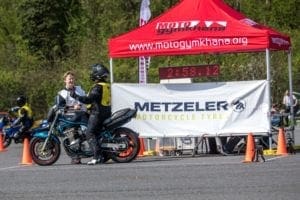 ROUND ONE AT DONINGTON PARK
Tensions were high as we rocked up to Donington for Round One of the Moto Gymkhana Championship. We'd had a little bit of training with Andrew, and spent some time getting to know our Bandit 600S – but looking over the course map for the first time, we had no idea how we were going to remember where to go.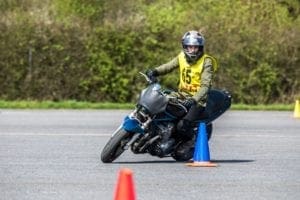 Thankfully, a couple of friendly marshalls were on hand to teach us a few tricks to help us remember the manoeuvres. The tricks worked for Tony – who managed to get through a couple of clean runs, posting a best time of 2 minutes 51 seconds, shaving 8 seconds off his first run. I didn't have quite so much joy, failing to post a time at all – after messing up the course during both attempts. Regardless, we both had a cracking day. In fact, Tony said he doesn't remember having that much fun on a motorcycle for a long time. And I'm with him; it's amazing what a buzz you can get after two minutes of riding around cones. I'd encourage anyone to give Moto Gymkhana a go.
OUR BIKE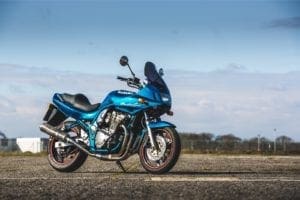 We've got our hands on a budget Bandit 600S for less than a grand – and have made a handful of changes to make it competition ready. Nothing too wild – but we've firmed up the rear brake, shed a little weight where possible, and stuck switched out the bodywork and tank for something we don't mind taking a bit of a beating. Of course, it needed a little bit of work to get it running sweet. So our resident spanner-man Rob Bean gave the little Bandit a once over to made sure everything was in good working order ahead of Round One.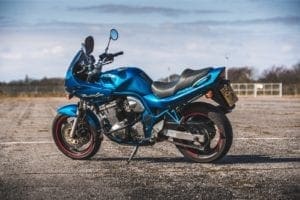 FOR MORE INFORMATION, VISIT: www.motogymkhana.org
---
Advert
---
Enjoy everything More Bikes by reading the MoreBikes monthly newspaper.
Click here
to subscribe, or
Read FREE Online
.
Sign-up to the More Bikes Newsletter
Enter your e-mail address below and get regular updates straight to your inbox… You can unsubscribe at any time.