GG Retrofitz of California has just revealed its latest conversion kit which turns a standard Yamaha YZF-R3 into a retro-styled café racer – and we love it.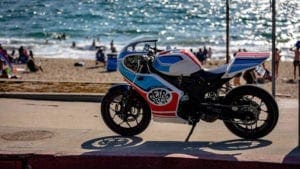 Called the "Rocket Street", the super cool kit is compatible with Yamaha's YZF-R3 models from 2015 to 2018. The kit consists of a windshield, individual trim parts, and a tank cover – in addition to all the tools you'll need to fit it. Sadly, the headlight isn't included – so you'll have to purchase that separately.
Article continues below...
Advert
Article continues below...
Advert
In addition to the standard white version of the kit, there are also three unique graphics sets. We're particularly taken with the white, blue and red version – but just imagine what you could do using the standard kit as a base, and creating your own personalised wrap.
The standard version will set you back $1198, which works out just shy of £1000 (the graphics cost a further £250) – but at this stage, we're not sure if you can get one over in Europe just yet. At the minute, delivery is only available in the USA, Australia and Japan – but we're keeping our fingers crossed that it's going to change in the not too distant future. To find out more information abou