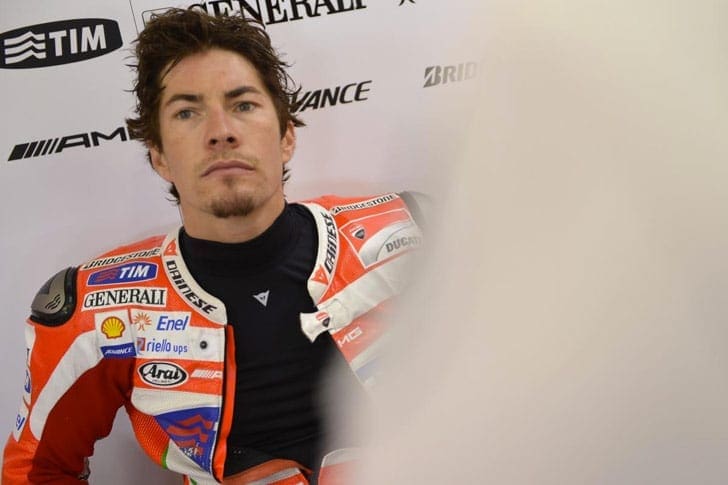 The AMA Motorcycle Hall of Fame inducted six new members over the weekend at the 2018 American Honda AMA Motorcycle Hall of Fame Induction Ceremony.
The 2018 inductees are four-time AMA National Enduro Champion Terry Cunningham, stunt rider Gary Davis, flat track and road racing tuner Skip Eaken, MotoGP World Champion Nicky Hayden, flat track racer Clifford "Corky" Keener and pioneering motorcyclist Mary McGee.
Two Honda motorcycles were unveiled that celebrate the life of of American racer Nicky Hayden, who died in 2017 from injuries sustained in a bicycle crash. American Honda donated the two motorcycles, a 2018 Honda CBR1000RR and a 2018 Honda XR650L, which were customized by Tony Prust of Analog Motorcycles and Jason LeCavalier of Artistimo Customs. The CBR1000RR is decked out in a full Repsol Honda livery, while the XR650L was heavily modified in a street-tracker motif.
Throughout 2019, the bikes will tour to select events and be on display at the AMA Motorcycle Hall of Fame on the AMA campus in Pickerington, Ohio, before being raffled to raise funds for the American Motorcycle Heritage Foundation.
During the ceremony, those gathered also honored the memories of AMA Motorcycle Hall of Fame members who recently passed away: Michael Farabaugh, John Parham, Tom White, Bruce Brown, Derek "Nobby" Clark, Johnny Gibson, Gavin Trippe and Vaughn Beals.
THE AMA MOTORCYCLE HALL OF FAME CLASS OF 2018
Terry Cunningham
Terry Cunningham is a champion off-road rider who played a significant role in the growth of off-road racing in the United States in the 1980s. His efforts anchored the success of the Husqvarna Motorcycle Company throughout the decade.
"For me, it began with a fishing trip to Canada and my Uncle Bud buying a motorcycle to go back and forth to the general store," Cunningham said. "Through his friends at work, it then became a weekend riding event that eventually turned into riding local enduros in southern Ohio. My dad wanted to do what his brother was doing, so he bought a Honda Super 90 and, unbeknownst to us all, history was in the making!"
The four-time AMA Grand National Enduro Champion faced off against some of the greatest riders in America during his career, including AMA Motorcycle Hall of Famers Dick Burleson, Randy Hawkins, Larry Roeseler, Scott Summers and Jeff Fredette. Cunningham won the title in 1982, and then again in 1984, 1985 and 1986.
His other awards included six International Six Days Enduro gold medals and a silver medal. He also was a member of the American 1982 ISDE team that finished second overall against the best off-road riders in the world.
Cunningham's Hall of Fame ring was presented by AMA Motorcycle Hall of Fame Legend Dick Burleson.
GARY DAVIS
Gary Davis, from Auburn, Calif., has spent more than 30 years in show business. He performed, coordinated and directed stunts in more than 280 films, 250 television episodes and 190 commercials. His longtime contributions have showcased the thrills of motorcycling to millions through the reach of Hollywood.
Some of Davis's more notable credits include "X-Men: Days of Future Past," "The Amazing Spider-Man," "Against All Odds," "Terminator 2," "Independence Day," and "Spiderman 2." His credits go back decades – to the 1977 Evel Knievel film "Viva Knievel!"
"You know, I've had lots of surprises happen to me through my lifetime, but none has ever caught me as completely off guard as when I received the phone call to tell me about this great honor," he said. "Honestly, and this is the truth, I thought I was being punked! I didn't figure many people outside of Hollywood even knew my name anymore. I've spent 45 years of my life always 'being other people.' The general public doesn't need to know who was really on the bike, or behind the wheel. I did care of course, that the studios, and the producers, and the crew members always knew that it was Gary Davis, so that I would continue to get phone calls to do more projects."
Davis' motorcycle career began as an AMA professional dirt-track racer in 1969, riding alongside notables such as Hall of Famers Kenny Roberts and Gary Scott.
Davis soon shifted to showmanship, however, and he began exhibition motorcycle jumping in 1971, setting aside his racing career. In 1972, he entered the Guinness World Records for clearing 21 cars, bettering Knievel's 19-car mark. After three years of jumping and more than 300 public jumps, he began doing stunt work.
Davis' Hall of Fame ring was presented by AMA Motorcycle Hall of Famer Bill Brokaw.
SKIP EAKEN
Skip Eaken was a motorcycle racing tuner from Lodi, Ohio, who began building competitive and reliable flat track racers in the 1970s. He notched his first Grand National victory in 1983 with Ted Boody riding an Eaken-prepped Harley-Davidson.
Eaken is best known as the mechanic who worked on AMA Motorcycle Hall of Famer Bubba Shobert's factory Honda motorcycles in the 1980s, when Shobert won three AMA Grand National Championships, collecting an AMA Superbike title and 28 Grand National flat track wins.
After Honda scaled back its factory racing programs, Eaken continued tuning flat track and road racing motorcycles until his passing in 2012.
A Glory Days statue commemorating the induction was presented to Eaken's widow, Linda, and his nephew, Dave Brush, by AMA Motorcycle Hall of Famer Steve Morehead.
"This honor tonight is Skip's recognition for the countless hours spent improving and maintaining race bikes and the many sacrifices made by tuners like Skip, to compete at this, the highest level of motorcycle flat track racing in the world," Brush said. "Their families take the brunt of this passion, dedication, and commitment. So here is a heartfelt thanks to Skip's family."
Nicky Hayden
Known as "The Kentucky Kid," Nicky Hayden, of Owensboro, Ky., was a force on the American motorcycle racing scene before taking his talent to the world stage, ultimately winning motorcycle racing's grandest championship, the FIM MotoGP title in 2006.
Born in 1981, Hayden raced flat track and road raced Yamaha YSR50s and then Honda RS125s as a youngster. With the full support of his family, especially parents Rose and Earl Hayden, Nicky Hayden's story was a classic tale of an American grassroots racer accelerating through the ranks. In 1997, he capped his amateur career with the first-ever AMA Horizon Award, presented for his triumphs in flat track. The award signified that Hayden had proven himself to be the amateur racer with the brightest potential for continued success in the pro ranks.
With the Horizon Award in hand, the "Kentucky Kid" turned pro at the age of 16. As a professional, Hayden competed in the AMA Grand National Championship, the pro flat track series, as well as in AMA Pro Road Racing.
He signed with American Honda's support team, Erion Honda, in 1999 to race the AMA 600 Supersport class, winning the 600cc championship that same year. Honda moved Hayden to the factory AMA Superbike team in 2000, and in 2002 he captured the AMA Superbike Championship. At age 21, Hayden became the youngest champion in the history of AMA Superbike racing.
Hayden then moved to the Repsol Honda MotoGP effort for 2003, earning his first MotoGP win at Mazda Raceway Laguna Seca in Monterey, Calif., in 2005. He won there again in 2006 while on his way to winning the MotoGP World Championship.
Hayden moved to the factory Ducati team in 2009, returning to Honda in 2014. He began racing in the FIM World Superbike series for Honda in 2016.
Tragically, Hayden was hit by a car while training on a bicycle in Italy on May 17, 2017. He succumbed to his injuries five days later, on May 22.
A Glory Days statue commemorating the induction was presented to Nicky Hayden's brother, AMA road racing champion Tommy Hayden, by AMA Motorcycle Hall of Famer Gary Mathers.
"It is hard to imagine that there is anyone who loved motorcycle racing more than Nicky," Tommy Hayden said. "He ate, slept and breathed motorcycles 24 hours a day, seven days a week. So many of his idols and heroes that he looked up to as a kid are members of the AMA Hall of Fame. So, to be joining them tonight in the AMA Motorcycle Hall of Fame, I know would be one of his proudest accomplishments."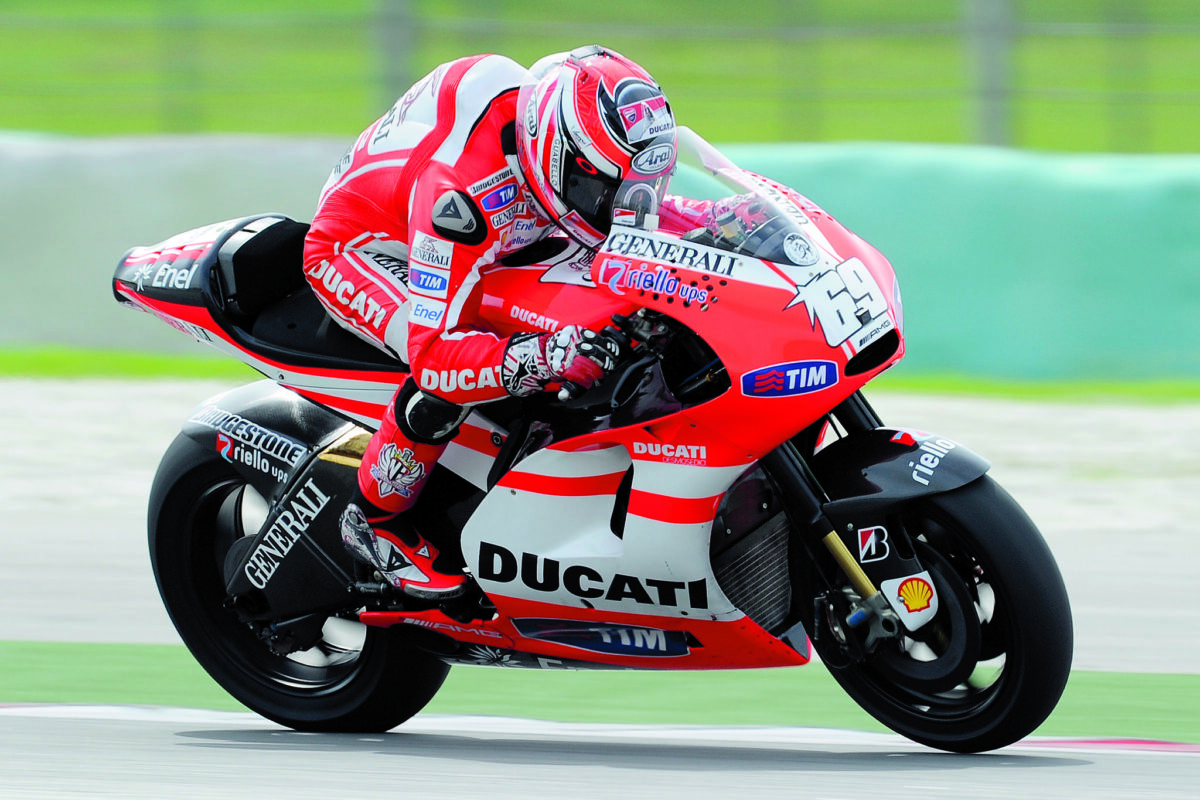 Clifford "Corky" Keener
Clifford "Corky" Keener was a professional flat track racer during the 1970s. Known by the nickname "Mr. Dirt," he worked as an electrician for General Motors Corp. while he was getting his racing career started.
He almost quit racing when his results did not improve, but he decided to stick with it and eventually became a factory Harley-Davidson rider.
Keener won five AMA Grand National races during his career. He raced during a talent-filled era that often had him banging bars with the likes of AMA Motorcycle Hall of Famers Kenny Roberts and Jay Springsteen. Keener raced through the 1980 season.
"The best part of this whole adventure was all the people I got to meet over these years, people who were from all over this great country of ours, both other riders and the fans of the sport." Keener said. "How many people have this kind of opportunity in their lives? I really believe I am one of the fortunate ones."
Keener's Hall of Fame ring was presented by AMA Motorcycle Hall of Famer Peter Starr.
Mary McGee
Mary McGee was among the first women to race motorcycles in motocross and road racing events in the United States.
McGee was introduced to auto racing by her husband, Don, in the 1950s. In 1957, she learned to ride motorcycles on a 200cc Triumph Tiger Cub she bought from a friend and later took up motorcycle road racing to try to improve her car racing skills.
Switching to dirt riding in 1963, McGee started her off-road career by riding a 1962 250cc Honda Scrambler in an AMA District 37 enduro. She began riding Baja events in 1967 and, in 1975, rode solo in the Baja 500.
Also during the 1970s, McGee worked for Motorcyclist magazine and joined editors Jody Nichols, Brad Zimmerman and Rich Cox for a 24-hour road race in Las Vegas, in which the team changed riders every hour on a 650cc Suzuki.
In more recent years, she has returned to competing in select vintage races, while speaking out in support of women racers and recreational riders getting started in motorcycling.
"Oh, the places I have been! The things I have seen!" McGee said. "The terrific people I have met, and for all the friends I still have. I would not be able to thank enough the people who have helped me over these past years. I do believe the one constant we, as motorcyclists, have is to help others and, of course, always be kind."
McGee's Hall of Fame ring was presented by AMA Motorcycle Hall of Famer Brian Slark while AMA Board Chair Maggie McNally-Bradshaw, a close friend of McGee's, formalized the induction.
---
Advert
---
Enjoy everything More Bikes by reading the MoreBikes monthly newspaper.
Click here
to subscribe, or
Read FREE Online
.
Sign-up to the More Bikes Newsletter
Enter your e-mail address below and get regular updates straight to your inbox… You can unsubscribe at any time.