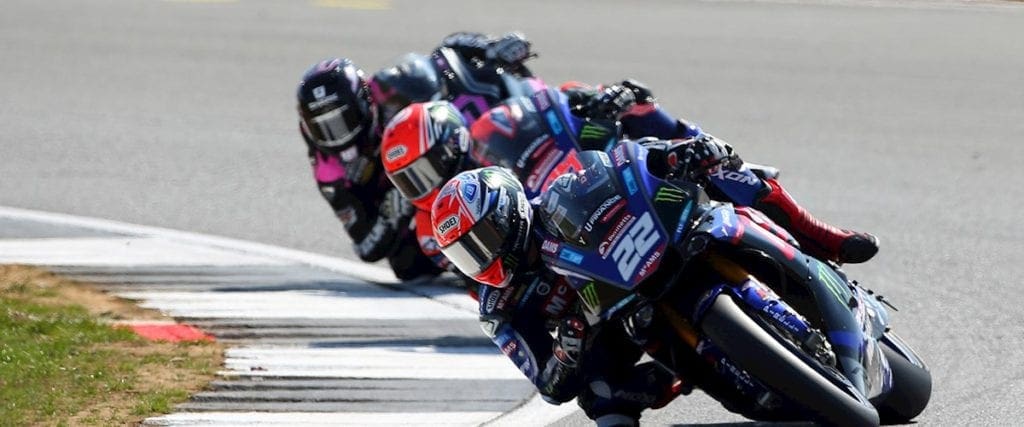 The opening race of the 2019 Bennetts British Superbike Championship season ended in drama for the McAMS Yamaha team as team-mates Jason O'Halloran and Tarran Mackenzie went head-to-head on the final lap, with the pair colliding and the Australian contender crashing out of the race.
At the start O'Halloran launched off the line into the lead of the pack ahead of Mackenzie and Scott Redding, but a crash involving the Quattro Plant JG Speedfit Kawasaki pairing of Glenn Irwin, Ben Currie and rookie David Allingham bought out the BMW Safety Car.
When the race resumed O'Halloran, Mackenzie and Josh Elliot edged away at the front of the pack and the McAMS Yamaha pair were intensely mirroring each other as the O'Show held the advantage. On the final lap however at turn six Mackenzie went for a lunge on the inside, causing contact with O'Halloran, who subsequently crashed out of the race. Mackenzie took the chequered flag ahead of Elliott, claiming his first Bennetts BSB podium finish and Redding on his debut.
Post-race following an investigation, Race Direction imposed a Long Lap equivalent time penalty of 3 seconds on Mackenzie for contact causing O'Halloran to crash at Turn 6 on Lap 30.
The penalty awarded the victory to Elliott, pushing Mackenzie back into second ahead of Redding with OMG Racing Suzuki celebrating both riders in the top five as Luke Mossey claimed fourth place.
Tommy Bridewell and Andrew Irwin fought all race long with the Oxford Racing Ducati rider having the edge at the line from Luke Stapleford and Claudio Corti for Team WD-40 Kawasaki. Danny Buchan and Xavi Forés completed the top ten.
Bennetts British Superbike Championship, Silverstone, Race 1 result:
Josh Elliott (OMG Racing Suzuki)
Tarran Mackenzie (McAMS Yamaha) +0.017s
Scott Redding (Be Wiser Ducati) +4.118s
Luke Mossey (OMG Racing Suzuki) +5.472s
Tommy Bridewell (Oxford Racing Ducati) +7.505s
Andrew Irwin (Honda Racing Racing) +8.236s
Luke Stapleford (Buildbase Suzuki) +11.554s
Claudio Corti (Team WD-40 Kawasaki) +11.900s
Danny Buchan (FS-3 Racing Kawasaki) +12.024s
Xavi Forés (Honda Racing) +13.210s
Bennetts British Superbike Championship points after Silverstone Race 1:
Josh Elliott (OMG Racing Suzuki) 25
Tarran Mackenzie (McAMS Yamaha) 20
Scott Redding (Be Wiser Ducati) 16
Luke Mossey (OMG Racing Suzuki) 13
Tommy Bridewell (Oxford Racing Ducati) 11
Andrew Irwin (Honda Racing Racing) 10