Locate.im Sidecar Race One – 3 laps, 113.19 miles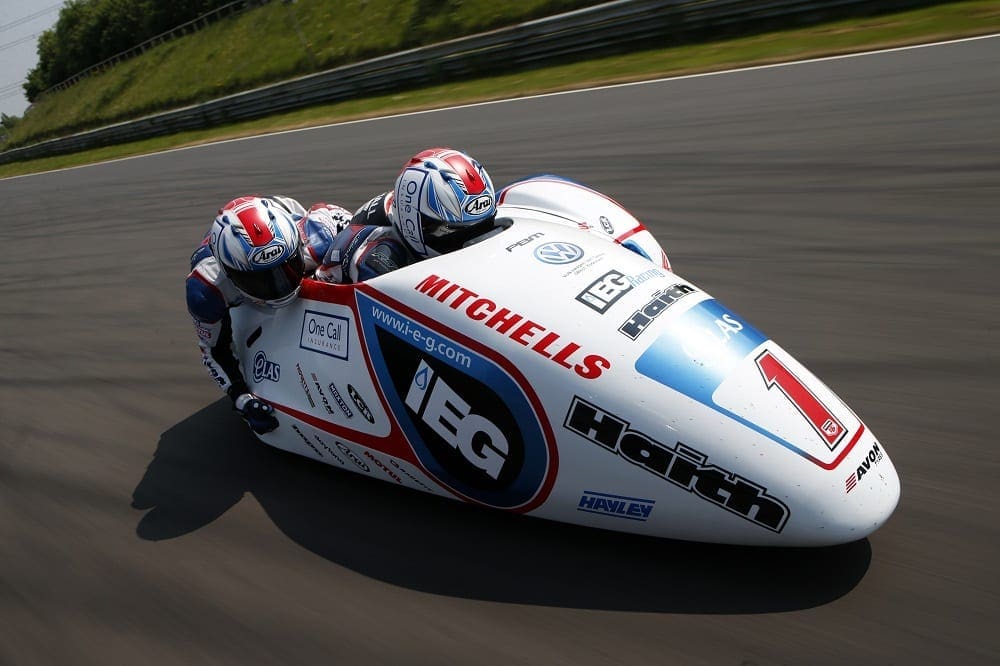 Tom and Ben Birchall kicked off the three-wheeled action in position one with John Holden and Lee Cain second, Tim Reeves and Mark Wilkes headed off in third place – before the racers got underway they were given a warning about lesser adhesion at Snugborough, likely the residual effects of the crash that brought about the early finish to the Superbike race an hour or so before.
But it was literally seconds into the action before two major teams retired from the first race for the sidecars of TT Race Week. Tim Reeves and Mark Wilkes were forced to retire at Bray Hill whilst Dave Molyneux and Harry Payne went out with a mechanical issue a short distance further on at Braddan Church.
At Glen Helen it was reported that the Birchalls were already flying, 4s ahead of Joh Holden and Lee Cain on the timesheets. Peter Founds and Jevan Warmsley in third.
The lead extended to 5.6s at Ballaugh with the Birchalls scorching around on the opening lap. Holden and Cain were lapping comfortably in second whilst third was still Founds and Warmsley, some ten seconds back on the second place outfit.
Ramsey Hairpin for the first time of asking and the Birchalls, first screaming outfit on the road – stayed first on the timesheet too with Tom and Ben opening up even more of a gap over Holden and Cain with 8.739s in hand. Holden and Cain were 11.4s away from third place Founds and Warmsley as the leaders started the chase up Snaefell.
At the end of the first lap and it was clear that the Birchalls were operating on a higher lever with their lap speed of 117.709mph (this was on little practice on The Island this year because of the poor weather that's plagued the event so far, compare that with last year's lap speed of 117.502mph after much more practice and you get a good idea of how hard the brothers were pushing). Holden and Cain completed their first lap with a 116.21mph average speed.
At the end of the first lap it was the Birchalls in a commanding position with a 14.9s lead over Holden and Cain who, in turn, were 15.9s ahead of new third place team of Alan Founds and Jake Lowther. Founds and Lowther had been stalking the family connection of Pete Founds and Jevan Warmsley for a lap and passed them on the timesheets, already pulling away on the clocks by 1.6s by the end of the lap.
By Glen Helen for lap two the Birchalls had kept up the pace and grew the lead to 21s over Holden and Cain who in turn were 18s over Alan Founds and Jake Warmsley. Pete Founds and Jevan Warmsley couldn't hold on to the leading three and started slipping further back with 4s now separating third and fourth place.
At Ballaugh there was even more advantage for the Birchalls, who were on course for the fastest ever sidecar lap of the TT Mountain Course. The advantage over Holden and Cain was now 25 seconds, that grew even more to 28.4 by Ramsey (where the Birchalls were 7.5s inside the current lap record).
That pace meant that the blistering pace of the Birchalls put them on course for the first ever 120mph+ lap on The Island.
Fastest sector upon fastest sector tumbled as Ben and Tom stoked their outfit over The Mountain and at The Bungalow they were 33s ahead and clear to grab another fastest-ever lap of the iconic course, possibly even bagging that first-ever 120mph lap in the process.
But the gusty conditions looked to have robbed the pair of critical lap time and as the brothers came in to Cronk-ny-Mona the Birchalls had lost the smallest margin of pace and were now just outside that 120mp lap.
119.129mph was the Birchall's average speed with 19m 00.177s the lap time for that second lap. But in the hurry-up for the record it was almost lost that the gap between first and second had now grown to 35.55s with third placed Alan Founds and Jake Lowther nearly a minute further back. It was a masterclass in sidecar racing from the Birchalls.
Ballaugh Bridge for the final time saw a 42s lead in favour of the Birchalls with second place John Holden and Lee Cain 26s ahead of Founds and Lowther in third. There was very much the feeling that only something mechanical could stop the party for the fast brothers. Indeed, their pace dropped slightly to ensure that the outfit made it home.
And make it home they did, crossing the line a full 48.116s ahead of second place John Holden and Lee Cain.
Six wins in a row and nine in all for the Birchalls – with today's victory Tom becomes the most successful passenger in TT history too. Seldom do you see such a comprehensive piece of racing at the TT. Alan Founds and Jake Lowther crossed the line in third.
Speaking after the race, Ben Birchall said: "I needes that first sector and that first lap. It's been a tough week. We've had ups and downs ourselves. We've had engines in and out, gearboxes in and out.
"As for the 120mph lap, well… there was a little bit of wind to deal with but to be honest I've seen that I've got 30s+ in hand and I didn't want to push it too hard. I wanted to get this home and get the job done. I wound it down a bit."
Tom Birchall added: "Never mind that 120mph lap, we won the bloody race! He clipped the kerb in a couple of places but other than that Ben was flawless. John's been pushing hard all week so we knew we had to be on it.
"The bike feels mega. I was planted and great. It's hard to explain but these bikes aren't easy to put together and we were up until 4am working on this last night."
John Holden, who bagged his 20th TT podium with his second place finish in the race, said: "It was a bit of a struggle, it just wouldn't pull. I don't know what it is. I'm not making an excuse but that's how it was."
---
Advert
---
Enjoy everything More Bikes by reading the MoreBikes monthly newspaper.
Click here
to subscribe, or
Read FREE Online
.
Sign-up to the More Bikes Newsletter
Enter your e-mail address below and get regular updates straight to your inbox… You can unsubscribe at any time.