Senior Race – 6 laps, 226.38 miles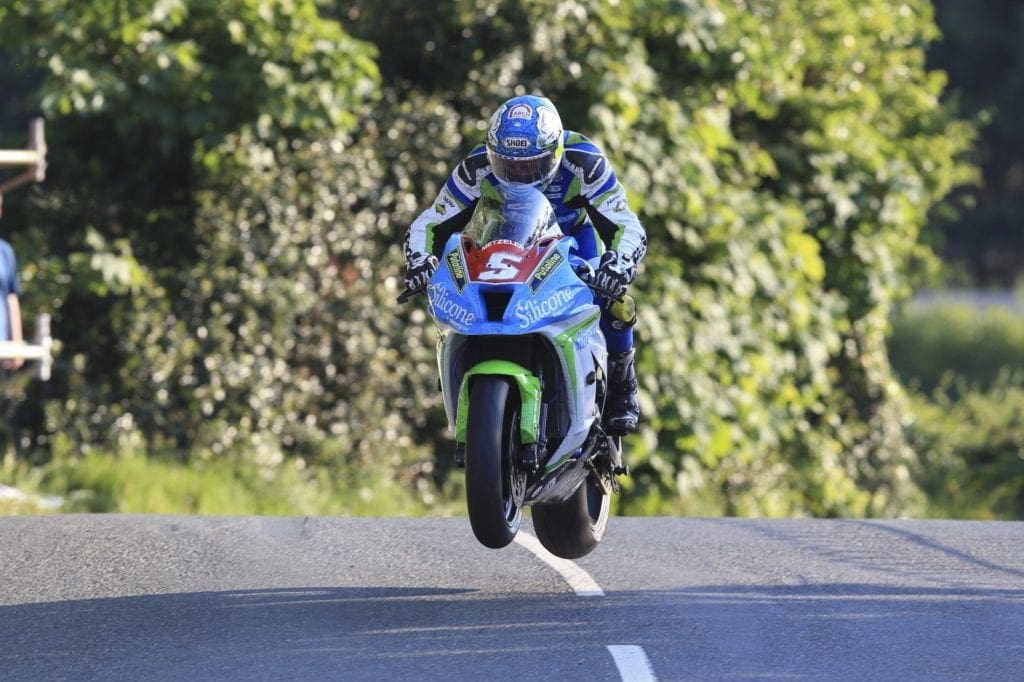 As it's been for most races this week it was Manxman Conor Cummins who took off from number one position, the 2019 bridesmaid-so-far Dean Harrison was second with John McGuinness on the Norton third away. Ian Hutchinson started fourth from the line, James Hillier fifth, Michael Dunlop sixth, Gary Johnson seventh ahead of Michael Rutter eighth away. David Johnson began in ninth and Peter Hickman tenth.
The air was particularly tense before the off as none of the riders had managed six laps through the broken practice schedule with many saying that they simply had no idea how their bikes would last over the nearly 227 miles of racing on the Mountain Course.
Good conditions around the circuit were echoed at the beginning of the famous course as dry weather greeted the start at Grandstand as Cummins roared away and plunged down Bray Hill at 10.15am promptly.
At Glen Helen for the first time of asking and it was clear from the off that Harrison and Hickman were quickest away (the pair were 5s faster than they were in the Superbike race at the start of the week to Glen Helen), visibly pushing as hard as possible from the off, but by Ballaugh is was Harrison who took the early lead over Hickman – 0185s splitting the pair who were the big end of 8.574s ahead of third placed Cummins. Dunlop was fourth at the first stages, 0.318s behind Cummins.
At Ramsey and Harrison was past Cummins on the road but on the timesheets it WAS Hickman who now led the race but the margin was minor, 0.118s between them as Hickman started his favourite section up the Mountain Climb. Cummins still third, now 11.413s back on Hickman, Dunlop closing in on Cummins' podium place a further 0.024s back.
Well into the Mountain for the first time of asking on the Senior machines and Harrison went through without issue, Cummins began to stretch the gap to Dunlop with 0.896 between the pair – at the top of the timesheets though it was Hickman upping the pace further to have 1.012s over Harrison as Dean was well on his way down the Mountain to the Grandstand. Both Harrison and Hickman were 10s faster than they were in the Superbike race…
John McGuinness stopped on the Norton at The Bungalow and then retired from the race, the much-hyped Norton V4 assault on the 2019 TT ending up a damp squib of competition against the new giants of The Island. It felt as though McGuinness deserved more from his bike after all the work he'd put in to make his return to road racing action.
At Grandstand for the start of lap two and Harrison clocked a 133.99mph (from a standing start!) and a quickest time of 16m 53.704s but all the plaudits thrown at Harrison were bested by Hickman a short while later when Peter – who was not only 2.209s ahead by the iconic part of the course – managed a 134.28mph lap, his quickest time at this opening lap was 16m 51.495s. Incredible.
Glen Helen for the second lap and both Harrison and Hickman were flying. Harrison was far from rolling over and pegged back some time on Hickman at the first time marker of a lap, the gap dropping from 2.209s to 1.841s as they rushed toward their appointment with Ballaugh Bridge.
Cummins was getting more comfortable in third place though at Glen Helen with Dunlop dropping away slightly on time, 3.001s between them.
Into the leap of Ballaugh and Harrison was a full 18.301s ahead of Cummins, Dunlop now 4.663s behind in fourth. Hickman flew through but the gap was about the same for the BMW man with it just increasing by a tenth of a second to be 1.990s to Hickman's favour.
192.8mph at the Sulby speed trap showed the Hickman's superbike (he couldn't use the superstock engine after scrutineers pulled the engine apart for standard inspection) was pulling hard. His bike the fastest through the lazer.
The built-up areas dash from Ballaugh to Ramsey (and the start of the Mountain climb for the second time of asking) and Cummins was now 19.915s behind Harrison, Dunlop now 5.066s back in fourth but it's Hickman who was just behind Dunlop on the road was absolutely smashing it on the timesheets now – he picked up two seconds in the run from Ballaugh and now had a commanding 3.400s in hand over Harrison as they headed up over Snaefell and towards their first round of pitstops.
At The Bungalow Hickman had stretched the lead to 6.524s over Harrison whilst Cummins was happy in third place (20.288s behind Harrison but now 6.223s ahead of Dunlop) – all eyes now looking at the speed sheets and it showed that Hickman had clocked a 134.8mph lap from Bunglaow to Bungalow on the second lap, massive pace on the BMW ahead of the pitstop at the end of lap two.
Harrison was the first bike in to the pits, clocking a 133.51mph lap (16m 57.375s) and after a good stop he was also first away with a time of 21.977s for his splash-and-dash. Hickman hit the pits with a now 8.067s advantage and a fastest lap speed of 134.28mph (16m 51.517s) but as Hickman left the pits he found himself having to take action to avoid Dunlop who was released by his team just ahead of Hickman (Dunlop looking back and realising what was happening, moved to the side to let Hickman through). Dunlop's gentlemanly behaviour very much appreciated by Pete, but it undoubtedly cost the race leading a bit of time.
Whatever time Hickman was cost in the pitstop wasn't immediately obvious by the time the leaders got to Glen Helen with Hickman going even further away from Harrison – 10.034s now the advantage. Cummins still 21.346s safely in third with Dunlop a further 10.959s behind in fourth.
By Ballaugh it was Hickman in command with now with a 9.590s advantage, the gap at Ramsey extended further to 10.494, Cummins 24.570 behind Harrison and Dunlop now 13.149s adrift in fourth.
Over the Grandstand for another near-flat out blast across the line at the end of the third lap and whilst it was Harrison leading on the road, it was Hickman still in command with the lead increasing to 13.486s (Harrison clocking a 126.30mph – 17m 55.399s whilst Hickman managed a 126.94mph – 17m 49.980s). Hickman built on the lead as the front men held station through lap four and as they headed into the pits for the final time of this race the lead was up to 15.931s in favour of Hickman.
Harrison was the first into the pits with a 133.00mph (17m 01.225s) lap, Hickman pitted with a 133.55mph lap (16m 57.028s) in his pocket. A change on the rear wheel for a new tyre for the leader's BMW and a clean release saw Hickman away rapidly with his 19.2s, 39.704s back in third was Cummins with Dunlop in fourth now 18.308s adrift of Conor.
On to lap five and at Glen Helen it seemed as though the race was Hickman's to lose with Harrison starting to close in on a group of four slower riders some three minutes or so ahead of the hard-charging second place man. Hickman wasn't having any such worries at the time marker but he did lose a chunk of time on Harrison between the Grandstand and Glen Helen and a look at the timesheets confirmed that Hickman had lost about ten seconds to Harrison – although the gap was still 7.915s between the pair.
At Ballaugh bridge it was all change again as the gap plummeted to just 1.130s in Hickman's favour, the rider had said earlier in the week that the superbike was losing water during a qualifying lap and the gremlins looked to return. Indeed, with 159mph his top speed at Sulby Hickman's TT was rapidly going south.
At Ramsey Hairpin Harrison was now in the lead, now 7.877s ahead of Hickman who was limping along on the BMW. Even through he was 48.612s behind Harrison, it now looked like a possible second place finish for Conor Cummins (and a very distant third for Dunlop – 1m 12.097s himself back on Harrison). By Bungalow Hickman had dropped to 14.578s down on Harrison, but still limping along on the clearly breaking bike. Cummins still third, Dunlop fourth.
Across the line at Grandstand and it was Hickman who was dropping seven seconds a sector (about a minute a lap) as Harrison fly past to start the only flying lap of the six-lap race. Harrison bagged a 125.80mph (17m 59.721s), Hickman could only manage a 121mph best (18m 35.790s) but carried on for as long as he could and plunged down Bray Hill for the final time. The gap was now 18.386 between leader Harrison and Hickman.
Hickman must have been doubley annoyed at the decision to strip the engine in the Superstock-engined/Superbike chassis bike he used earlier in the week to stunning effect. With the scrutineers pulling the Superstock engine apart after Thursday's race (as they are entitled to do) which Hickman had won on, it left him with no choice but to use the higher-tune remaining bike engine for The Senior – something he'd had issues with during qualifying in the week.
Back on track at Glen Helen for the final time and Harrison was virtually on the back wheel of a back marker with another gaggle of riders to get past just up ahead on the circuit – things were far from straightforward with the failing motorcycle of Hickman taking the immediate sting out the tail for Dean.
Hickman was forcing his bike along but it was getting slower and the gap had now grown to 31.471s with Peter starting to fall back into the reach of Cummins – 24.355s separating second place from third. At Ballaugh on the last lap the gap back to Hickman was now 40.454s with Cummins 17.740s adrift in third – there was still a chance that Cummins could take Hickman for second on the podium.
46.071s at Ramsey between Hickman and Harrison meant that just 12.842s split Hickman and Cummins as the former race leader short-shifted through the gears out of the hairpin and began a somewhat muted last run up the Mountain.
50.225s and 8.923s were the times between the first, second and third place riders at The Bungalow.
So with a virtually clear run to the Grandstand is was Dean Harrison who won The Senior for his third TT win of his road racing career, his first big bike win at the Isle of Man TT. All eyes then turned to the scrap for second and third.
In the end it was a solid bit of bike nursing that got Hickman his second place finish and all Cummins could manage to peg back was a couple more seconds to end up 5.817s back in third.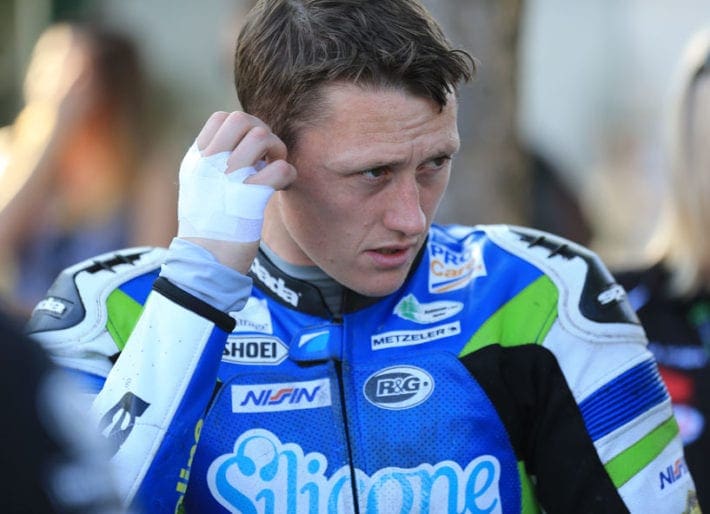 Speaking from Parc Ferme, Harrison said: "I'm over the moon. To finish first, first you must finish. Peter was getting away and I thought if I sit here then you're never sure what can happen.
"I almost lost my momentum mid-week a bit and that's more to do with me to be honest. But I got it back a bit yesterday. I'm most happy that it was the proper race, full distance with two pitstops and that's hard work, that is.
"I got the first P1 board coming out of Ballaugh then I saw one later that said P1+30 and I though that someone must have dropped out. I'm over the moon."
Hickman added: "It is what it is, we've had a cracking week. The bike was working awesome over the first four laps and we had a 19s lead.
"I was just riding round and enjoying and then we came in for the second pitstop and the temperature just went up and I knew. I didn't go above 11,000rpm for those last two laps and I didn't go above half throttle, short shifting everywhere.
"Credit to Dean, he's had his big bike win now and deserved it. They had their issues earlier in the week but it worked well for them today.
"I am gutted though."
Cummins said: "It was good but we had a problem half way through the race. I dug in as best I could but I watched the boards and managed my race and we found a podium.
"On that last lap I noticed by time coming down for second and I had a bit of a push but couldn't quite make it up."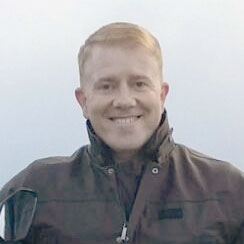 Latest posts by Tony Carter
(see all)
Does this get you revved up? Tell us why...
---
---
Subscribe to MoreBikes Newspaper
Get MoreBikes delivered through your letterbox every month. 12 issues for £15. Click here for more information.
---
Get MoreBikes.co.uk Updates
Enter your e-mail address below and you will receive biking news straight into your inbox...



You can unsubscribe at any time.
---