WORDS: Alan Cathcart
The past decade has seen an exponential increase in the availability, performance, range and recharging speed of electric-powered two-wheelers – but also in their price. EV Euro-leader BMW is charging customers a hefty $14,895 (£12,875) for its C-evolution E-scooter, while an American-made 2020 Zero SR/F with a 3kW charger starts at $18,995 (£16,490), rising to $20,995 (£18,490) for the premium version with a 6kW charger. And Harley-Davidson's upcoming 2020-model LiveWire will be priced at an even meatier $29,799 (£28,995). Listen, saving the planet will cost you. Unless….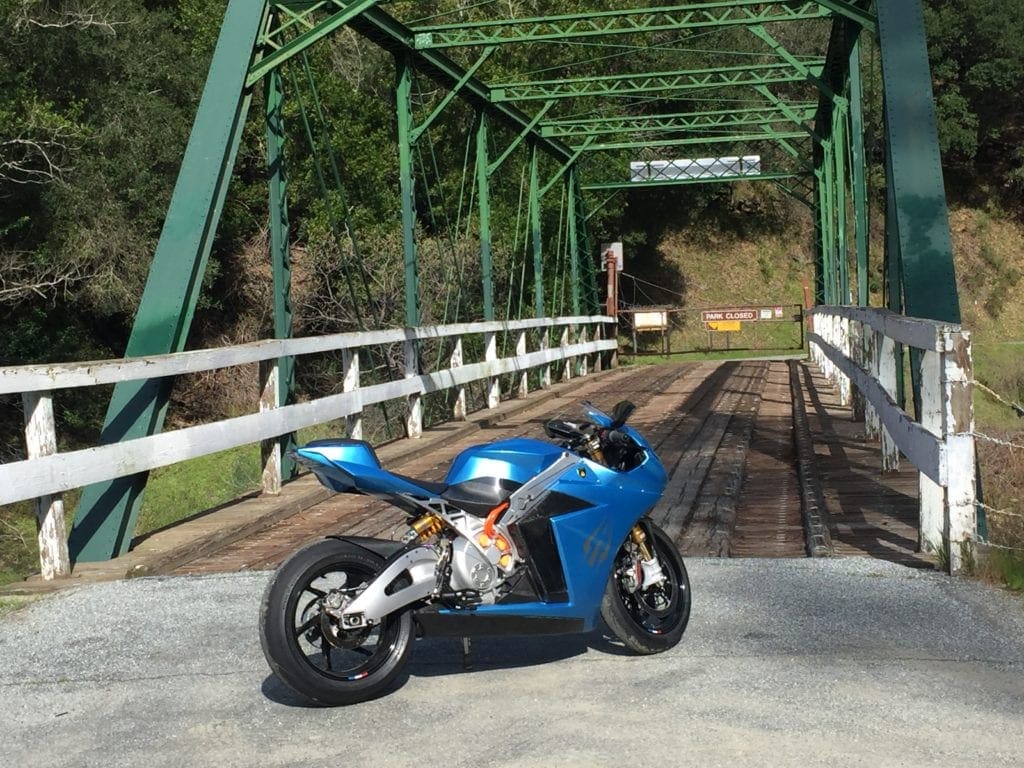 Lightning Motorcycle Corp. Founder/CEO Richard Hatfield, 60, has been building E-Superbikes for longer than anyone else, and he's achieved more with them in the white heat of competition than any of his rivals, too – up to and including coming out on top in a direct matchup against ICE/internal combustion engined sportbikes. For the past five years his Californian company has marketed hand-built LS-218 streetbikes based on the Lightning which currently owns the World Land Speed record for electric motorcycles and has been timed at 218mph. 40 examples have so far been built for delivery to customers around the world at prices from $38,888 (£30,671) up. So while delivering impressive performance and mega-exclusivity for the money, so far Lightning has followed the E-biking norm in terms of pricing.
But now, Lightning is stepping outside that financial comfort zone, to make electric motorcycles fully competitive with ICE hardware in terms of price, as well as performance. The new Lightning Strike is a downsized 600 Supersport-size equivalent to the LS-218 Superbike which, while still delivering attractive sports styling and appealing performance, will cost a super competitive $12,998 (£10,251) for the Strike Standard base model when deliveries commence in July this year. Engineered for the track but designed for the street, the Strike Standard is claimed to produce 90 bhp and 180 lb-ft/Nm244 of torque while weighing 206kg fitted with its 10kWh battery, and 120 bhp – still with 180 lb-ft/Nm244 of torque – in the costlier $19,998 (£15,772) Strike Carbon Edition configuration, with a doubled-up 20kWh battery. This results in weight rising to 219kg, while in between is the Strike Mid-Range variant weighing 211kg and costing $16,998 (£13,406), still with the same motor spec and cycle parts as the Standard, but with a 15kWh battery for greater range.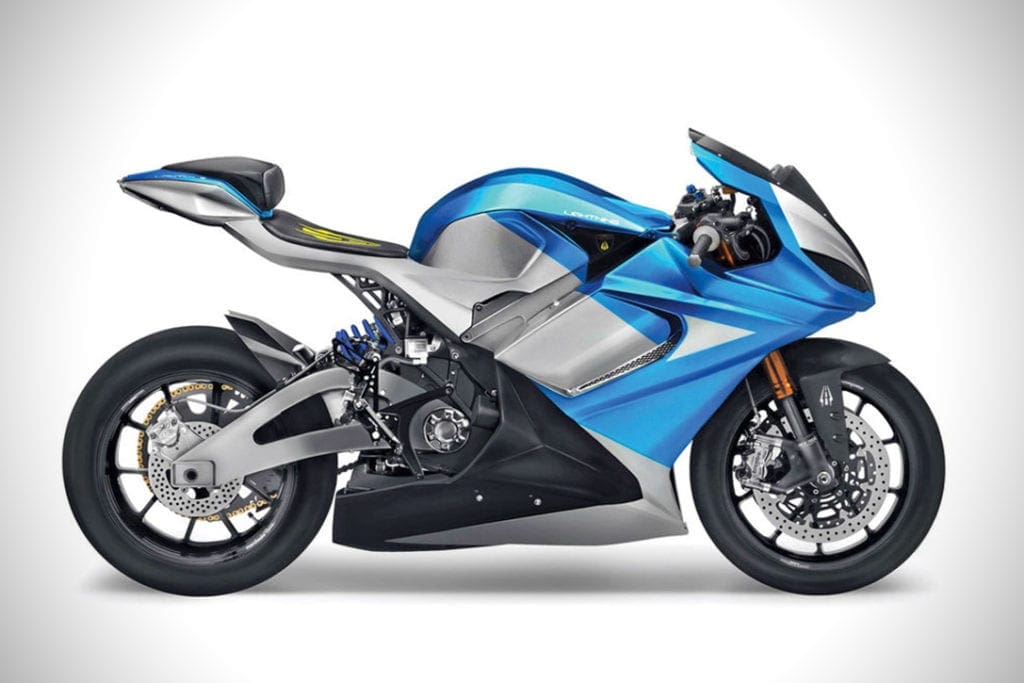 The Lightning Strike Carbon Edition is the high end version of the new model, with full carbon fibre bodywork handcrafted at Lightning's in-house carbon studio. This version is fully configured with the 120 bhp 180 lb-ft/Nm 244 version of the motor, and a 20kWh battery pack, with Level 3 DC fast charging as standard. Furthermore, the Strike Carbon Edition comes already fitted with Lightning's Performance Package including fully-adjustable Öhlins suspension front and rear, Brembo Monoblock brakes, and an AIM Strada racing dash with inbuilt lap timer and GPS-based data logging.
The Strike Standard and Mid-Range both have a claimed top speed of 135 mph, while the range-topping Strike Carbon Edition pushes that to 150 mph. All three are powered by Lightning's own new liquid-cooled 150V three-phase AC induction motor, paired with the company's own battery packs made in-house using pouch-type lithium-ion cells. These are controlled by Lightning's own liquid-cooled inverter complete with an integrated thermal management system, and real time data collection for managing the state of charge and state of health of each individual polymer cell.
Lightning offering a choice of three different battery sizes allows riders to choose the range which best suits their needs, and pockets, with the entry level Strike Standard model's 10kWh pack giving a 70-100 miles range on a combined Highway/City cycle, through the Strike Mid-Range 15kWh pack delivering a 105-150 miles range on the same basis, up to the Carbon Edition's 20kWh battery's 150-200 miles range (all figures claimed by the manufacturer). With a standard CCS/combined charging system charge port, the Strike has the capability of using Level 1, Level 2 and/or Level 3 charger outlets depending on the model. Level 1 allows the owner to plug into any 110v US household outlet (or 220/240v overseas) to obtain a full 0-100% charge in 8 hours, typically overnight. Level 2 will fulfil the same 0-100% charge in 2-3 hours at any of the growing network of J1772 public charging stations (presently numbering 55,000 and rising) across the USA, with a Level 3 DC charger delivering a 0-100% fast charge in just 35 minutes. The Strike Standard includes both Level 1 and Level 2 charging capability, and Level 3 DC fast charging as a $1,500 option. The standard onboard charger is rated at 3.3kW, and a Strike Standard or Mid-Range customer can also purchase an optional 6.6kW onboard charger available, again for $1,500 extra.
The Lightning Strike range's competitive pricing gives it the potential to be the two-wheeled equivalent of Tesla's mass-market Model 3 EV, and Hatfield says this is thanks to the recent complete restructuring of his company, including the opening of two new Lightning Motorcycle factories, each 20,000ft² in size. The first of these is in the heart of Silicon Valley in San Jose, California, just 20 miles from the Apple Campus in Cupertino, while the other is in China, 400km south of Shanghai.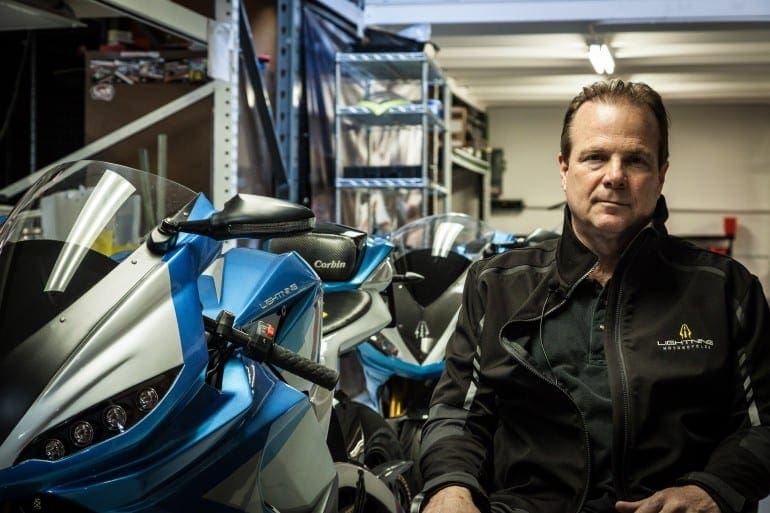 "Our main reason for opening the factory in China is that we know we must be able to build these bikes at a competitive price, and in a kind of volume that will allow Lightning to compete with gasoline bikes on price," explains Hatfield. "We're doing the engineering and product development in California, then manufacturing the majority of the parts in China before shipping them to the USA, where we'll assemble bikes destined for North America, and our European export markets." So essentially what Lightning is doing is to follow Apple's strategy, doing the technology in Silicon Valley, then manufacturing the end result in China. The Strike's debut is the opening play in a proven strategy, which hasn't yet been applied to the motorcycle industry.
Hatfield says production of the Strike Carbon Edition will commence in July this year in San Jose, followed later by the Strike Standard version, with orders taken via the company's website www.lightningmotorcycle.com Since the Carbon Edition is delivered with all available options included as standard, there's no need for customers of this variant to configure their motorcycles, says Lightning. But once the Strike Standard version starts production later this year, reservation holders for Standard and Mid-Range models will be contacted by Lightning to select their desired configurable options, including battery size, Performance Package with upgraded Öhlins suspension, Brembo brakes and AIM Strada racing dash, plus the optional 6.6kW charger and Level 3 DC fast charging.
The Lightning Strike has the potential to be a game-changer in the E-bike marketplace. More performance for fewer $$$ is potentially a winning formula for this next generation E-bike, where performance and allure are combined in a single price-conscious package. It remains to be seen how the Strike's debut and pricing will impact on sales of the equally newly-announced Zero SR/F already in production in Scotts Valley, Ca. just 30 miles from Lightning's HQ.

Latest posts by Ross Mowbray
(see all)
Does this get you revved up? Tell us why...
---
---
Subscribe to MoreBikes Newspaper
Get MoreBikes delivered through your letterbox every month. 12 issues for £15. Click here for more information.
---
Get MoreBikes.co.uk Updates
Enter your e-mail address below and you will receive biking news straight into your inbox...



You can unsubscribe at any time.
---