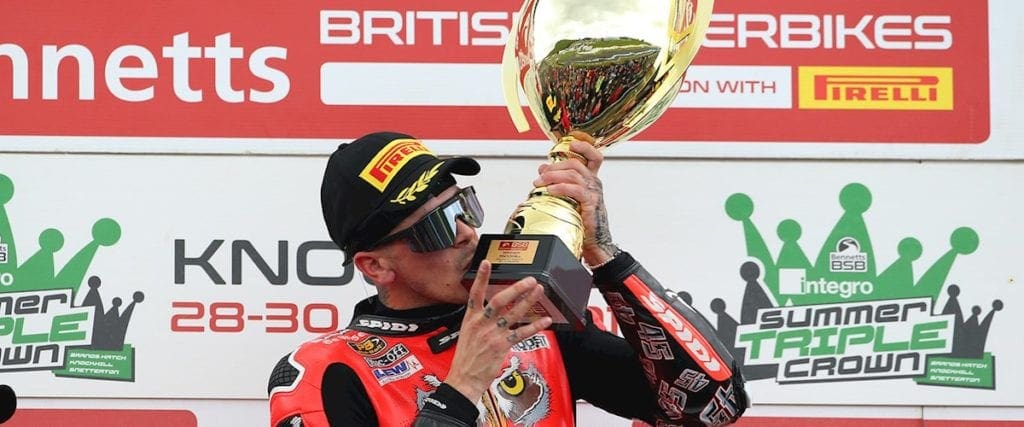 Scott Redding returned to the top of the Bennetts British Superbike Championship podium at Knockhill, mastering the Scottish circuit to claim the victory in race two for Be Wiser Ducati and move back to the top of the standings by four points.
At the start of the race Tarran Mackenzie claimed the initial advantage into turn one, but Danny Buchan carved ahead just a corner later to put the FS3-Racing Kawasaki back at the front of the field. Redding was in third and he moved second on lap two with a move at the Hairpin on the Be Wiser Ducati.
Christian Iddon had been sitting in eighth place but a crash at turn four on the third lap left the Tyco BMW with a fractured left fibula. The BMW Safety Car was deployed and as the pack formed up behind, Buchan, Redding and Mackenzie were the leading trio with Josh Brookes, Bradley Ray and Tommy Bridewell next in line.
Redding was instantly on the attack when the race resumed and after two laps he had pulled a decisive move on Buchan to take the lead. Buchan and Mackenzie then were embroiled in a battle for second, but Bridewell was also on the move and desperate to forge his way further up the order.
By lap 17 Buchan had made a move on Redding to regain the lead, but a lap later an unfortunate crash saw the FS3-Racing Kawasaki rider tumble out of the action unhurt. That gave Redding the advantage he needed and he was able to hold the advantage until the race was red flagged on lap 25 when Bradley Ray suffered a mechanical failure and subsequently affected the track conditions.
Mackenzie had been eager to make amends for his race one crash and he was able to hold off Bridewell in the closing stages as the pair completed the race two podium with Josh Brookes and Andrew Irwin completing the top five.
Peter Hickman had been giving chase to Ray before his technical problem and that meant the Smiths Racing BMW rider claimed sixth place ahead of Dan Linfoot and Luke Mossey who held off Glenn Irwin and James Ellison.
Bennetts British Superbike Championship, Knockhill, Race 2 result:
Scott Redding (Be Wiser Ducati)
Tarran Mackenzie (McAMS Yamaha) +1.428s
Tommy Bridewell (Oxford Racing Ducati) +2.658s
Josh Brookes (Be Wiser Ducati) +4.710s
Andrew Irwin (Honda Racing) +5.373s
Peter Hickman (Smiths Racing BMW) +6.014s
Dan Linfoot (Santander Salt TAG Yamaha) +6.578s
Luke Mossey (OMG Racing Suzuki) +12.453s
Glenn Irwin (Quattro Plant – JG Speedfit Kawasaki) +12.756s
James Ellison (Smiths Racing BMW) +13.035s
Bennetts British Superbike Championship standings after Knockhill: