Scott Redding delivered a double win at the sixth round of the Bennetts British Superbike Championship – to be awarded the Monster Energy Race of Aces trophy at Snetterton.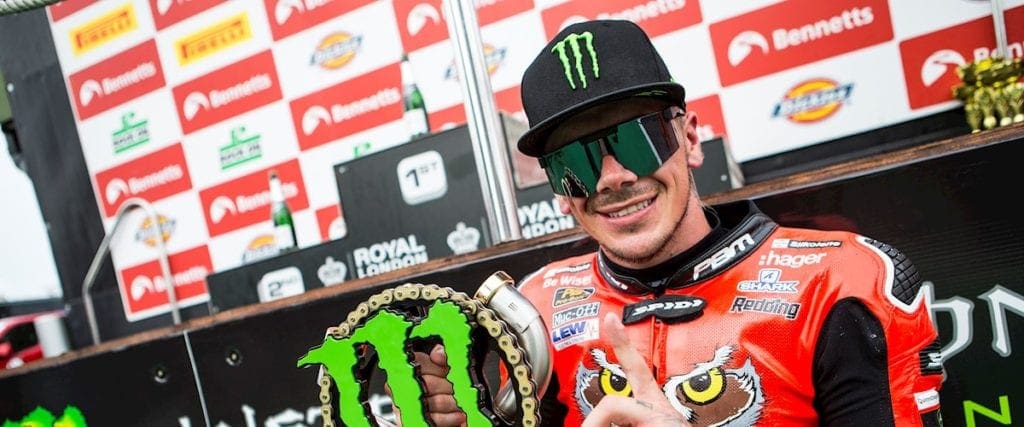 In race two Josh Brookes had the perfect start off the line to lead the pack into Riches for the first time ahead of Redding, Tommy Bridewell and Tarran Mackenzie. The leading quartet were desperately trying to make the break, but Jason O'Halloran had also made a good start to move into fifth on the second of the McAMS Yamahas. The Australian though crashed out on the fourth lap at Brundle, ending his race prematurely.
At the front Brookes held the lead until there were just three laps remaining as Redding made a dive down the inside on the brakes at the end of the Bentley Straight to take the lead. The race one winner was able to hold off his Be Wiser Ducati teammate to the finish line.
However it was a double disaster for McAMS Yamaha when Mackenzie crashed out at Wilson on lap eleven as he bid to close down Bridewell for the final podium position. The Oxford Racing Ducati rider bounced back from his race one crash to claim third place and maintain his second place position in the championship standings ahead of Brookes.
In the battle for fourth place Andrew Irwin scored his best result of the season so far for Honda Racing, holding off Peter Hickman and Christian Iddon who had a strong performance despite still recovering from his Knockhill injuries.
Hector Barbera had an impressive performance on his first visit to Snetterton on the Quattro Plant JG Speedfit Kawasaki, taking the chequered flag ahead of Xavi Forés who maintained his position inside the top six in the overall standings. Michael Laverty and Luke Mossey completed the top ten, whilst Danny Buchan and Josh Elliott failed to score points after both crashing in individual incidents on the sighting lap.
Bennetts British Superbike Championship, Snetterton, Race 2 result:
Scott Redding (Be Wiser Ducati)
Josh Brookes (Be Wiser Ducati) +0.279s