Zef Eisenberg's added four more world speed records to his collection this weekend – but this time, he's been riding the University of Nottingham's electric race bike.
At the Straightliners ACU/FIM World Speed Records event at Elvington, Eisenberg put in some scorching times on board The University of Nottingham's Isle of Man TT electric race bike. In total, the multiple ACU Motorbike speed record holder achieved four FIM World records for an unfaired electric motorbike – with an average speed of 185mph, and peak GPS speeds of 197mph. And in the process he and the UoN machine secured the title for the fastest (naked) electric motorbike bike in the world.
The four new ACU national category records include: the FIM Flying Kilometre speed of 185.103mph, with best one-way speed of 194.086mph, with GPS peak speeds of 197mph, the FIM Flying Quarter Mile, the FIM Standing Quarter, the FIM Standing Mile and ACU Flying Quarter Mile.*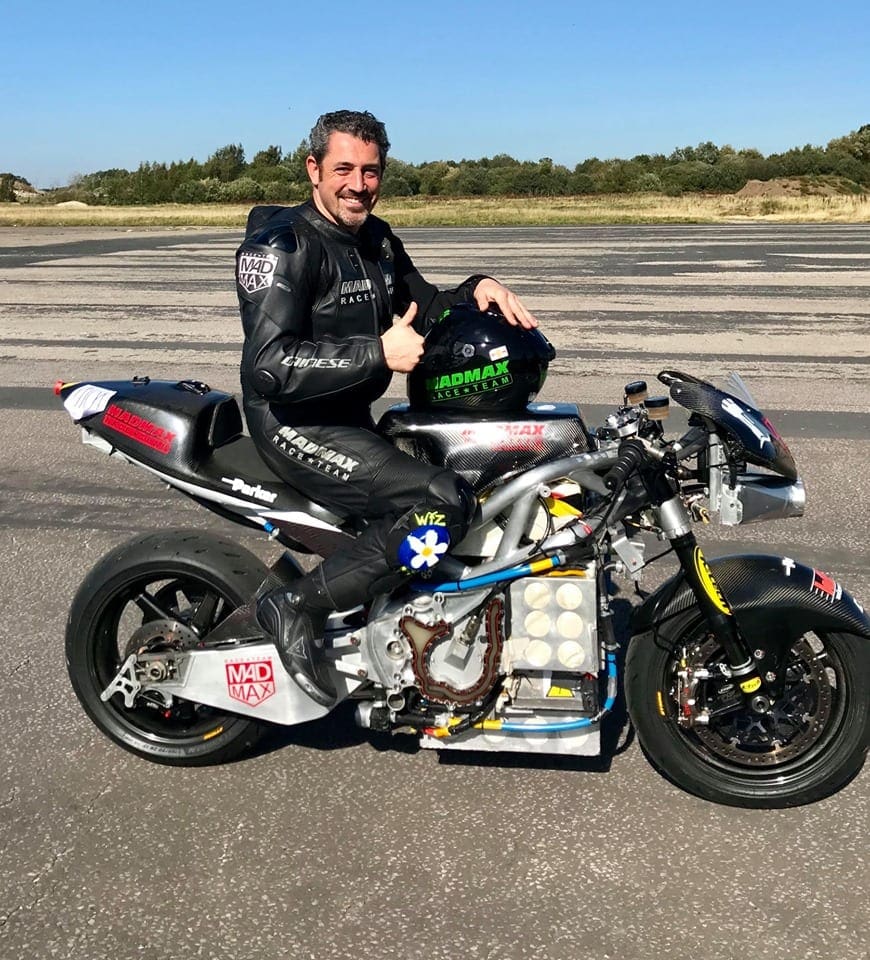 The bike was previously ridden, raced and developed by Eisenberg's MADMAX teammate, Daley Mathison. Mathison lost his life during this year's Isle of Man TT Superbike race – and as a tribute to the racer, Eisenberg promised Daley's wife Natalie Mathison that he would help make the machine the fastest electric bike in the world.
Eisenberg said "I have been planning this ACU/FIM record attempt since the Isle of Man TT incident. Daley was a very special rider and member of the MADMAX Team. The record attempts had the full blessing of his wife Natalie. I wore Daley's special Knee sliders for all the runs and I felt that Daley rode the bike to victory with me. It was my absolute honour to do it in his memory".
He continued "I can't explain how happy and emotional this was. The Nottingham University Team of talented PhD students have built and engineered an incredible racing bike under the leadership of Dr Miquel Gimeno-Fabra – they should all be so proud. I hope these records will help to put electric bikes firmly on the map, as the speeds and technology certainly impressed many of the combustion powered motorbike competitors, especially as the bike was achieving the same top speeds as a Kawasaki H2 – considered the fastest and most powerful production motorbike you can buy today. I feel this is just the beginning of the electric MADness journey for the MADMAX Race team".