Honda's all-new CT125 concept is set to debut in a month's time at the Tokyo Motor Show – and we've got some snaps of it courtesy of our pals at YoungMachine.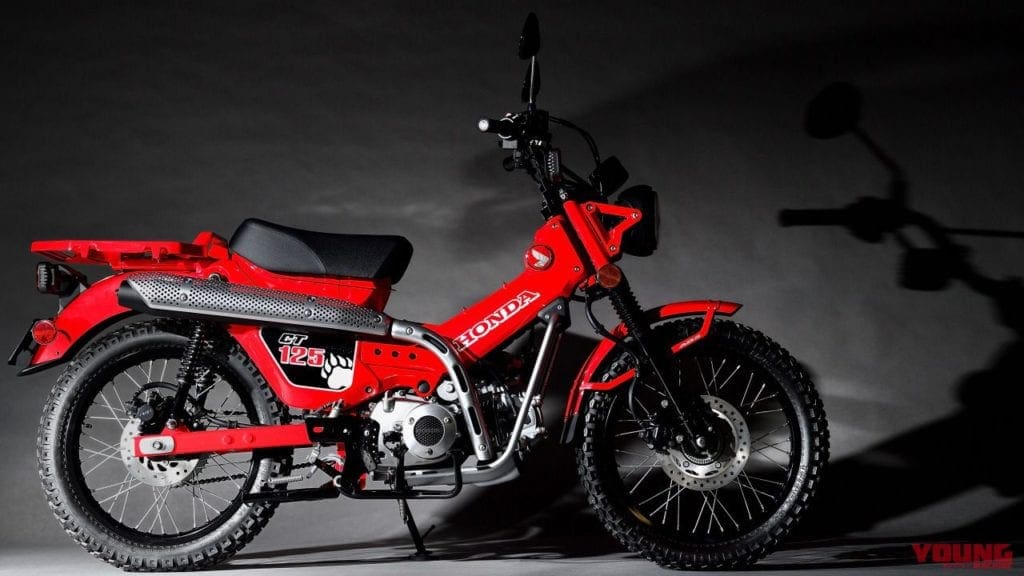 Honda's been having a lot of luck refreshing iconic machines from its illustrious past of late. Last year saw the return of the much loved Super Cub and Monkey – and next on the list for a refresh is the Cub Trail.
While Honda's continued to sell a slightly tweaked version of the CT110 in Asia – they've not been available to the wider world for a few years now. Hopefully that's set to change with the introduction of the new CT125.
As you'd expect, it shares a few bits with the new Super Cub – and uses the same Honda Grom motor as its base. Aside from that though, it's an all-new motorcycle – with a steel front mudguard, upswept exhaust, bash plate, substantial rear luggage rack, and a high-mounted air intake. It looks the part. Honest to the original, but with a few modern touches to help it stand out.
At this stage, Honda's describing the CT125 as a concept. However, that's not to say we won't see it heading into production sooner rather than later. Honda's got form for teasing new bikes at the Tokyo Motor Show – with the Honda Monkey, Honda CB1000R and Honda CBR250RR all appearing as concepts before being made available for mass consumption.
Chances are we'll have to wait a year or two before that happens – but regardless, it's great to see Honda's planning to revive one our small capacity favourites.