We're loving this story from our Italian cousins over at Motociclismo.it saying that, during a pretty standard interview with a couple of high-ranking Kawasaki bods about the Z400, this massive pearler of a statement was made.
The Motociclismo.it guru Beppe Cucco was talking to Sergio Vicarelli (Sales and Marketing Director) and Giavanni Poli (Technical Director) from Kawasaki Italy about the Z400 when the bombshell was dropped by the Kawasaki fellas.
Cucco asked his final two questions about the future direction of Kawasaki motorcycles to Vicarelli who was extremely candid about two stories that MoreBikes brought you first, right here.
The first was this story about a removable battery compartment on a small capacity Kawasaki that we showed you the patents for, first, back in 2017. Here's one of the key patent designs from the article (below) and if you want to read the updated story complete, click HERE.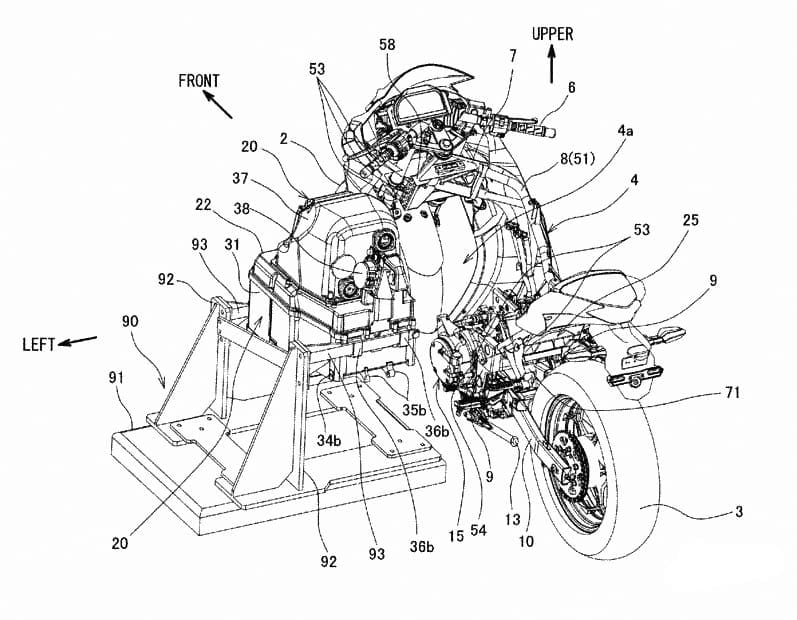 Here's what Vicarelli said about the battery Ninja: "It is useless to deny it, all the (bike) producers, including us, are working on that sector. The current problem is being able to maintain an identity and certain technological level.
"By 2030 there will be a huge qualitative leap with the entry of graphene into batteries and this will allow for smaller, faster batteries to be recharged and with greater autonomy.
"Once all these aspects have been resolved then the electric motorcycles will become interesting."
But the interesting stuff didn't finish there – Vicarelli also gave a short, but hugely important answer to Cucco's question which was: "Regarding three-wheel vehicles?"
Vicarelli answered: "We have a four-wheeler project. It will arrive on the market in a relatively short future."
Article continues below...