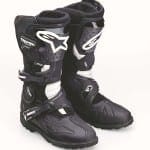 Triumph Motorcycles has unveiled its new boot range for 2014. Both stylish and functional, the entire range brings flexibility and comfort for all-year riding. Available now and exclusively from Triumph's authorised dealer network, the new range is perfect for both performance riding and casual wear off the bike.

Triumph's Tour Adventure boot (£339) is a must have for any serious off-road rider. Providing comprehensive protection, the boot features a reinforced polymer sole (for extra grip and defence against heat); lateral ankle protection with biomechanical support; double density heal discs; internal toe protection and a reinforced heel. The dual Triumph and Alpinestars branded boot also delivers total comfort, featuring a Gore Tex waterproof and breathable membrane, flex zones on the sole and a contoured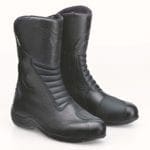 insole with mid foot shank support.

Triumph's T3 GTX boot (£199), styled in black leather and dual branded with Alpinestars, is effortless sleek. Micro fibre flex zones and a contoured sole deliver unconditional control and flexibility, while hardened gear pad protection on the top of the boot, internal heel and toe protection, and an integrated shin guard provide the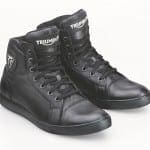 rider with absolute safety assurance.

Triumph's Urbane X unisex boot (£139) provides a solution for those riders who want footwear that offers unadulterated style without compromising on safety. Influenced by urban fashion, but retaining full practicality, it includes a premium, full grain leather upper, reinforced ankle protection, a waterproof and breathable outer membrane, heel and toe protection and an anti-slip rubber outsole.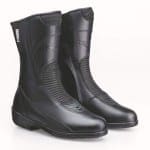 Triumph's Kate boot (£149) offers a more traditional style of woman's riding boot, yet retains every bit of desirability and functionality. A sumptuous full grain leather upper paired with double Velcro and zip closure allows for ease of use. Elastic panelling on the rear, a flexible heal notch and a shin flex system all work in harmony to allow maximum practicality, creating the ultimate comfortable ride. The boots also feature an anti-slip-outsole and are fully CE approved.
The Urbane and Kate boots are available from Triumph's authorised dealer network now, with the T3 GTX available at the end of May and the Tour Adventure in early June.  For a list of dealers and to see the complete clothing collection online, please visit: www.triumphmotorcycles.com.uk
Riders will be able to see the full range of boots at Triumph Live, a celebration of the brand, taking place on 12 July at the Gaydon Heritage Motor Centre. The full-day festival will feature live bands; stunt riding shows; factory tour