Suzuki's just revealed its latest batch of money-saving offers for the summer – including the chance to save £500 if you take a test ride.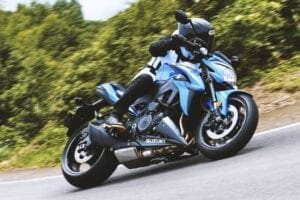 Reintroducing its popular 2, 3, 4 finance offer, Suzuki's offering customers a choice between two, three, or four-year agreements – on either PCP or HP. That means there's a lot of flexibility when deciding exactly how to pay for your new GSX-R1000R, GSX-R1000, GSX-S1000, GSX-S1000F, GSX-S750, V-Strom 650, V-Strom 650 XT or Katana.
Suzuki's also offering £500 off on many popular models – providing you take a test ride first. The £500 saving is available for the GSX-R1000R, Katana, GSX-S1000, GSX-S1000F, V-Strom 650, SV650, and SV650X.
There's also £500 off Suzuki's learner-friendly GSX-R125 and GSX-S125 machines – meaning you can get your hands on these punchy little lightweight machines for £3,899 and £3,599 respectively.
Running from July 1 – September 30; if you're after more information about Suzuki's current offers, click HERE.