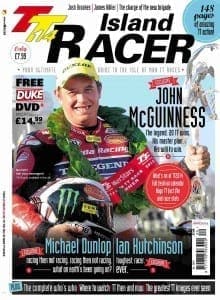 It's been a thrilling start to the Isle of Man TT and the world-famous road-racing event looks set to deliver plenty in the way of superb action and excitement over the coming days.
Whether you're lucky enough to be on the Island or if you're following developments from home, why not check out Island Racer 2014?
From the publishing team behind MoreBikes, Motor Cycle Monthly and Motorcycle Sport and Leisure, Island Racer 2014 is the ultimate TT guide bringing together an extensive array of information on this year's races along with superb content.
The highlight…? It has to be the fascinating eight page interview with motorcycle legend and 20 times TT winner John McGuinness. A fierce competitor on the road and an amiable chap off it, John holds nothing back in sharing his thoughts about TT history, his remarkable achievements and what his future holds.
Copies of Island Racer 2014 are on sale at selected locations across the Isle of Man for the duration of the event, but the quickest and easiest way to get your hands on this great read is to give the digital version a try.
Available for purchase via the dedicated Island Racer app or Pocketmags for just £3.99, you can download all 132 jam-packed pages for your computer, laptop, Smart Phone or tablet. Once you've bought it, you can read it on all of them at no extra cost.
Want something to keep you entertained on your public transport commute? Intrigued to find out more about this year's riders during your lunch break? Fancy browsing through archive images of TTs gone by as you wait to pick the kids up from school? Well that's what the digital issue gives you. If you've got your device on you then you can read anytime, anywhere – as long as it's safe and reasonable to do so of course.