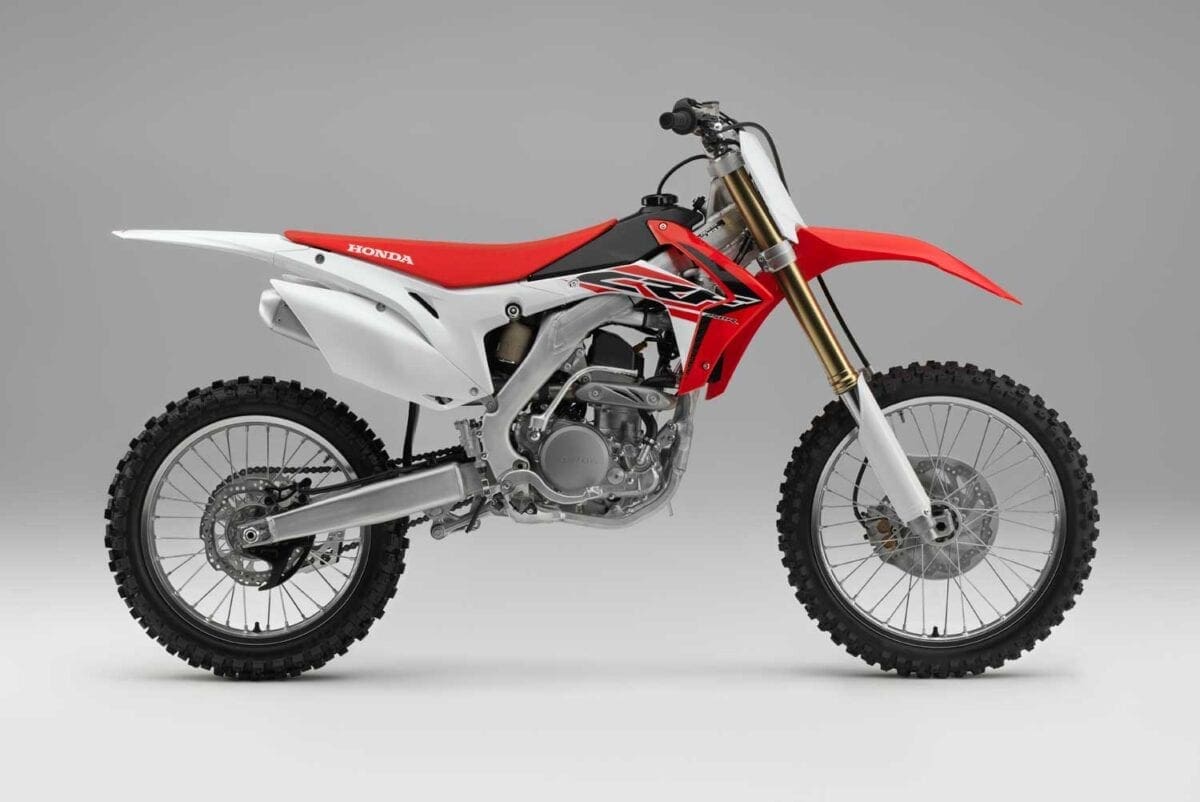 The Honda CRF250R MX2 machine receives 48mm Showa USD air forks, new rear mufflers and the same Engine Mode Select Button as the CRF450R – with choice of three engine maps – plus 260mm front disc and detail updates.
Skirmishing in a close fought arena of competition, Honda's CRF250R has consistently proven itself a polished performer. Its blend of power – and the fluid way it produces it – and razor-sharp handling agility combine to create a potent MX2 tool.
Article continues below…
Advert
---
Enjoy everything More Bikes by reading the monthly newspaper, Read FREE Online.
---
In 2014 HRC's engineers upgraded the CRF250R with the same aluminium beam frame and over-arching design philosophy of mass-centralisation as the CRF450R. The new 2015 CRF250R expands on this direction of development with chassis and engine upgrades that tie it even closer to its larger capacity sibling, enhancing further its ability to cut lap times in the hands of both professional and amateur riders alike.
The 2015 model year sees the CRF250R receive 48mm Showa air forks. As it essentially uses the CRF450R chassis developed in conjunction with the pneumatic spring forks (made by Kayaba), the 2015 CRF250R now has front suspension to fully exploit the increased performance potential on offer.
The Separate Front Function AIR (forks) with Triple Air Chamber (SFF-AIR-TAC) unit has been developed specifically for the unique demands of a 250cc competition machine. It's much lighter than the steel sprung fork it replaces and separates the damping and compressions functions between the right and left fork legs. A new spring material for the Showa rear shock is both stronger and lighter.
And like the 2015 CRF450R, the CRF250R gets the Engine Mode Select Button (EMSB) that gives a choice of 3 riding modes for the rider to select from the right side of the handlebar. Mode 1 delivers the standard combination of ECU maps, Mode 2 serves up smoother throttle control and Mode 3 returns a more aggressive power delivery.
The twin rear mufflers feature bigger bore internals and combine with new PGM-FI settings to improve throttle response throughout the rev-range, with sharper low-to-mid rpm reaction. Finally it also features a 260mm front disc, new graphics package and Dunlop MX52F/MX52 tyres.
Chassis
The SFF-AIR-TAC front suspension has been developed for the CRF250R by Showa to unlock the frame's extra performance potential and shaves 1.3kg weight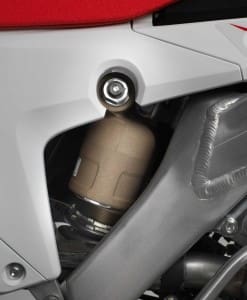 compared to the 14YM. The fully adjustable right fork leg controls both compression and rebound damping force while the left fork leg compresses air using a damper-less structure. This distribution achieves a controlled right/left balance, enhancing reaction over bumps and stability while hard on the front brake.
Three chambers are employed by the left fork leg to manage effective 'spring' rate. The Balance chamber operates from the off and at low speed; the Inner chamber is responsible for the mid-range stroke and the Outer Cylinder chamber is used as the forks near their bump stops.
Static sag and preload is changed by adjusting air pressure in the Inner and Balance chambers via a Schrader valve on the fork cap, and changing the oil volume in the Outer chamber.
There are no changes to the CRF250R's sixth generation aluminium-twin beam frame, originally revealed on the 2013 CRF450R. The steering geometry of 27.23°, with 116.7mm trail and wheelbase of 1,489mm works directly with the new Showa fork's performance and gives a superb connection to the front tyre with increased feel for available side-grip on the limit. In combination with the low centre of gravity, this means side-to-side transitions ­– in the air or on the ground – require reduced rider input. All-up kerb weight is down to 105.2kg.
A CRF250R-exclusive lower cradle houses the engine. Careful packaging of equipment around the frame contributes to mass centralization; the electrical components (ECU, condenser, regulator and wiring harness) save weight and are centrally located below the throttle body. Efficient, lightweight radiators – specific to the CRF250R – mount low.
The compact Showa shock also mounts low within the frame spars and uses a new spring material for 2015; it's stronger and lighter by 220g with no change in spring rate. The aluminum swingarm features deep beam height in the front and centre sections, minimising rut deflection and improving rear tyre traction on corner exit.
Honda's Pro-Link rear suspension linkage operates CRF250R-specific ratios and allows 31.7cm of travel. Fully adjustable, the rear shock features 17-position rebound adjustment; compression damping is separated into 13-position (low-speed) and 3.5 turns (high speed).
The 2015 CRF250R's bodywork maintains Honda's man maximum/machine minimum ethos that's built around a rider's needs, first and foremost. Efficient riding ergonomics are at the heart of the CRF250R shape. The radiator shrouds, side covers, lightweight seat and fuel tank offer a slim, smooth and continuous transition allowing the rider huge freedom and flexibility of movement.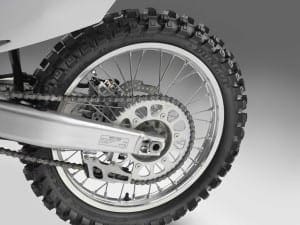 In common with the CRF450R, new Black CRF decals and detailing mirror the factory racer's look. Another detail change is the use of black radiator grilles in a hard-to-clean area. A new simplified fuel hose design helps with cleaning and maintenance; fuel capacity is 6.3 litres.
A larger 260mm wave-pattern front disc improves heat dissipation, power and feel from the two-piston brake caliper working it; a matching 240mm wave-pattern disc and single-piston caliper is at the rear. The new fork protectors and two-piece disc cover are finished in White, while the front and rear brakes guides are now Black.
Lightweight aluminium rims reduce unsprung weight. Both now wear top-specification Dunlop MX52F/MX52 80/100-21 front and 100/90-19 rear tyres which offer superb grip over a variety of conditions, with block-within-a-block knobs for more progressive side-grip and cornering, superior bump absorption from the sidewalls and recessed carcass design plus increased durability.
Engine
In 2014, Honda's 249cc MX power plant gained a redesigned cylinder head and inlet exhaust porting, with increased compression ratio of 13.5:1. At this point in development HRC's engineers focused on the rider's ability to easily adjust the engine to suit conditions and riding style, plus exhaust efficiency and throttle feel.
The four-valve Unicam unit (with bore and stroke of 76.8mm x 53.8mm, 30.5mm dia. titanium inlet/25mm dia. steel exhaust valves) has always impressed with its broad spread of useful power no matter the revs, plus sharp throttle response.
Adding Honda's EMSB to the mix has increased its usability further. This is a bonus for the club racer in particular; rather than set up during the week and hope for matching condition at the weekend (or take a laptop to the track), the rider just has to stop with the engine at idle and press and hold the button for just under a second to select the next map in sequence.
A highly visible LED built into the lightweight button signals the map in use with a quick press and number of subsequent flashes. If a new map is selected the choice is also confirmed to the rider.
Mode 1 uses the standard combination of ignition and fuelling maps to present a balanced power and torque delivery. Mode 2 is designed for use in slippery,
muddy conditions and is all about throttle control, giving easy-to-manage feel that hunts out every last shred of traction. Mode 3 hits all-out hard with aggressive and responsive top-end power to drive through deep, soft sand. Mode 2 and 3 can be further tailored via the existing HRC mapping hardware and software.
Improved throttle response throughout the rev-range with crisper top-end and sharper snap off the bottom and through the middle have been achieved through use of redesigned mufflers and internals; the right inner diameter grows from 22 to 23.8mm, the left from 23.4 to 26.6mm.
PGM-FI Dual Fuel Injection is fed by a CRF450R specification airbox married to a dedicated CRF250R air boot and features revised mapping to suit the free-breathing exhaust. It uses a lighter throttle return spring on the 46mm throttle body to reduce effort. In FIM form peak power of 28kW arrives @ 11,000rpm, with peak torque of 26.5Nm delivered @ 8,500rpm.
A variety of maintenance packs will be available for the 2015 year model.
Tech Spec
| | |
| --- | --- |
| ENGINE | |
| Type | Liquid-cooled 4-stroke single cylinder uni-cam |
| Displacement | 249cc |
| Bore x Stroke | 76.8mm x 53.8mm |
| Compression Ratio | 13.5 : 1 |
| Max. Power Output | 28kW   @ 11,000rpm |
| Max. Torque | 26.5Nm   @ 8,500rpm |
| Oil Capacity | Engine oil 0.85 litres / Transmission oil 0.75 litres |
| FUEL SYSTEM | |
| Carburation | Fuel injection |
| Fuel Tank Capacity | 6.3 litres |
| ELECTRICAL SYSTEM | |
| Ignition | Full transistor |
| Starter | Kick |
| DRIVETRAIN | |
| Clutch Type | Wet multiplate |
| Transmission Type | Constant mesh |
| Final Drive | Chain |
| FRAME | |
| Type | Aluminium twin tube |
| CHASSIS | |
| Dimensions (LxWxH) | 2,181mm x 827mm x 1,271mm |
| Wheelbase | 1,489mm |
| Caster Angle | 27 °23′ |
| Trail | 116.7mm |
| Seat Height | 951mm |
| Ground Clearance | 322mm |
| Kerb Weight | 105.2kg |
| SUSPENSION | |
| Type Front | Showa 48mm inverted SFF-TAC air   fork (310mm stroke) |
| Type Rear | Showa monoshock using Honda Pro-Link system   (317.6mm stroke, 133mm axle travel) |
| WHEELS | |
| Type Front | Aluminium spoke |
| Type Rear | Aluminium spoke |
| Tyres Front | 80/100-21 Dunlop MX52F |
| Tyres Rear | 100/90-19 Dunlop MX52 |
| BRAKES | |
| Front | 260mm hydraulic wave disc |
| Rear | 240mm hydraulic wave disc |
All specifications are provisional and subject to change without notice.
---
Advert
---
Enjoy everything More Bikes by reading the MoreBikes monthly newspaper.
Click here
to subscribe, or
Read FREE Online
.
Sign-up to the More Bikes Newsletter
Enter your e-mail address below and get regular updates straight to your inbox… You can unsubscribe at any time.