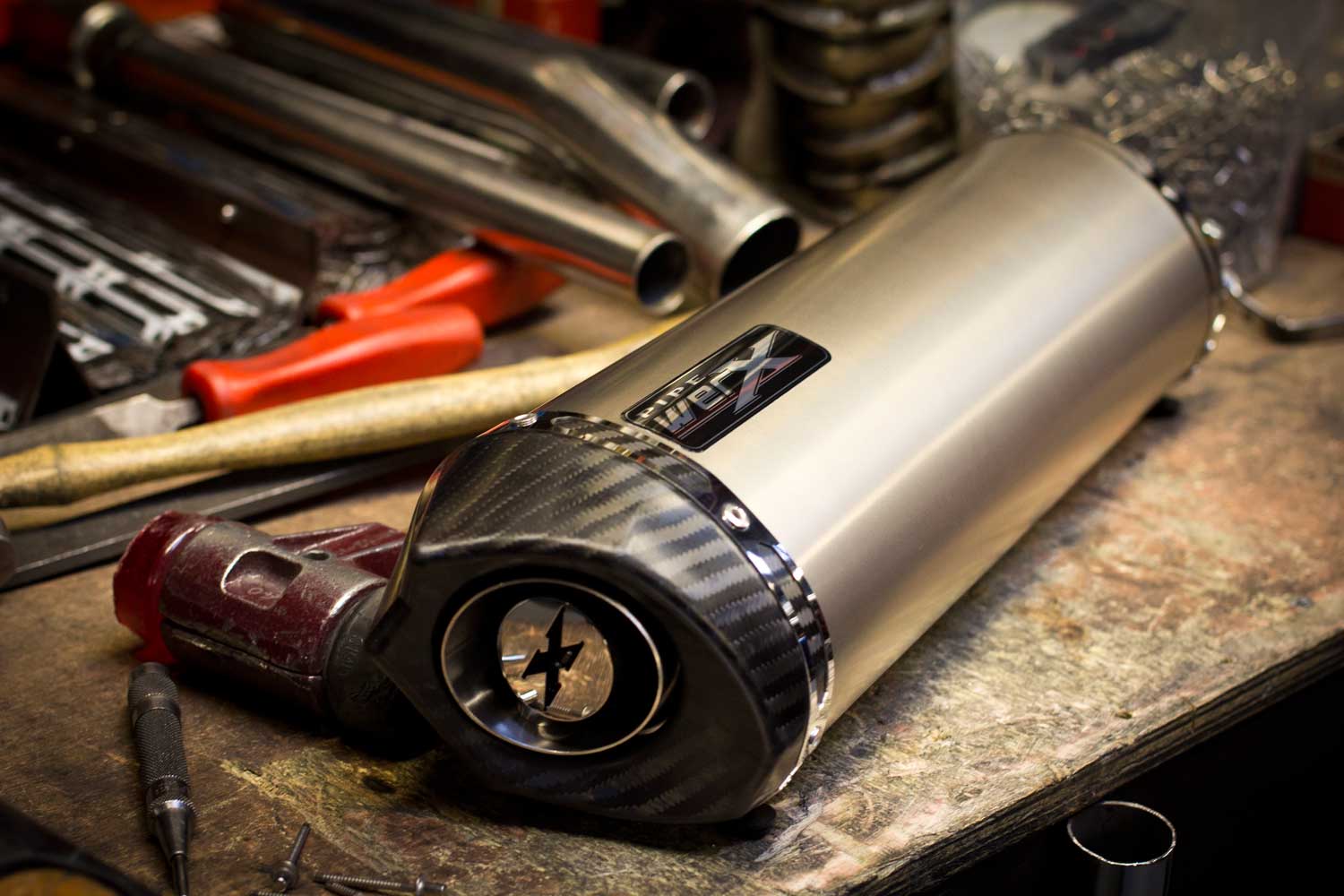 Pipe Werx exhaust review: Titanium Oval street-legal exhaust with Carbon Edge
 Tested by: John Milbank RRP: £265 Contact: www.pipewerx.com
MoreBikes.co.uk and Motor Cycle Monthly Editor John Milbank recently took his 14-year-old Honda CBR600FY to BSD.uk.com to compare a Pipe Werx Titanium Oval can (with baffles in and out) with the OE Honda exhaust. There's a full feature coming soon in the paper, but here are the basic figures…
With the OE header pipes and can fitted, years of neglect to the carbs had the bike running rich (shown by the bottom blue line being low). Fitting the Pipe Werx can with its baffle in has improved the mixture (the red line), and given me some reasonable performance gains.
Mark was happy with the old CBR, and more importantly, was confident that fitting one of these cans (with the baffle in) to a standard bike, running correctly, shouldn't see it needing any jetting or mapping work. The green line shows performance with the baffle out. Removing the baffle could make some bikes run a little lean, so at this point you'd want to start thinking about the fuelling. Of course, it also wouldn't be road legal anyway, and once you're into serious track use, you'd be daft not to get the bike set up by a company like BSD.
The exhaust is incredibly well made, and fitted my OE Honda downpipes perfectly. It's important to not worry too much about the ragged lines in the dyno chart – the old carbs' slides can bounce slightly under these conditions. When riding the bike on both road and track, it feels great. Obviously it's hard to tell much difference in performance when riding, but the sound is fantastic. While you can't hear a huge difference between the cans in this video due to the enclosed space (decent speakers or headphones help), the bike has a much nicer 'bark' to it now, without being offensively loud.
Each can is made to order, and comes with a lifetime guarantee… it's no wonder you can't find a bad word about the company online!