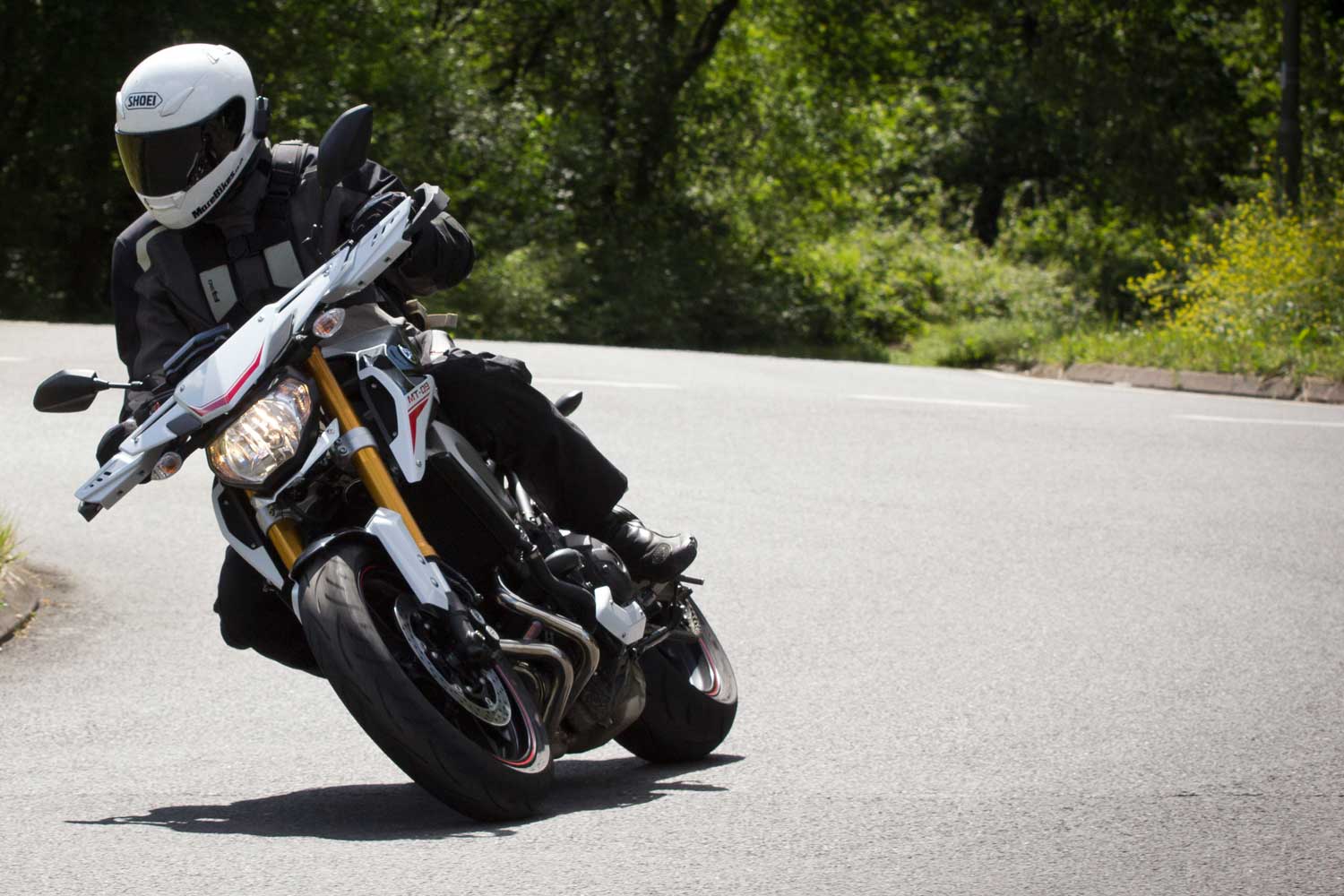 £7699 | 113bhp@10,000rpm | 64.5lb-ft@8000rpm | 847cc liquid-cooled triple
Tested by: Steve Rose Photos by: John Milbank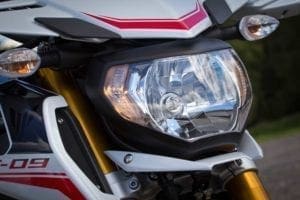 Yamaha's brilliant new triple puts on its Motard-frock and Doc Martens. 'Tonight Matthew, I'm going to be a street-rallying mega-moto'
The first derivative of Yamaha's stunning new MT-09 roadster turns the road bike into something resembling an 847cc, Mad Max-styled supermoto. The changes are mostly cosmetic, but a change of footrest position and a new seat make it feel quite different to ride too. Yamaha have sold us the MT range as 'the dark side of Japan'. Playing on our inner mischief. And, being Yamaha (who have a long history of mischieveous motorbikes), this is more than just marketing babble. The MT-09 delivered on the 'Dark-side' promise.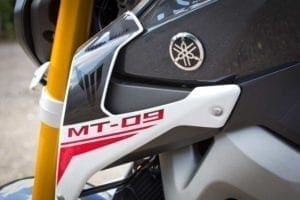 The Street Rally version is pimped with a body kit that isn't quite a fairing but does supposedly make high-speed riding a bit more comfortable. There are hand guards too, a more comfy seat, chunky forward-set footrests and some neat cosmetic touches that make it look like a very different bike and ride differently too.
Tell me about the engine
It's the same as the standard MT-09. A three cylinder, 847cc lightweight motor that combines a lot of low down punch with short gearing to give it some real personality. The power delivery is very direct, which takes some getting used to at first,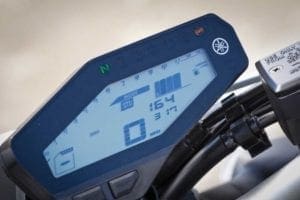 especially in town where it's easy to feel clumsy balancing the sharp throttle, smooth clutch and thirst for gearchanges as you pick holes in the traffic.
There are three throttle modes that alter the amount of twist needed for a given chunk of go. Standard mode is what you'd expect, at full twist you have 100 per cent throttle. 'A' mode gives 100 per cent throttle on about 70 per cent twist which makes the standard engine feel like it's just come back from the tuning shop. 'B' mode is where full twist only gives about 80 per cent power and so feels softer and easier to ride in tricky conditions.
Obviously being British and therefore some kind of deluded, former 'well-ard' motorcyclist, most of us will be tempted to leave it in 'A' mode even when it snows (or at least tell our mates that's what we do). The reality is that on a bike like the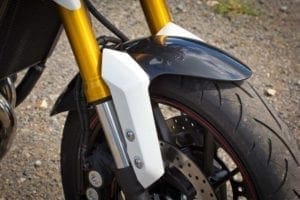 MT, these modes are really useful. I kept it in 'B' mode in town, switching to standard once out of it. I didn't use 'A' much, which surprised me because I had an R1 with the same system a few years back and used 'A' all the time. But the MT-09 is tuned for bottom end power and has much shorter gearing than the R1 and so feels much more aggressive on a whiff of throttle. Plus, the suspension is soft and has a lot of travel for a road bike, exaggerating the pitch of the bike as you open and close the throttle. Standard mode is fine for me and even then, it needed a few miles to get used to the response. Yamaha have taken some stick in the press for the MT's throttle response, which seems a little unfair. They've built a great bike and given the rider three electronic options to suit the conditions.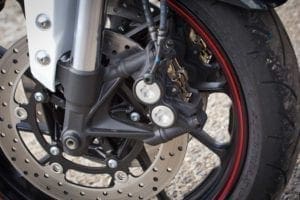 What's the chassis like?
Frame, suspension and geometry are the same as the standard bike. But the soft, long travel suspension suits the supermoto attitude and the revised riding position from the forward footrests, gives a different kind of control. The Motard-style footrests are a few inches further forward than standard meaning this isn't a bike you hang-off – it's more about pushing it into corners using more effort at the bars. Less finesse, but a lot more fun. I'm too self-concious to stick out a leg on the 40mph mini-roundabout we've chosen to do the photoshoot on, so we end up with a halfway house involving slightly too much lean, a lot being asked of the tyres and a series of 30 or so concentric black circles left to mark the occasion. On such a teeny piece of Tarmac, the MT is constantly trying to turn in on itself as the rider concentrates on keeping the throttle smooth. If anything it shows the versatility of the chassis and suspension because I'm asking it to do things much more suited to a 250cc sports bike while dodging traffic at the same time.
Yes, if you want a bike to have fun on that will be equally as good blatting to work as it is on a Sunday morning. Yamaha's range of MT accessories includes performance parts and practical stuff too so you could run your bike with both a rack and top box and a very cool looking Akrapovic exhaust (with removable baffle and catalytic converter for, er, easy servicing) if you want to. The body kit and side panels give the bike a whole new personality. I particularly like the colour choice because it subconsciously reminds me of classic Yamaha trail bikes. Unusually for a manufacturer, most of these accessories are actually very cool too. Someone back in Japan has their finger right on the pulse and the MT-09, especially in this guise, is probably the most interesting oriental motorcycle on sale right now.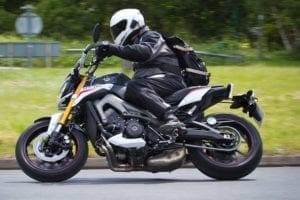 So what's it like to ride?
The body kit is claimed to add a little high speed comfort, and it did feel a little smoother at motorway speeds. Once used to the throttle (and in the right mode) the MT is an easy bike to get along with. The clutch is light, gearshift slick and the brakes are progressive when you need to slow down, and powerful when you need to stop in a hurry. The upright riding position makes town riding confident and the back brake works really well to control speed while filtering or cranked over in a corner. These are small things that make a big difference. Strangely, for a hyped-up Motard-style bike, the SR's taller seat is more comfortable than the standard one.
The biggest question I have when we return the bike to Yamaha is: "After seven new model launches in seven months, what are you going to do next year to top this?" The man from Yam' smiles and says, "We're going to do even more."
Tech Spec
Price: £7699 (ABS standard)
Engine: 847cc, liquid-cooled, dohc 12-valve triple
Power: 113bhp (84kW) @ 10,000rpm
Torque: 64.5lb-ft (87.5N.m) @ 8000rpm
Kerb weight: 193kg (estimate)
Seat height: 849.5mm
Tank size: 14 litres
Read the original launch report of the MT-09 here.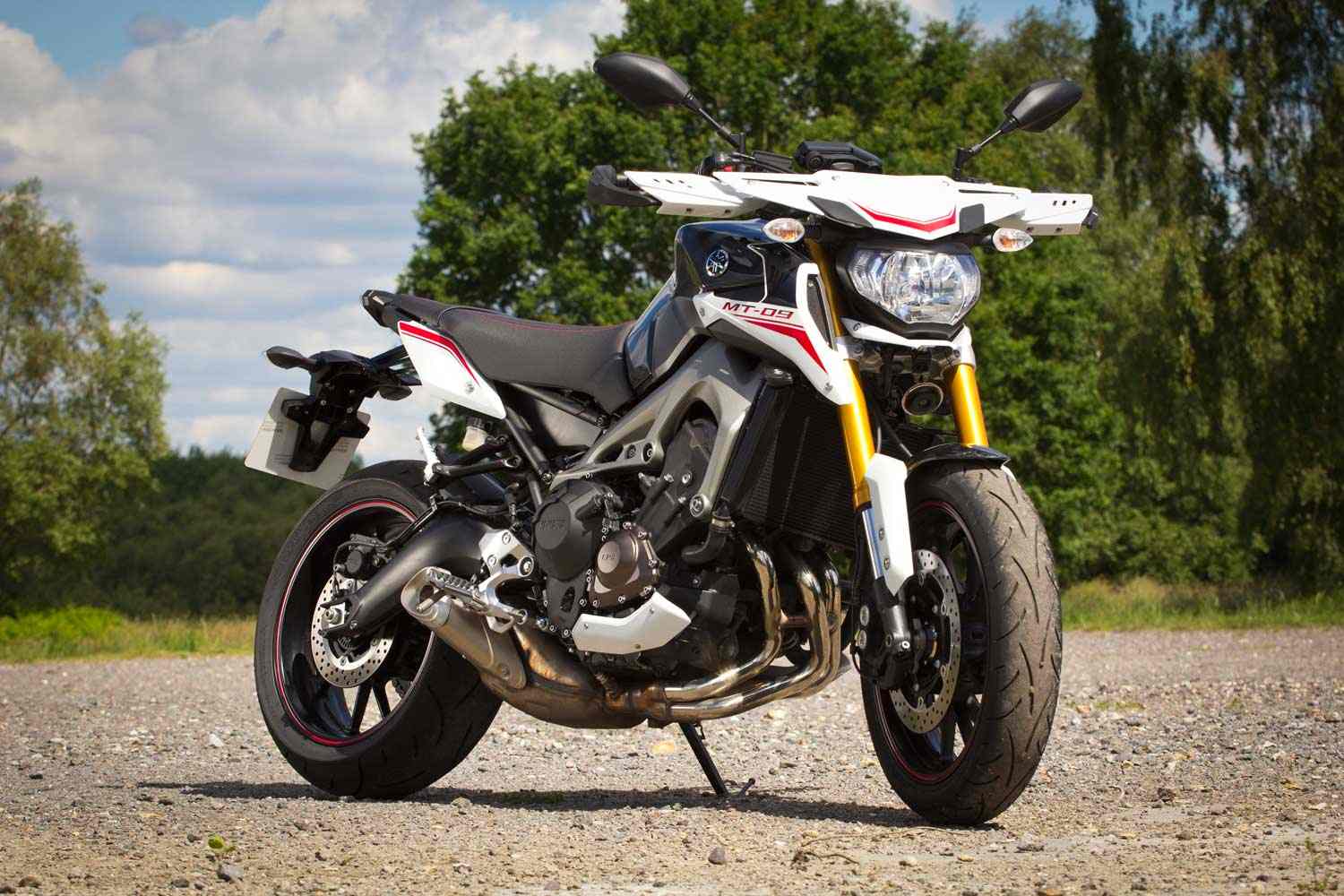 ---
Advert
---
Enjoy everything More Bikes by reading the MoreBikes monthly newspaper.
Click here
to subscribe, or
Read FREE Online
.
Sign-up to the More Bikes Newsletter
Enter your e-mail address below and get regular updates straight to your inbox… You can unsubscribe at any time.