The Institute of Advanced Motorists takes a tongue-in-cheek look at how advanced riding skills might have changed the outcome of some of the greatest movie motorcycle chase scenes…
The cinema loves a chase scene – if it's on two wheels, even better. But quite often these high-octane stunt sequences don't end too well for our hero, who barely escapes alive. Here are the views of a motorcycle-riding expert on some classic bike chases from the silver screen. Where did the riders go wrong? Is there anything they could have done that would have meant things turned out differently?
 

The expert: Geoff Pretty
Geoff is a Senior Observer at the Middlesex Advanced Motorcylists group within the Institute of Advanced Motorists, and the consultant motorcycle trainer for IAM Drive and Survive.
A former police motorcyclist, Geoff has ridden all size and types of motorcycle both professionally and for pleasure. He holds an NVQ in Advanced Motorcycle Instruction and is a member of the DVSA Register of Post-Test Motorcycle Instructors. He has been with IAM since 2004.
The Matrix Reloaded (2003) Dir. Andy & Lana Wachowski
Trinity and the Keymaker steal a Ducati motorbike and head off against traffic on the wrong side of a busy motorway, pursued by police and the agents.
Expert view: "They're filtering far too fast with a large speed differential between the bike and other traffic; any sudden movement by another vehicle could prove problematic (as seen when the silver car changed lanes). You should never accelerate into a closing gap, but wait until you have a clear exit and proceed gently through."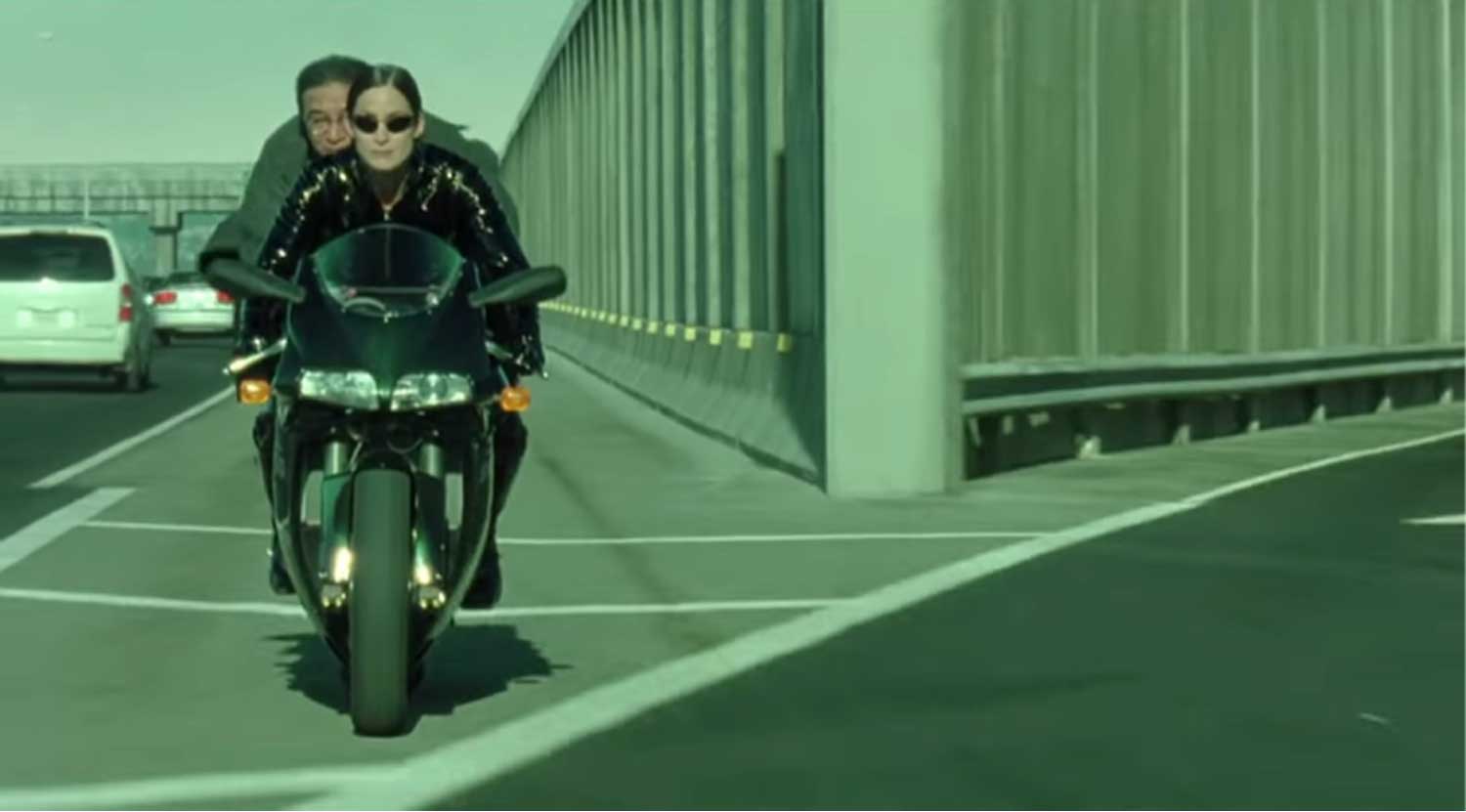 The Dark Knight (2008) – Dir. Christopher Nolan
Our eponymous hero takes on the Joker astride his heavily-armed Bat Pod bike, tearing through the streets (and shopping malls) of Gotham City.
Expert view: "An even more extreme version of the Matrix scenario; the gap simply wasn't big enough, evidenced by the fact that the cars all lost door mirrors or had other damage. Saying that, the bike is pretty impressive – can I have one?"