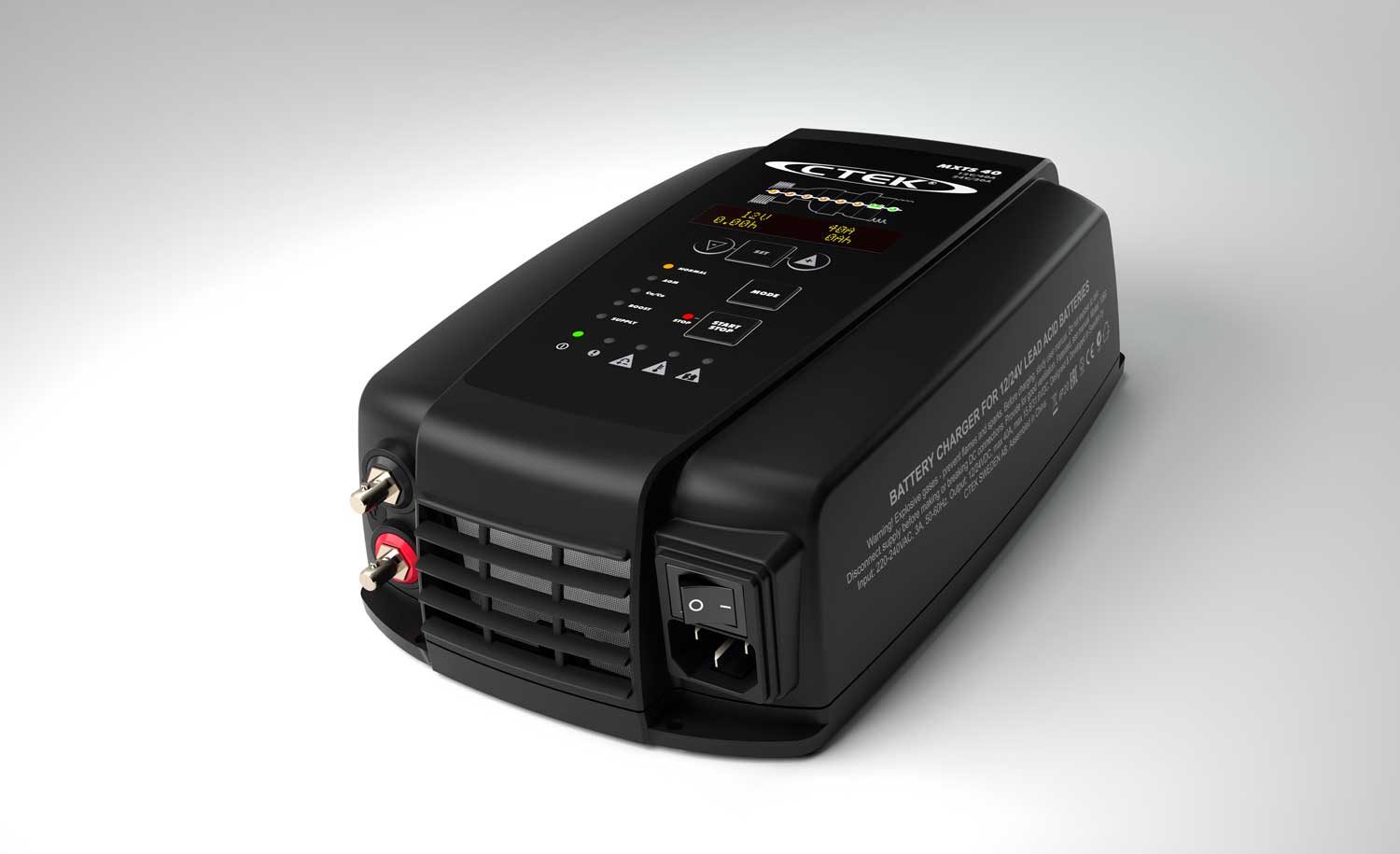 CTEK, a leading global brand in the care and maintenance of vehicle batteries, has launched the MXTS 40, a powerful smart charger and battery support unit that can provide up to 40A, to meet the increasing demand for safe, fast charging and battery support from workshops and showrooms.
This simple to use, electronically safe unit provides rapid 12 or 24V charging for all chemistries; the powerful 8-stage charger provides optimum charging in the shortest possible time, and has selectable modes for all lead-acid battery types including Calcium, Gel, and AGM (including Start/Stop types) to ensure that a safe, fast charge is delivered to exactly meet the needs of the individual battery chemistry.
Equally suited to battery support, the MXTS 40 provides a range of highly accurate constant voltage settings to avoid ECU damage due to voltage fluctuation during programming, it can supply up to 40A of clean and constant current, (20A in 24V mode) protecting against disruption to the diagnostic process. Voltage range is 13.6 – 14.8V in 12V mode and double this in 24V mode.
The user interface provides essential information clearly and simply – the unique CTEK 8 step charge progress indicator LED's are complemented by an additional OLED display that gives read-outs of important charge parameters including current, voltage and amps charged.
The MXTS 40 is an essential piece of equipment for the workshop or showroom:
Dual voltage : 40A/12V and 20A/24V
Electronically safe multi step rapid charging
Constant power supply for battery support with selectable voltage
Temperature compensation for efficient charging
Diagnostic function tests to identify whether a battery is able to take and hold a charge
RECOND and BOOST modes to restore deeply discharged batteries
Minimum electricity consumption from the grid, reducing electricity costs and good for the environment
Heavy duty 2.5m detachable charge cables and clamps
Compatible with CTEK Pro accessories
2 Year warranty
A CTEK spokesman said: "There is ever increasing demand for chargers capable of providing powerful battery support when flash programming work is being undertaken. There is also a great need for a safe and versatile charger with the ability to deliver a rapid charge for both workshop and showroom applications. With powerful and quick charging capability, great functionality and 12 and 24V flexibility the MXTS 40 meets these requirements perfectly making it an essential piece of equipment for the workshop or showroom."
For more information or to find your nearest stockist visit www.ctek.com