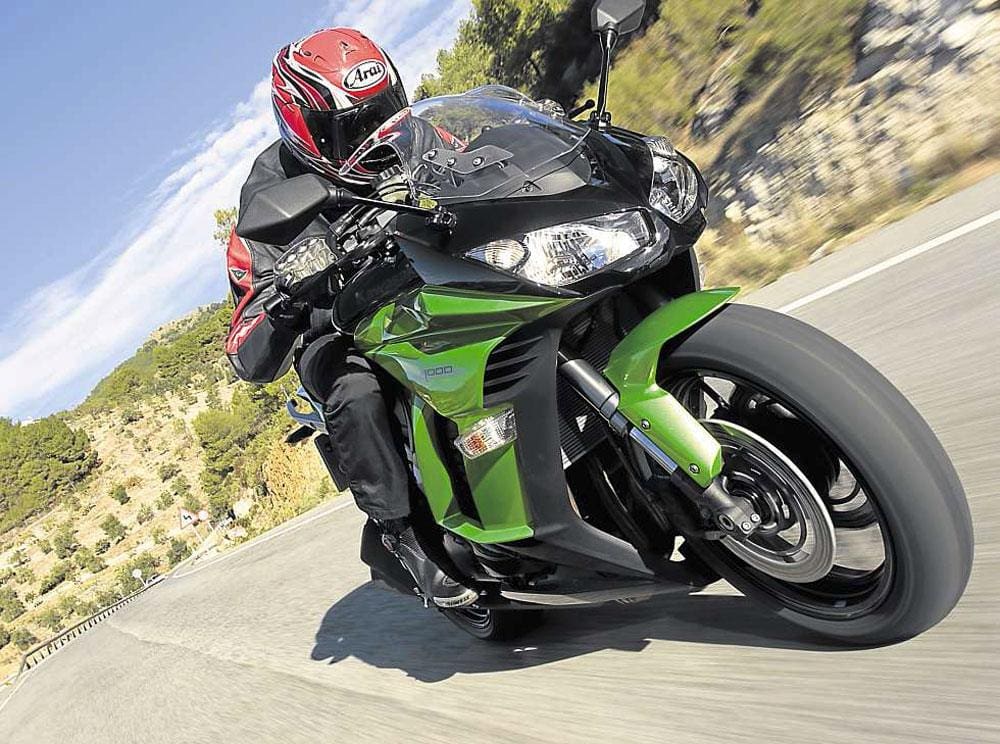 The new Z1000SX shows that it's possible to create two distinct models almost for the price of one. The big Kawasaki's engine, frame, swingarm, brakes and most other bits are taken straight from the naked Z1000 that was launched a year ago. Adding a nicely styled fairing, bigger petrol tank and a splash of lime green paint has created a sharp looking sports-tourer for a very different part of the market.
Kawasaki insist that the Z1000SXwas a key element in the Zed project all along, rather than being dreamt up afterwards. It's easy to believe that, given the way its styling hangs together. More importantly, the claim holds up when you ride the SX and discover a bike that combines serious performance with impressive long-distance potential. (Correction: perhaps that should be bikes, because alongside the basic SX is a Z1000SX Touring model fitted with ABS and panniers.)
The SX's key element is that fairing, which incorporates a screen that can be manually adjusted through three positions, after pressing a button behind the clock console. The screen isn't huge, but in its upright position it sits near-vertically to provide a useful degree of wind protection. Returning it to the lowest position allows the SX to have a sleek look with a distinct hint of ZX-10R style aggression — ideal for those who fancy a super-sports bike but need more versatility.
Practicality is also aided by the larger tank, up to 19 litres from the Z1000's stingy 15. There's no change to the 1043cc, DOHC engine, apart from slightly taller gearing, and some covers being reworked to reduce vibration and noise. The Zed's eye-catching twin-silencers exhaust stays, now finished in black. Power output is untouched all the way to a max of 136bhp at 9600rpm.
There's no change to that beefy twinspar aluminium frame either, or to the twin-sided swingarm that works a horizontalShowashock unit.Suspension at both ends is slightly firmer to suit the SX, which is likely to carry more load, as well as being 10kg heavier at 228kg wet. Other cycle parts remain, including the radial four-pot Nissinfront brake calipers and wavy discs.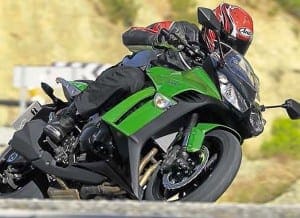 How does it perform on roads?
Given Kawasaki's efforts to emphasise the SX's differences from its naked cousin, it seemed slightly surprising that its launch was held on the same roads near Marbella. But although the two models' riding positions are almost identical, with the SX having very slightly narrower bars and a5mmtaller seat, it felt distinctly different on the twisty roads of southern Spain.
Apart from the ZX-6R style instrument console (replacing the Z1000's hinged job), the SX's most obvious advantage is the way that small screen keeps some wind off your chest, even in its lowest position but particularly when it's raised to the highest one. I wasn't surprised to find some turbulence, especially as I'mtall, but the protection was nevertheless welcome.
It was great to be reunited with that big, flexible and sweet-revving engine. The Kawasaki responded cleanly from below 3000rpm even in top gear. By four grand in the lower gears it was pulling hard, then at 7000rpm it kicked again with a burst of smooth power. It'd cruise all day at a lazy 90mph, with the help of that fairing, and there's enough top-end power for over 150mph.