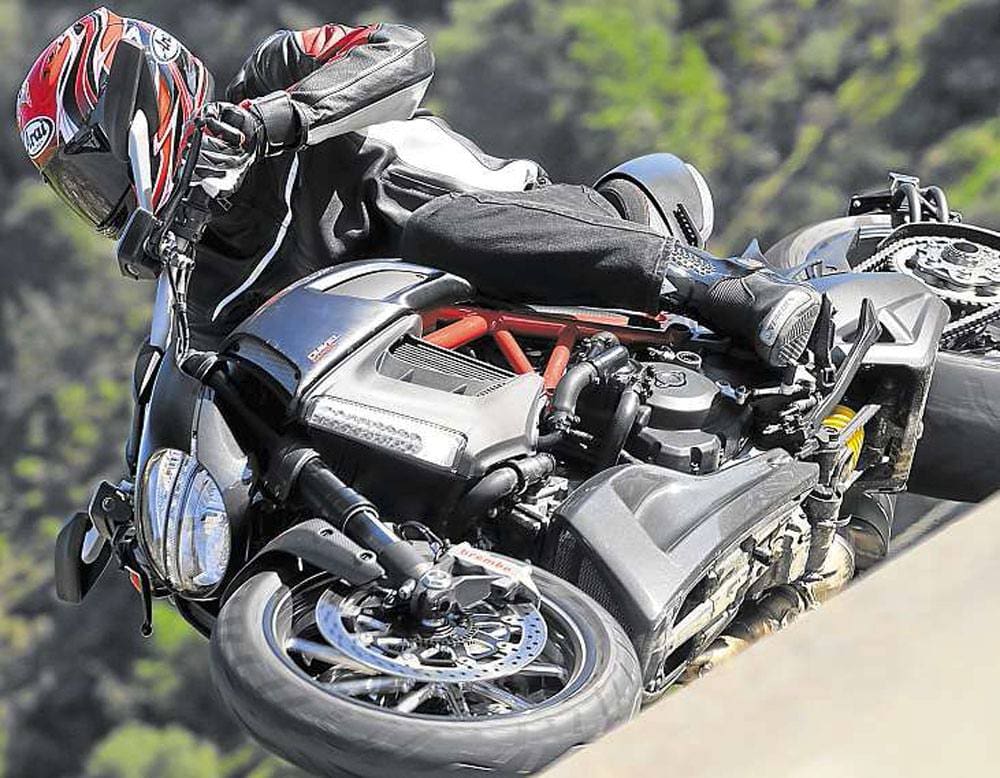 Ducati's new Diavel is a sports bike in muscle cruiser clothing
It's a sunny saturday afternoon in southern spain, and the famously twisty A-397 from Ronda to the coast is teeming with sports bikes.
This is motorcyclists' heaven but it's not the place where a giant V-twin muscle bike with kicked-out forks, a laidback riding position and cruiser-like wheelbase could be expected to shine.
Yet there's no bike I'd rather be riding right now than the Diavel.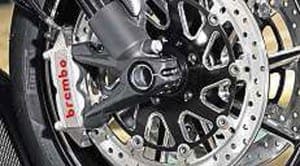 Accelerating out of every turn, the big Ducati rampages forward at a thrilling rate, with a deep V-twin bellow from its airbox and from the pair of fat aluminium exhaust cans near my right boot. And when I shut off again, it's making an equally glorious 'braaaaagh' on the over-run.
More to the point, this Diavel is seriously fast — and not just on the straight bits. Every time a bend approaches, it's slowing hard, cranking into the turn with minimal effort required at its pulled-back handlebars, then railing round at an impressive angle with maybe an occasional scritch of footrest on tarmac – but with complete confidence and stability.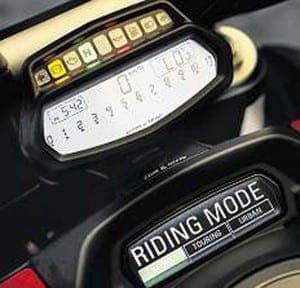 It's a remarkable performance from a machine that has dramatically exceeded my expectations, and has quite possibly started a whole new class of motorcycle.
There is certainly nothing else like the Diavel. 'Power cruiser' doesn't fit, because this bike is good for much more than cruising. 'Muscle bike' is more like it, but even that sells the Diavel short. What does fit the Diavel perfectly is its own name, reputedly coined when the Ducati workforce first got to see the prototype, and one muttered that it looked evil, 'like a devil', using his local accent. And there's a very intentional air of devilment in Dutch designer Bart Janssen Groesbeek's broad-shouldered, fat-rear-tyred form. Yet even with much of the trademark 1198cc desmo eight valve V-twin engine hidden, it's an unmistakably Bolognese creation.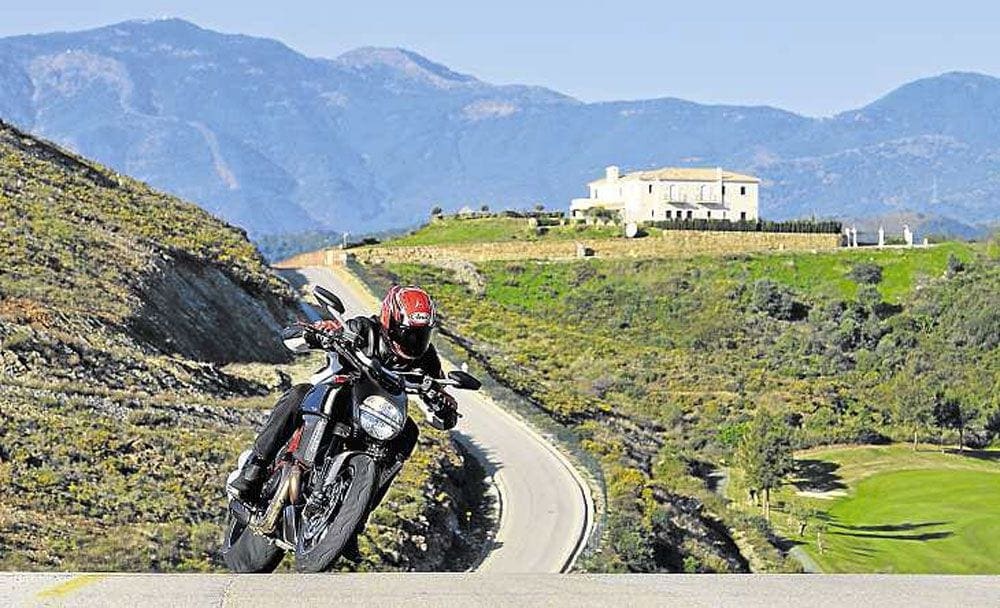 Devil is in the detail
The trademark Ducati steel trellis frame is one reason for that, though it's dominated by the fuel tank above it, with a large aluminium air scoop on either side above a side-mounted radiator whose cover incorporates a vertical strip of LED indicators. This flagship Diavel Carbon model, which costs £15,895, has red paint (black is £400 cheaper) over carbon fibre weave. Standard Diavels, at £12,995, are painted red or black.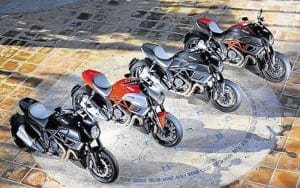 The Carbon model also gets a carbon fibre front mudguard and forged, instead of cast, aluminium wheels, plus DLC (diamond-like carbon) coated fork sliders. Most parts are shared by both models. Front forks kicked out at 28º combine with the long, single-sided swingarm and stubby seat unit. The eight inch rear wheel holds a similarly vast 240-section rear tyre whose mudguard mounts to the swingarm via a steel trellis.
Some of those details are familiar from the cruiser world, and the Diavel's barrel-chested profile has echoes of Yamaha's V-Max and Harley's V-Rod.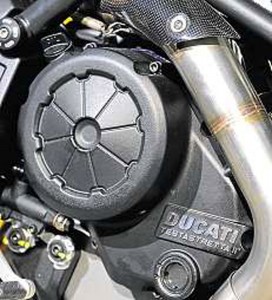 But Ducati's most vital advantage had been obvious first thing this morning… as I climbed aboard and lifted the Diavel off its side stand. At 210kg dry, or 207kg in the case of the Carbon, it's roughly 80kg lighter than those other bikes.
The view from the Ducati's low-slung seat was pleasingly simple, with a near flat, pulled back one-piece handlebar and acompact digital instrument panel.
Below that, set into the top of the broad fuel tank, the colour display showed further information including which of the three engine modes was in use. Pressing the indicator switch toggles between Sport's full 162bhp, Touring's softer delivery to the same maximum output and Urban's softer still 100bhp. The DTC traction control setting also depends on the mode selected.
The Diavel's similarly Multistrada inspired ignition system meant I could keep the key in my jacket pocket and simply press the button to bring the motor to life with a delicious bark from the large diameter, twin pipe exhaust system on the right of the bike. If the Ducati's look and finish was captivating, its cacophonous tickover added to the rawappeal.
The test route set out through the outskirts of Marbella, where the Diavel's first impression was less of brute power than of manoeuvrability and rider-friendliness.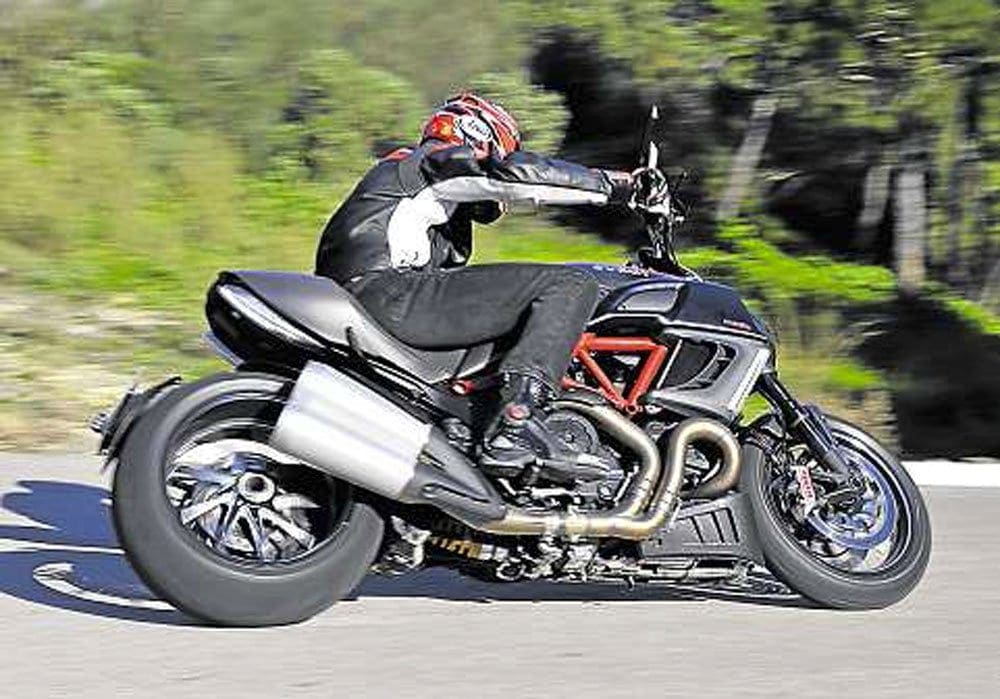 Give the devil its due
In Urban mode the motor was very docile, pulling effortlessly and feeling just as controllable as that of the Multistrada 1200. The other two modes gave notably crisper delivery, but throttle response remained well metered and by no means abrupt.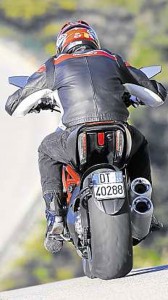 In town the Ducati's long wheelbase and low-slung weight combined to make it uncannily stable at slow speeds. The un-Monster-like generosity of its steering lock helped make feet-up Uturns outstandingly easy, aided by the knowledge that the low seat would allow even short riders to put a foot down if needed.
The Diavel was great on the coast road, cruising effortlessly with its chassis giving a fairly comfortable ride, and the wide mirrors providing a clear view behind. The riding position is a bit more upright than the Monster's, with bars slightly higher and closer to the rider, and foot rests further forward and lower. For my tall body it felt good: roomy and relaxed up to about 80mph, with wind pressure increasingly obvious from that point on.
When the road opened out, it was immediately clear that the Diavel's 162bhp motor had the bite to match its considerable bark.
Cracking the throttle from low revs could make the bike hesitate momentarily as the traction control kicked in. But once into its stride the Diavel ripped forward, its fat rear Pirelli generally finding grip, and the desmo motor punching out midrange torque in fearsome Testastretta fashion.
Accelerating out of bends and roundabouts, I'd occasionally glance down to see only about 5000rpm on the digital bar tacho, as the bike stormed forward with enough force to push me back against the seat hump. But as well as having huge reserves of midrange the desmo motor loved to rev, and headed for the redline with an even more aggressive snarl from the airbox.
Abrief motorway blast put130mph on the clock very rapidly – with another 25mph tocome given enough roomand neck muscle.
But we'd known the Testastretta-based engine would be powerful; the big question was whether the chassis came anywhere near matching it. The answer, I realised almost immediately after hitting the hills, was yes.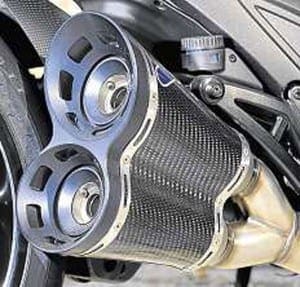 Inevitably there were times when even Ducati's chassis expertise couldn't cheat the laws of physics. The Diavel steered with unlikely lightness for a machine of its length, but I found myself counter-steering deliberately to make it turn sharply. In tight, firstgear bends it displayed a mild version of a typical cruiser's tendency to have a mind of its own. But even there it felt pretty good. And through medium speed bends like most of those on the famed Ronda road, the Diavel was a revelation.
It braked stunningly hard, thanks to its Brembo monobloc radial front calipers, which are backed up by an unusually strong rear brake, due to the low centre of gravity and weight over the back wheel (Ducati says it's the best braked bike it has ever built, as well as the hardest accelerating). The standard fitment ABS system was impressive too, very rarely cutting in unless severely provoked.
Handling in those medium speed bends was better than I'd have dared hope for.
Ducati's development work, along with Pirelli's creation of a new, taller profile 240-section rear tyre, has resulted in a bike that steered remarkably well for a bike so long, and with tyres of such differing widths. The Marzocchi forks and low-slung, horizontally mounted Sachs shock gave a controlled and pretty smooth ride despite having only120mm of travel at each end.
Such was the Diavel's poise and cornering ability that I found myself riding it far more like a sports bike than a cruiser. Gunning it hard out of every bend to get that mighty motor revving hard. Feeling it stretch my arms and push me into the back of the seat; then braking late for the next turn, carving round and accelerating away again with that thunderous soundtrack booming in my ears.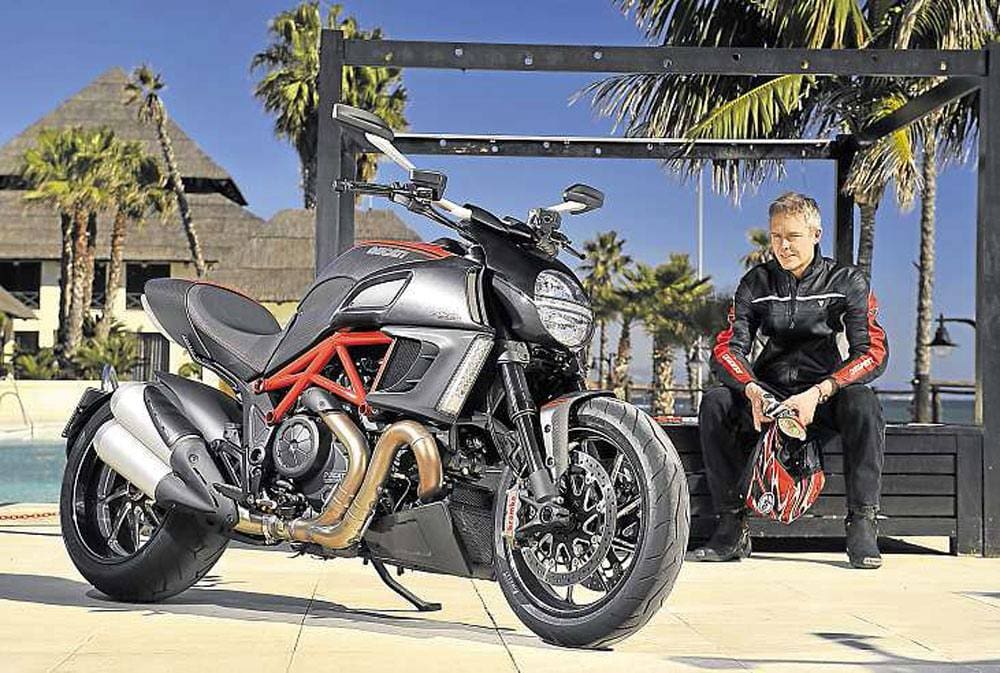 Grand designs
The Diavel was so much fun that, after we'd returned to Marbella for lunch, the unanimous vote for the afternoon's entertainment was to forget the scenic route or a ride along the coast, and head back towards Ronda on those same twisty roads.
First we topped up with fuel, as my warning light (surprisingly there's no gauge) had come on after less than 90 miles. The 17-litre tank's range is far from generous, though more restrained riding would improve considerably on my 33mpg.
I also added a few clicks of shock preload using the hydraulic knob under the seat, which made the bike steer even more sweetly and added a useful touch of ground clearance. A bike like this is hardly built for practicality, but that remote adjuster is one of several neat details that will make it reasonably good two-up. Slender pillion footrest arms sit almost hidden alongside the seat unit, then click into place when required. The way the grab rail can be released from beneath the seat unit is similarly elegant.
One sign of great design is that you wonder why nobody had done something similar before. Those two touches made me wonder just that. And more importantly, that's true of the bike as a whole. Ducati has taken the concept of a muscle cruiser — imposing, powerful, long, laid-back — and translated it into the Bolognese dialect.
Class attributes of straight-line speed and physical presence are retained with lightness and handling added to the mix.
The result is a bike that works as well on a twisty road as it does on the high street: the Diavel is a Monster on steroids that will be equally happy turning heads in the city, showing other bikes its fat back tyre in a straight line, and carving hillside turns at the weekend.
If you took one look at the Diavel and thought it wasn't the bike for you, or even that Ducati had sold out by building a 'cruiser', you'd probably reconsider if you rode it. Everyone I spoke to on the launch loved it, from youngest to oldest and fastest to slowest, very much, including the female rider in our group.
The Diavel is as brilliant as it is different, and establishes Ducati in a new sector just as effectively as the Multistrada did a year ago.
Words: Roland Brown Pics: Milagro
TECH SPEC
Ducati Diavel (Diavel Carbon)
Price: £12,995 (£15,895 red, £15,495 black)
Engine: 1198cc, liquid-cooled Mitsubishi fuelinjected 90º six-speed desmo V-twin with four valves per cylinder
Power (claimed): 162bhp@9500rpm
Torque (claimed): 94lb-ft@8000rpm
Bore x stroke: 106 x 67.9mm
Rake and Trail: 28º x 130mm
Chassis: Tubular steel with aluminium rear sections
Suspension: Front:50mm Marzocchi upsidedown telescopic,120mm travel, adjustments for preload, compression and rebound damping. Rear: Sachs shock,120mm wheel travel, adjustments for preload, compression and rebound damping
Brakes: Front: 2x four-piston radial Brembo monobloc calipers,320mm discs with ABS. Rear: twin-piston Brembo caliper,265mm disc with ABS
Wheels/tyres: Front: 120/70 x 17in Pirelli Diablo Rosso II on cast (forged) aluminium rim. Rear: 240/45 x 17in Pirelli Diablo Rosso II on cast (forged) aluminium rim
Wheelbase: 1590mm
Seat height: 770mm
Dry weight (claimed): 210kg (207kg) (no battery, oil or coolant)
Fuel capacity: 17 litres
Colours: Red, black (Red/carbon, black/carbon)
www.ducati.com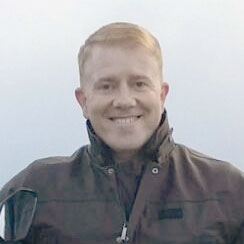 Latest posts by Tony Carter
(see all)
Does this get you revved up? Tell us why...
---
---
Subscribe to MoreBikes Newspaper
Get MoreBikes delivered through your letterbox every month. 12 issues for £15. Click here for more information.
---
Get MoreBikes.co.uk Updates
Enter your e-mail address below and you will receive biking news straight into your inbox...



You can unsubscribe at any time.
---