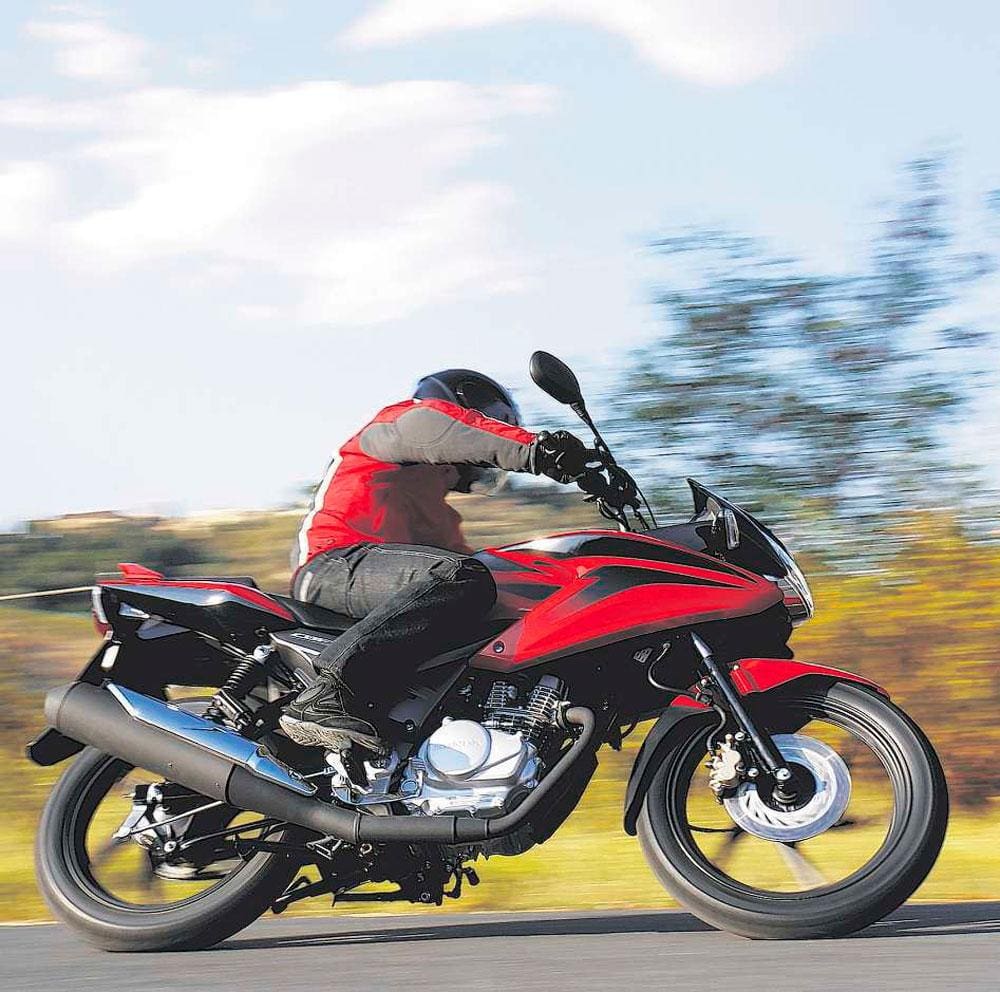 Honda's all-new CBF125 may not be as drop-dead gorgeous as Yamaha's stunning YZF-125 or as sporty looking as its popular CBR125 stablemate, but it's a whole lot more practical, quite a bit cheaper and it's not bad looking either.
The 125 class has started to make a bit of a comeback at long last. For a few years twist and go scooters kicked sand into the faces of puny learner legal bikers, mainly because they were new and refreshing and offered storage, as well as tuning potential and street cred.
Honda and Yamaha both redressed the balance when they launched their sporty machines and the mighty H have now brought us this little gem to replace the tried and trusted CG125, a machine that has earned its keep over the last three decades. With any luck the suddenly more attractive class will kickstart a whole bunch of new riders. Bike tests are up, both in price and the number or riders taking them (partly due to the new test forcing existing learners into action) so we may well end up with a load of new bikers in the future.
The CBF is cool in its own bargain priced way. It's not dripping in exotic parts and it's not styled to mimic a larger capacity sports bike, but it still looks tidy and achieves Honda's aim of being dependable, safe, affordable and cheap to run. Fuel economy scores quite highly on most people's shopping lists these days and Honda claim a whopping 134mpg from the CBF. The figure may be measured in ideal test conditions but even allowing for the odd quick blast and the stopping and starting most commuters are used to it should still do over 300 miles to the 13-litre tank.
Let's say the average daily commute is around 12 miles, that's 25 days travelling, or five whole weeks at a cost of about £12. Try saving five weeks' worth of bus or train fares, (or even five weeks' worth of car journeys) and you'd have the deposit to put down on a new CBF125.
When you take into account the amount of time you'll save by going to work on a bike this frugal 125 starts to make a whole lot of sense. Riding to work starts the day off perfectly and the art of nipping through busy traffic heightens the senses. It wakes you up in a morning and is great for stress relief at the end of the day. Riding is much more fun than being cramped up on a bus ingesting the annoying beats of passively overheard iPod tunes.
The CBF's single-cylinder engine isn't anything remarkable, although it does come with fuel injection, but the five-speed, air-cooled motorstarts easily on the button (as you'd expect) and chugs away evenly at tick over. The note through its matt black exhaust is quiet but not too wimpy, but I wonder how the coating will survive a British winter. The riding position and decent sized seat are comfortable and at just 792mm high it's perfect for shorter riders. The pegs are low enough to keep cramp in your legs at bay and the handlebars are ju