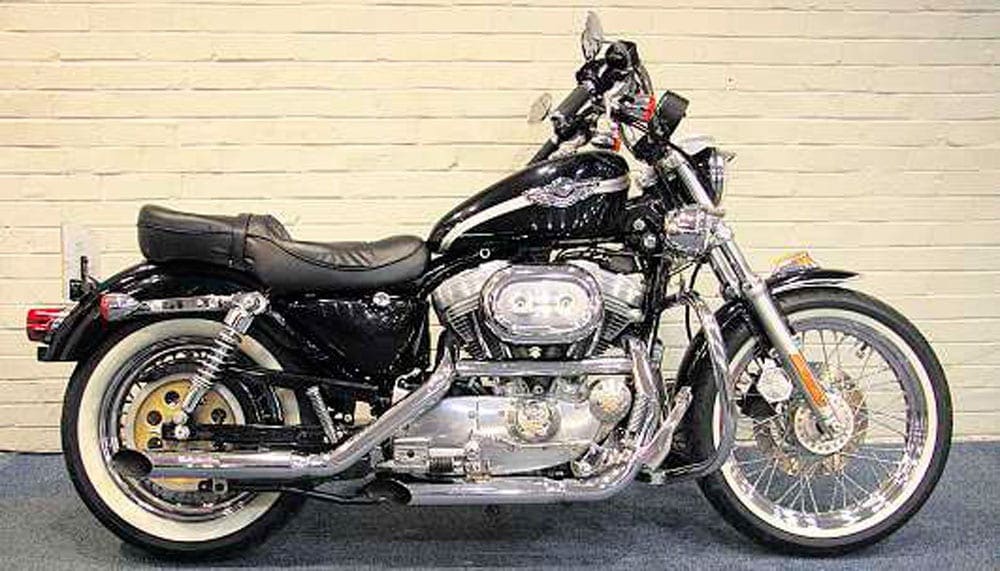 9387 miles, up for £3195
First impressions:
Although I'm not that much of a Harley fan, I can see the all-shine, no grime attraction. Harley-Davidson have been knocking out bikes for over 100 years now, so they must be doing something right. So, how did they celebrate 100 years in the business? Well, they took one of their best selling models, the 883, and made it look like something from a carousel: that's one helluva lot of shiny stuff. So many Harleys are bought and not ridden in anything less than So-Cal sunshine conditions, but not this one. What I like about this bike is that it's covered some miles. They may have taken their toll on the overall finish, but the chrome doesn't get you home, does it?
What's it like to ride?
Not only does this 883 look like it lives on a carousel, it handles a little like it too. The V-twin engine's bark is far worse than its bite; like a CX500 with a blowing collector box. The straight-through pipes draw unwanted attention. But I guess that's what riding a Harley's all about – enjoying your motorcycling at a more leisurely, relaxed pace, albeit it noisily.
Scottie's tips:
Aftermarket parts aren't always to everyone's taste are they? Do you really want 'ride to work and work to ride' engraved engine covers? Ask the seller for any original bits. 2003 was also the final year for solid mount engine models: 2004 saw rubber-mounted motors that improved vibrations of older models.