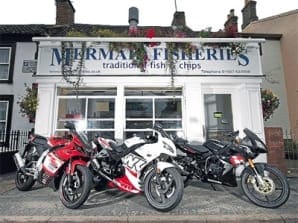 With the entry level 125 market booming, it's never been easier (or cheaper) to buy a brand new learner legal bike
If you're reading this as a middle-aged former teenage bike fan then you'll no doubt remember your very first day on the road. You morphed overnight from a BMX bandit into a biker; you'd got the kit, saved up your Saturday job money (or got a loan/generous parent) to buy your first 125cc bike, got it insured as cheaply as possible and were out there burning petrol like it only cost 34 pence a litre… oh, it did in 1988!
Although they were good times and petrol was cheap, bike choice was limited to mostly Japanese smokers. Fast forward to 2011 and the world's your oyster. Far Eastern imports mean that new bike prices are often cheaper than they were back in the day and there are plenty of different models to choose from. As good as the best-selling Yamaha YZF-R125 is, we've picked three alternative new 'race to the chippy' learner legals on the market now. With our three machines ranging in price from just £1199 to £3399 we'll find out if the old adage 'you get what you pay for' is still true.
Lexmoto XTR S 125: £1199
Let's start with the cheapest of the three test bikes, the Lexmoto XTR S 125. Visually, the Chinese built XTR S has wheels skinnier than you'd find on the aforementioned BMX, the fairing is a bit weedy looking but 'fits' the bike well with no gaping holes anywhere and the frame welds aren't too messy either.
Annoyingly the sidestand flicks up if you take any weight off it and the analogue clocks are very 1980s. But let's put cosmetics to one side for the time being – remember, this is a brand new bike with a 12-month warranty for less than the price of the computer I'm typing this on. In these cost-straitened times, that counts for a lot.
Like most modern small capacity bikes the Lexmoto comes with a simple air-cooled four-stroke engine; it's got a five-speed box and our test bike came with an aftermarket can already fitted (available from parts website www.cmpo.co.uk).
The XTR S starts fairly easily on the button (it also has a kick-start), but needed a bit of choke from cold. The skinny looking tyres didn't really fill me with confidence but I must admit I was pleasantly surprised once I got the bike out on the road. The motor performs quite well and will top 70mph; it sounded like a pit bike through the stainless steel exhaust as ❱ well so should impress down the chippy. The single disc front and rear brakes are superb and it's easy to lock the rear wheel if you're a bit heavy with the back pedal, great for… err…, backing it in on your favourite bends!
The Lexmoto actually goes round corners better than I expected on its 100-section rear Continental ContiGo rubber so you can have a bit of fun on it, although the wildly oscillating fuel gauge is a little off-putting. Out of our three test bikes the Lexmoto was second quickest on the road, and was also the best for pillions, with a surprisingly well-padded seat and a handy rear grab rail. The XTR S looks a little dull in its black paint scheme but the alternative white and red options provide more street appeal.
Lexmoto has gone all-out to reassure potential customers that buying a cheaper bike doesn't mean you're on your own in terms of parts or dealer help. There is full backup with more than 60 dealers in the UK and currently 15 different learner legal bikes and scooters in the range, from £839 through to £1599.
White Knuckle WK125 Sport: £1899
The WK125 Sport is built in Taiwan and is imported by Quadzilla under the WK Bikes banner. From the side, the entry-level 125 looks quite substantial and could easily pass as a 250cc machine thanks to the over-large fairing; peek underneath and there's acres of space everywhere – the bike is identical to the slightly cheaper WK125R; it's just had the sports fairing added on top. Look around the WK and build quality, predictably, isn't up to Honda standards, but this bike is built for people on a budget. You could buy the WK125 and a Lexmoto XTR S for less than the price of the Rieju RS3 125 also here on test and still have enough change to pay for your CBT, a helmet, jacket and gloves.
The WK has a few nice practical touches, like the substantial wraparound grab rail, lockable helmet hook, centrestand and enough underseat storage to stow a set of waterproofs, but it does look very dated against the likes of the stunning Rieju.
It took us a while to get the WK started until we realised it won't start with the sidestand down – the carbed 11bhp single cylinder, air-cooled, four-stroke motor also needed a fair bit of choke until it was up to temperature.
Sitting astride the Sport for the first time you realise a couple of things; firstly that the riding position is quite pleasant and secondly, the cockpit was designed by a Knight Rider fan. To say the instruments are antiquated would be an understatement; it even comes with a red digital gear position indicator, very retro. This isn't a motorcycle; it's a time machine.
The WK was our slowest bike, although it did sound the part through the lovely looking Scorpion can (available for £299). You'll be lucky to see much over 70mph on the WK; even tucked in as tight as possible I couldn't shake off editor Mel on the Lexmoto goading me from behind. Aside from the lacklustre performance and annoying vibration through the chunky rubber pegs my biggest surprise on the WK had to be the brakes, or lack of them. After riding the other two bikes these came as a nasty shock and I was glad I tried them in plenty of time for my first corner. But overall it provides a comfortable enough ride and the handling is reassuringly stable, if a little on the vague side.
If retro racer is your chosen style, this basic but budget-friendly bike is definitely worth a look. WK offers a 12-month unlimited mileage, parts and labour warranty and plenty of dealers countrywide, and also has a full range of scooters up to 250cc 'mid' scoots.
Rieju RS3 125LC: £3399
Stacked against our other two bikes the Spanish built Rieju RS3 is in a different league altogether. The European beauty looks reassuringly expensive and that price shows in the overall quality. The bike is still £850 cheaper than the Yamaha YZF-R125 though and feels very similar to ride.
The Rieju actually shares the same Minarelli liquid-cooled DOHC four-stroke motor as the Yamaha, albeit carb fed as opposed to fuel injected, handy for de-restriction time and easy tunability. The engine revs quickly up to its 10,500rpm redline but you'll need feet faster than Michael Flatley if you want to keep it on the boil.
There's no mistaking that the Rieju is an out and out quarter-litre sportsbike; it's very compact and has all the right components, such as 40mm USD forks, radial front caliper, trick looking mono shock, braced alloy swingarm and fancy lightweight alloy wheels. The riding position is on the wrist-heavy side compared to the other two bikes on test but what do you expect from a bike that's been developed from Rieju's RS2 racing range? The handling's as sharp as the RS3's looks, with that Michelin Pilot 'Sporty' 130-section rear tyre giving plenty of grip.
All our test bikes were restricted but the Rieju can be de-restricted to produce around 15bhp. I've ridden the bike in full power mode and it is a different beast, so if you're thinking of passing your test and don't want to buy a bigger bike straight away it is worth spending a bit extra on a bike that can produce enough power to let you keep it for a while once the power can be legally released.
In derestricted form the Rieju is much more fun and the highest recorded top speed of 88mph on our test bike's fancy digital dash is believable, seeing as the best we could coax from our bike was 74mph. Other functions on the dash include a trip, max speed and temp gauge.
The Rieju is definitely a well sorted, highly specced mini race rep dripping in quality components – aftermarket parts include big bore kit and competition silencer. If you're looking for one of the best 125s money can buy the Rieju is right up there among the likes of the Yamaha YZF-R125 and Aprilia's legendary RS125 stroker.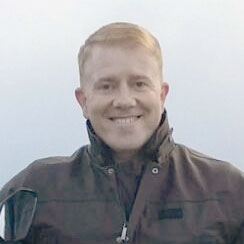 Latest posts by Tony Carter
(see all)
Does this get you revved up? Tell us why...
---
---
Subscribe to MoreBikes Newspaper
Get MoreBikes delivered through your letterbox every month. 12 issues for £15. Click here for more information.
---
Get MoreBikes.co.uk Updates
Enter your e-mail address below and you will receive biking news straight into your inbox...



You can unsubscribe at any time.
---