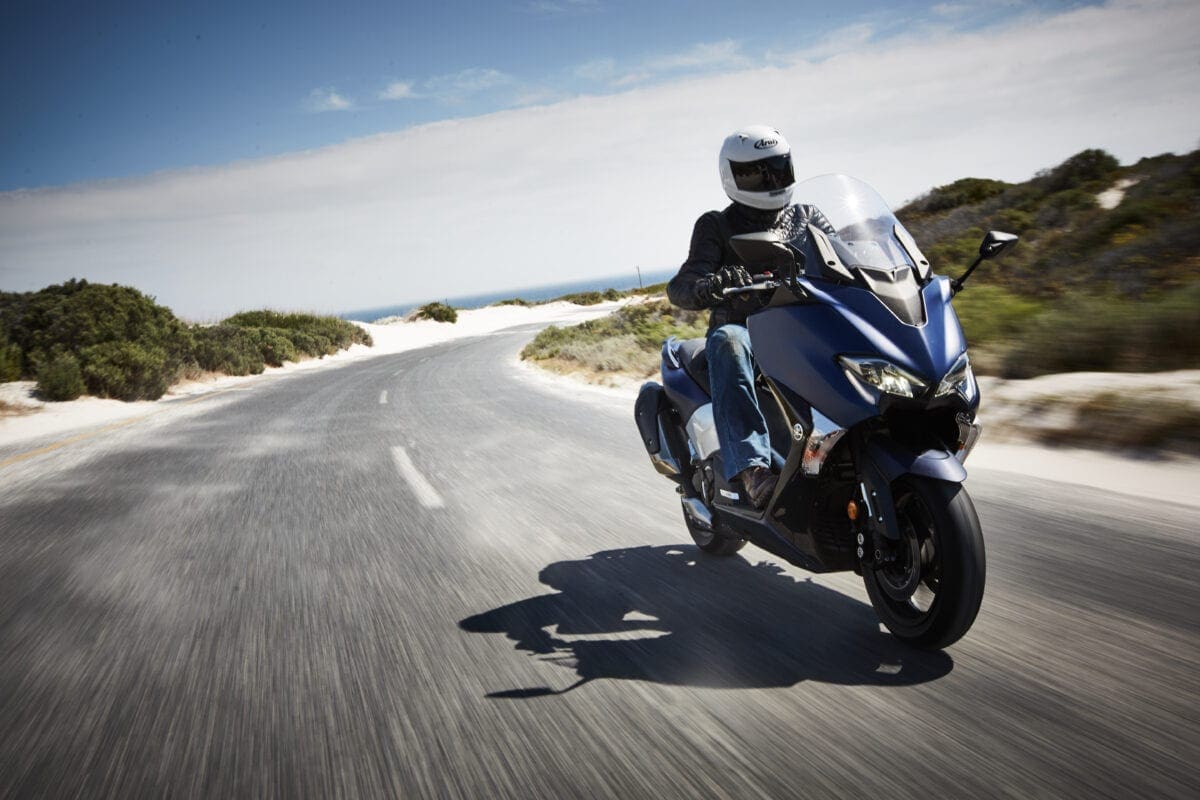 Out of maybe twenty motorcyclists coming the other way, only two returned my waves. Why should they? Yamaha's TMAX DX isn't a 'proper' bike – it's an automatic… pah; what soft biker is going to want that? And it's got enough space under the seat for up to one full-face and one open-face lid. Or your shopping. Such practicalities aren't for the real riders of this world.
Is anybody else seeing the irony of one of those unfriendly bunch being on a DCT Africa Twin with full luggage?
In 2013, European motorcycle and scooter sales hit rock bottom, with 769,557 motorcycles and scooters sold. 43.25% of those were scooters.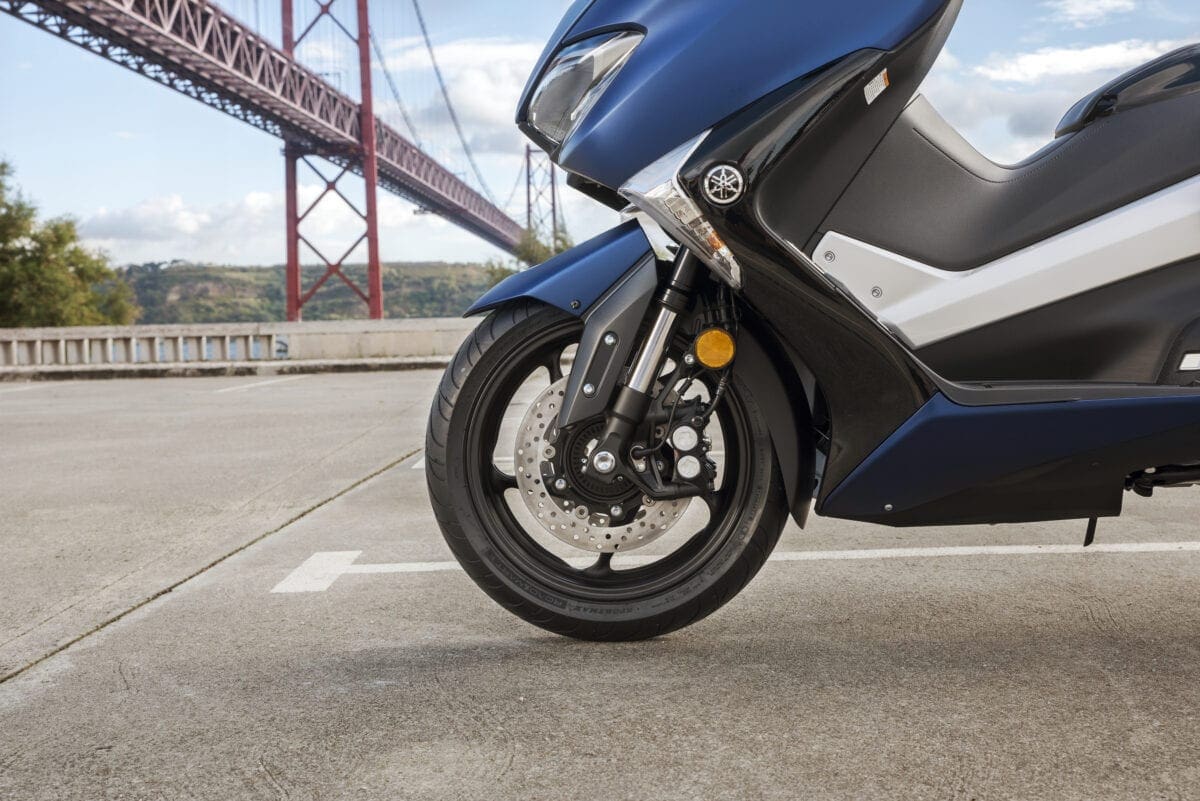 We're now seeing the fourth consecutive year of growth – in 2016, 611,688 motorcycles and 413,424 scooters were sold, with Yamaha's market share increasing above the rate of growth. While sales of motorcycles increased more rapidly than those of scooters (thanks in a great part to Yamaha and its MT series), scooters still accounted for 40.30% of European sales. Around 15% of those scoots were above 300cc, and with almost 250,000 sold since its launch in 2001, roughly a quarter of those are TMAXs. It's Europe's best-selling maxi-scotter, with 67% of all TMAX registrations in Italy, Spain and France. And by 2015, 41% of all sales went to owners of the previous model… these things have a loyal following.
Typical buyers are men aged between 35 and 54 – they're experienced riders, usually coming from motorcycles or other maxi-scoots, and wanting a machine for commuting and for weekend rides.
In the mid 1990s, Yamaha launched the Majesty 250 – a scooter styled to be more like a motorcycle. In time, the company realised that 'proper' motorcyclists were starting to consider this as a worthy alternative, so launched the TMAX, fitting a horizontal parallel twin engine into a motorcycle-inspired chassis with a separate swingarm (unlike the machines that had the rear wheel hanging directly from the motor). Weight distribution was improved, reducing the light feeling of some scoot's front-ends, while a tubular steel frame and 41mm forks gave impressive road-holding.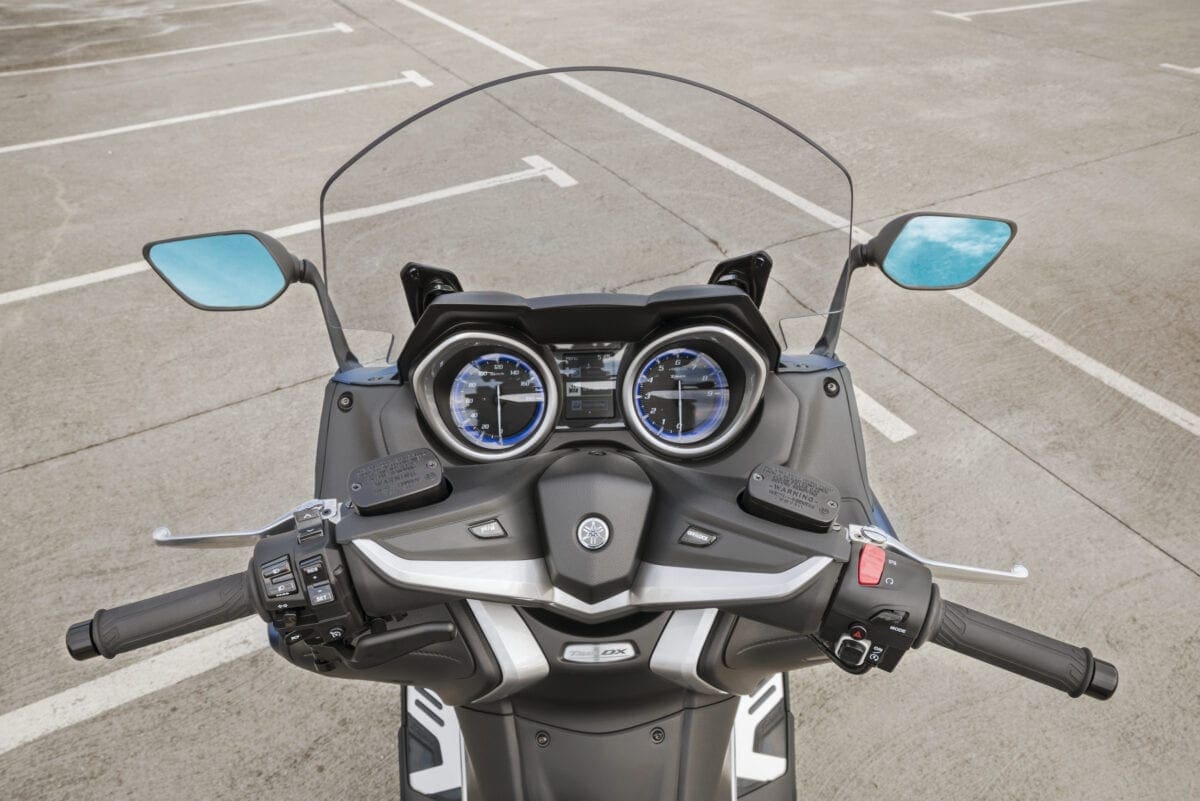 Over several updates, power and torque was increased, the wheels enlarged, and the brakes improved. An aluminium frame was introduced in 2008, and by 2012, the scooter was using the R6's 12-hole fuel injectors. Now, at 530cc, the TMAX has traction control, a narrower (by half an inch) rear wheel, locking centre-stand, TFT display, more storage space, a 40mm longer swingarm, revised suspension settings and keyless ignition with remote locking seat and cubby hole. It makes 45.3bhp @ 6750rpm, and 39lb-ft @ 5250rpm in a 216kg chassis that carries its weight very low.
"Some customers who haven't ridden the TMAX – or even some journalists and dealers – often ask 'when are you launching the bigger capacity TMAX,'" said Eric De Seynes, Chief Operating Office of Yamaha Motor Europe. "The genius of the TMAX is linked to the mid-sized engine, because with a 500 or 530cc engine, you can keep a light and compact transmission, which makes for the quality of the handling.
"When our competitors try to beat the power, they increase the capacity and the weight, then you lose handling and manoeuvrability, so when you go back to the city it's a disaster."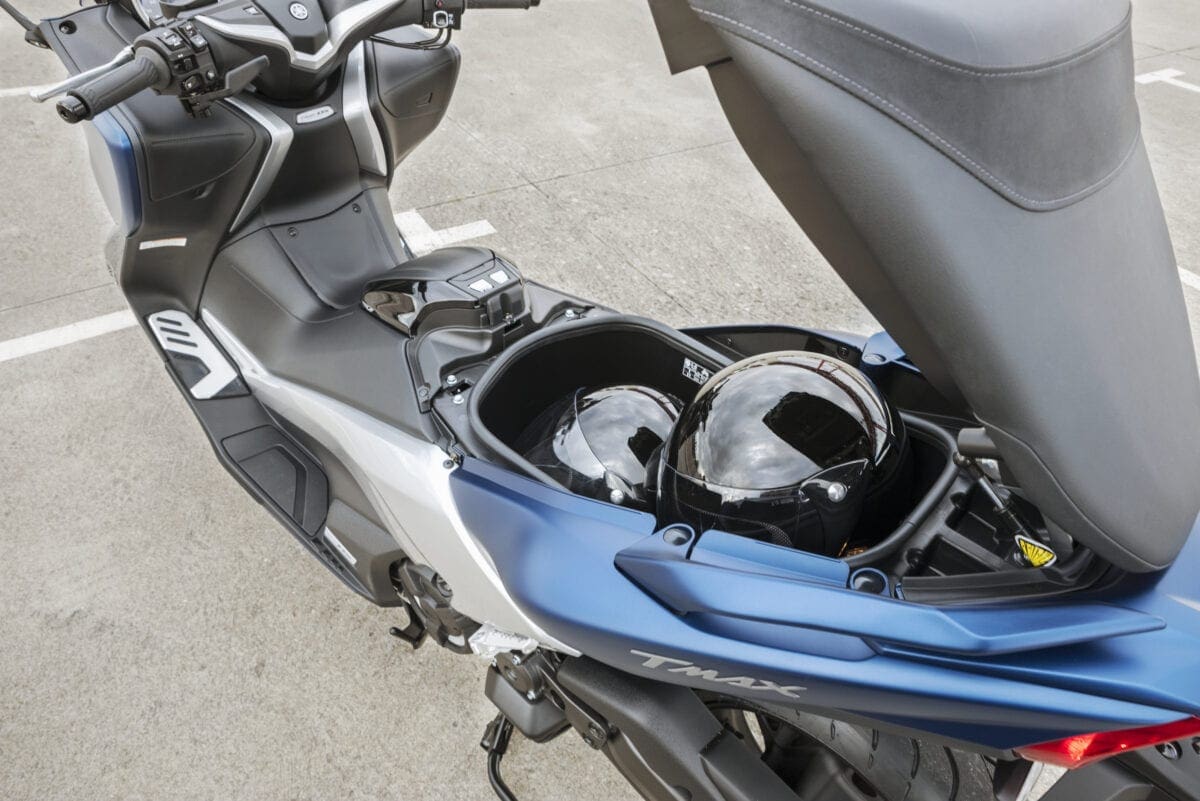 In this quest for reduced weight, the new TMAX also uses a carbon-reinforced belt, which is not only lighter and narrower, it makes for a smaller rear pulley, which reduces unsprung mass. All the lights are full LED, and the end-can is 77mm shorter, with he catalytic converter moved out into the downpipes, which makes fitting an aftermarket can easier; something many customers do, with the TMAX being Yamaha's most accessorised machine, owners spending an average of 400 Euro on extras.
Yamaha has made three versions of the TMAX – the standard, a sporty SX model, and the luxury DX. We won't get the SX in the UK, instead choosing from the £9399 base, and the £10,699 top-of-the-range that we rode, which gets a switchable Sport and Town riding mode, heated grips, heated seat, preload and rebound damping adjustable rear shock, cruise control and electrically adjustable screen (with 135mm of movement, as opposed to the standard's 55mm in just two positions). Also fitted is Vodafone's 'My TMAX Connect', which connects to your smartphone to give ride data and mapping, as well as a full theft alert and tracking service that's free for the first year, then around an £80 (TBC) annual subscription.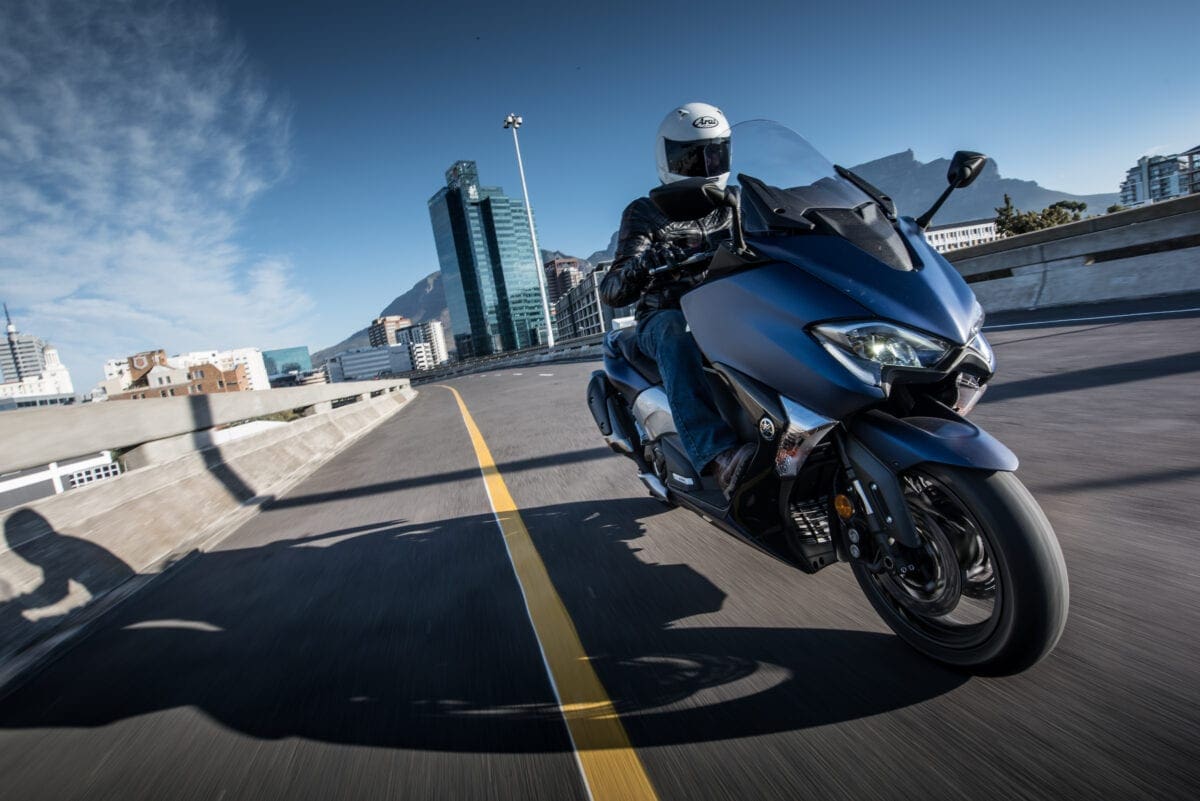 Not 'just' a scooter
The new TMAX was launched in Cape Town alongside the MT-10 SP and Tourer Editions. To some of the UK journalists, the scooter was a side-note, but for the French there on the same day, the 530cc small-wheeled machine was what they'd really come for.
By the first coffee stop though, every single rider was raving about the surprising performance and sharp handling. Racing through the twisty mountain and shoreline roads, it was easy to forget that this was a practical city machine –100mph comes quickly, and those radially-mounted calipers do a superb job.
The left lever operates the rear brake, the right the front, with no linking of the two. It's not as alien as it may sound, and the seating position reminds you of the fact that you'll not be pulling a clutch in.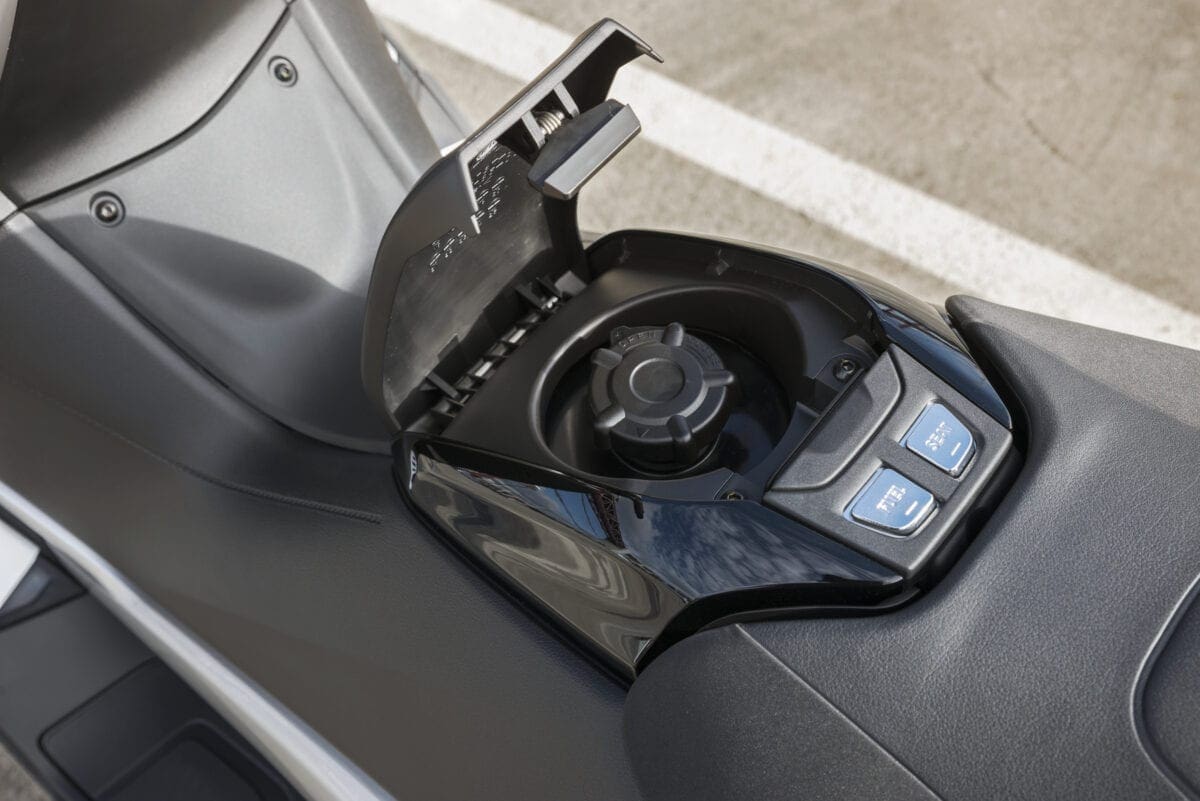 The suspension is firm for a scooter, but not uncomfortable over potholes, especially considering the small wheels – it makes for a surprisingly capable ride, though while ground clearance is excellent, seriously bumpy and fast corners can see the centre-stand bottom out. Fortunately, even at these angles of lean, the tyres showed a good half a centimetre of rubber untouched before the edge, and nobody reported a feeling of the TMAX getting out of shape or dangerous. Of course, this thing won't worry many fast motorcycle riders, but its ability is still extremely rewarding.
The setup means that aggressive use of the front brake sees the nose dive, but not as eagerly as it could, and trailing the rear very deep into corners is confidence inspiring (for instance after overtaking a car into a tightening mountain bend, ahem). The level of control afforded by using your left hand to brake, rather than your right foot, means that it's very easy to get a precise degree of control – you can even feel exactly the point where the precise ABS starts to operate.
We only rode the DX model, which has an electrically-adjusted screen with much more travel than the standard scoot. It's excellent – when down, the rider still feels comfortable and well protected, with an acceptably engaging level of wind noise. Use the left switchgear to power it quickly up though, and my 5'10" frame was completely sheltered, all wind noise stopping completely as I looked through the protective plastic.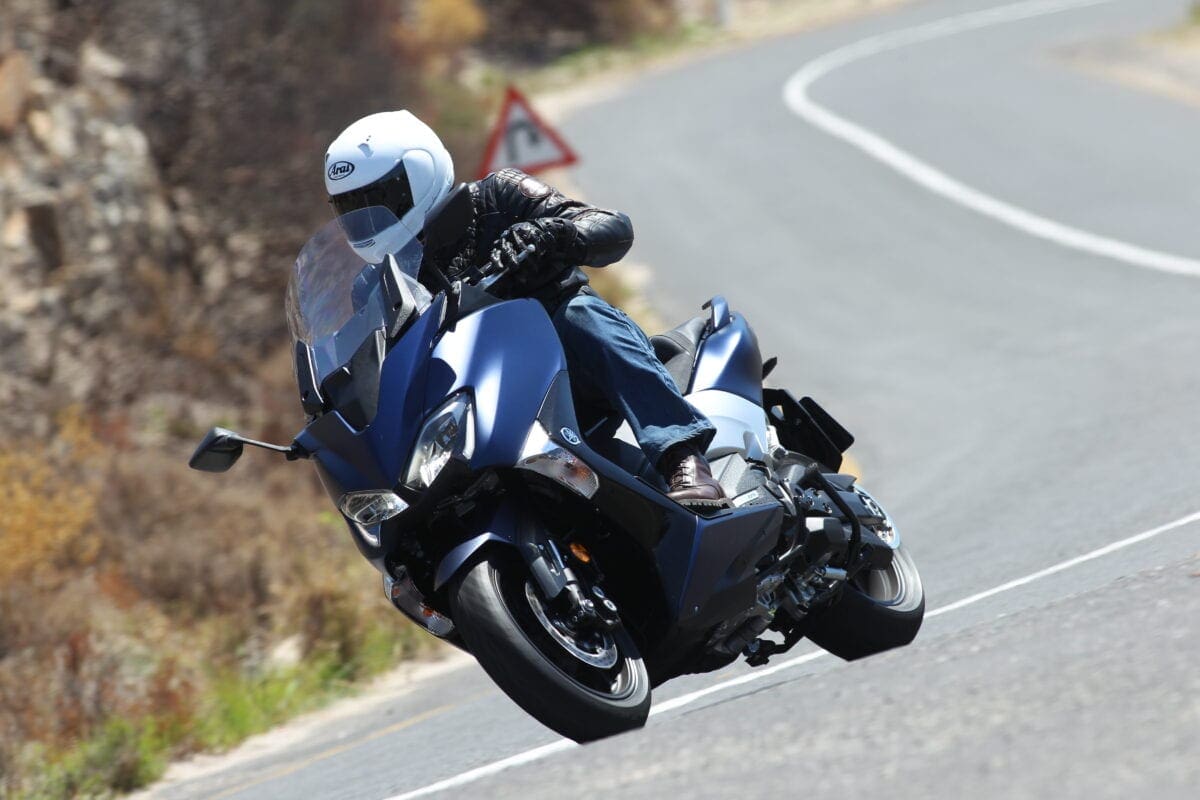 Of course, that level of shielding comes at the cost of aerodynamics, and on a long straight I could feel the frontal area of the TMAX grow, confirmed by the fact that a fellow journo came flashing past me in a prone position with his screen down. Later checking the GPS-generated speeds from the My TMAX Connect system on our smartphones, his speed was shown as 98mph, while mine was 88mph (his speedo displayed 108mph).
The DX has two riding modes – Town and Sport (the standard model just has the Sport-style mapping) – and while the T mode may be appreciated on very greasy city roads, the Sport mode is so smooth and linear that it's hard to think of many circumstances when it'd be really necessary. The Continuously Variable Transmission (CVT) is faultless, delivering torque from the moment you pull away. I deliberately slowed to almost a standstill on a steep roundabout, yet the machine never faltered. Equally, rolling down a hill to an awkward, off-camber T-junction was infinitely more controllable than on a motorcycle with a clutch, helped of course by the low seating position, though the width of the footboards means that very short riders might still be slightly on tip-toes when pulling up. Not that they'll worry, as the hand-brake, mounted below the left bar and operating a second, cable-operated rear caliper, is easy to apply and even easier to flick off as you pull away.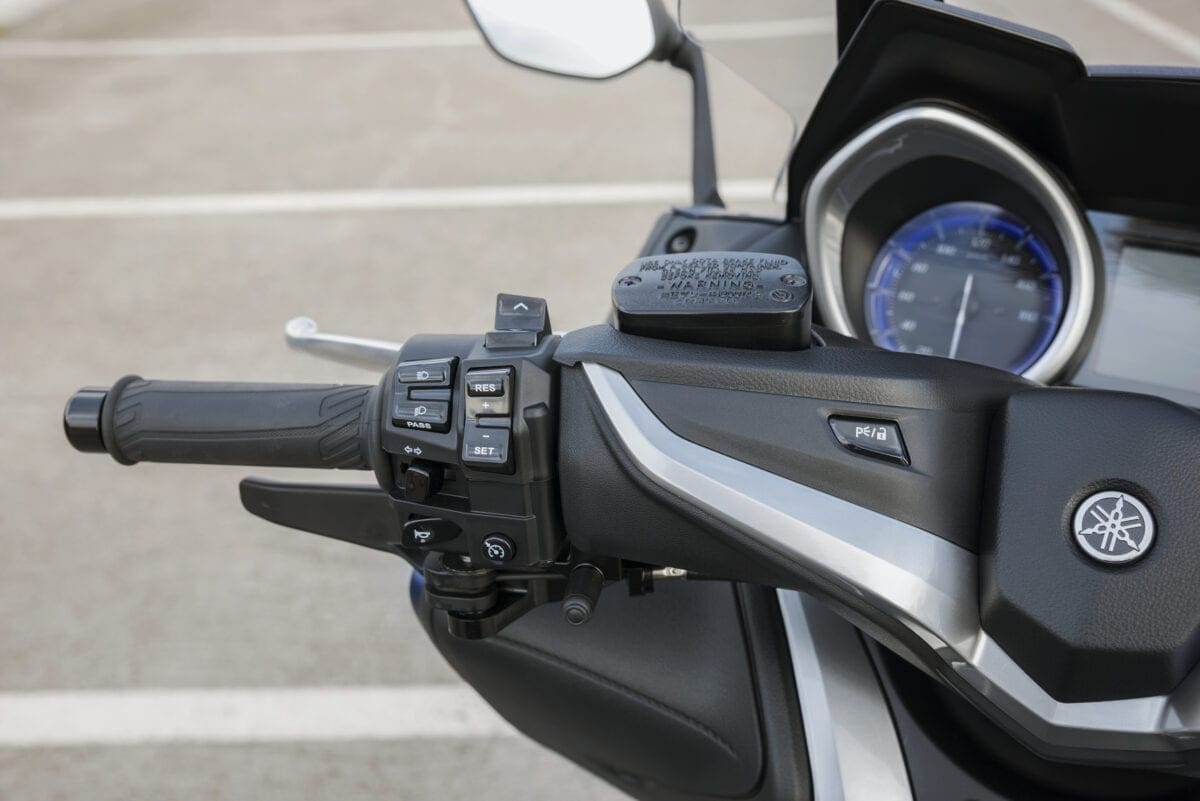 The argument of value
Yamaha's TMAX is a truly versatile machine – the reasonably generous under-seat storage and good frontal protection makes it perfect for commuting even long distances. Add the agility of the low weight and very flickable chassis/small wheel combination, and there aren't many bikes I'd prefer to be picking my way through busy traffic on.
We rode very aggressively on the launch, yet fuel consumption averaged 55mpg. That's a range of 182miles from the 15 litre tank, but I'd expect 200miles and beyond to be easily achievable – add the optional 39 litre (£127) or 50 litre (£183) top-box and rear carrier base (£72.10), and the touring potential is obvious.
But there's a catch – the feet-forward design means you don't take any of your body's weight through your legs, so despite the excellent heated comfort seat, my bum (and those of some others) was getting a little achy after an hour or so in the saddle. Being able to put your feet up on the damped front boards gives you space to move about, and the seat is large enough that it's easy to find new positions, but I have to say that it's not got the comfort of an all-out tourer.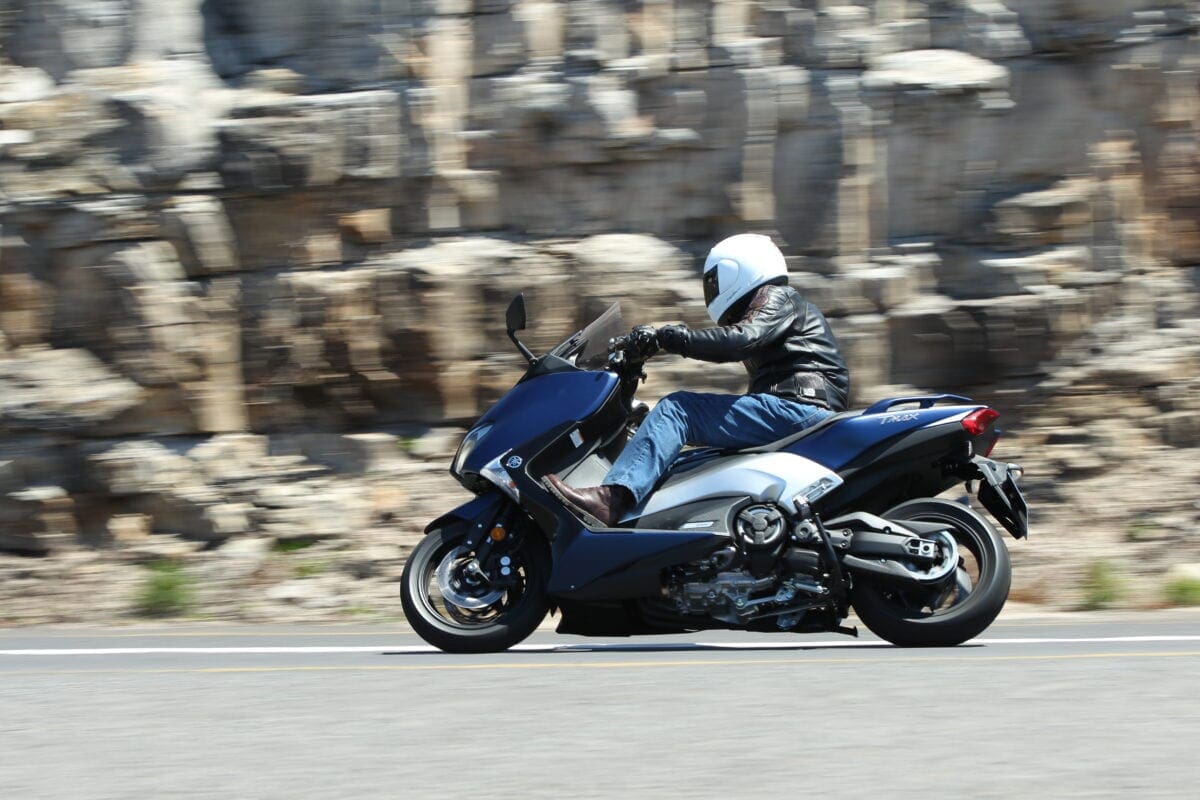 But this is a hybrid of more than just a sportsbike and a scooter – the TMAX blends so many benefits from so many sectors of motorcycling that compromises are inevitable.
My only other niggle was that the front locking cubby box (which is big enough to take a large smartphone, and has a 12V outlet in the base), was a little fiddly to open. And while I didn't feel the need to adjust the suspension on our ride, increasing the preload for a pillion requires laying on the ground with a C-spanner to reach under the chassis. Rear rebound damping is also tweaked under here. It's a shame there's no remote adjustment.
But that's it. I have nothing else to mither about. I own a KTM 1050 Adventure and a Yamaha XSR700, but I see this versatile super-scooter as a truly viable alternative.
Is it too expensive? Many will say that ten grand is too much for a scooter, but consider it another way… That guy on his Africa Twin would have paid £11,689 for his DCT Honda, and that's before he added luggage, heated grips and a heated seat. Not to mention a taller screen (which wouldn't have been electrically adjustable).
I'm not trying to compare the two directly, but I firmly believe that we should be as open-minded as possible about all our two-wheeled opportunities. The TMAX is a premium product with very high standards of build quality. It's a versatile, and dare I say it, extremely fun bike. There's no argument over using the word fun, but I'm more worried about the backlash of calling it a bike.
Maybe there'll be a shift in perceptions over the coming years. Our European biking friends love these machines, maybe we just need to catch up…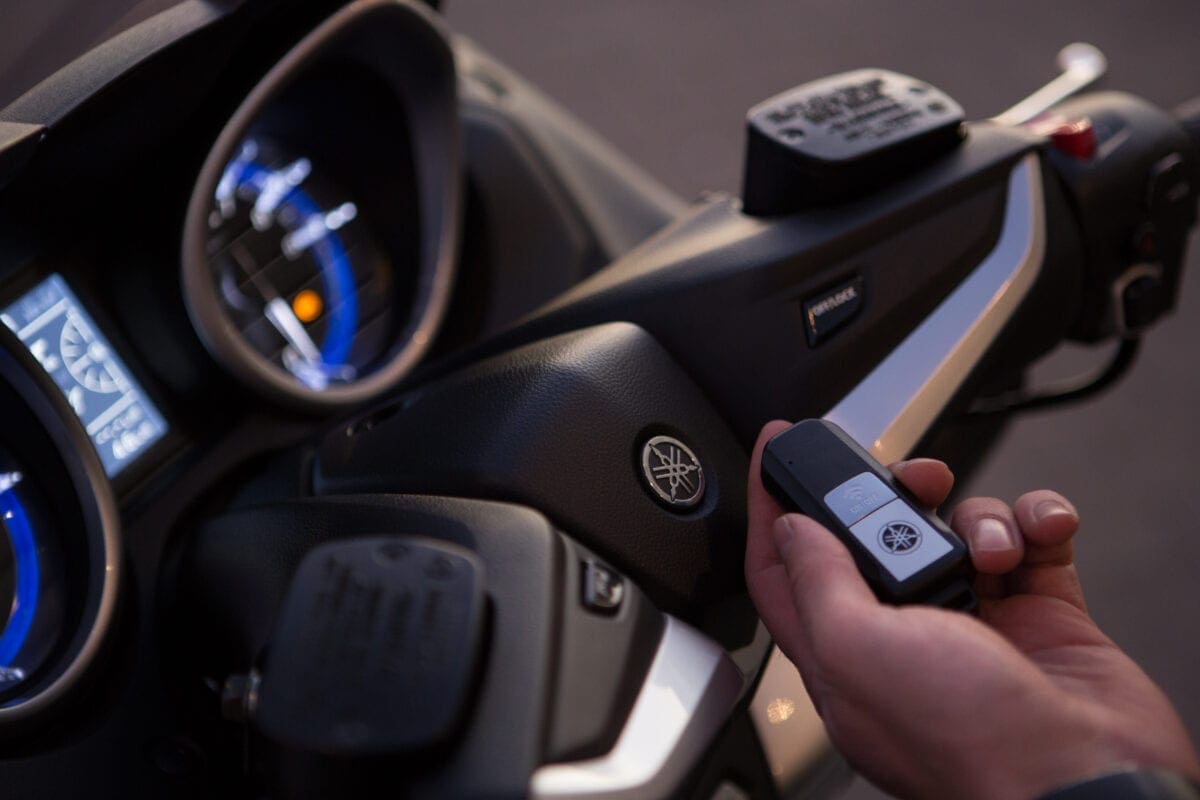 SPECIFICATION – 2017 Yamaha TMAX DX [Standard]
Price: £10,699 [£9399]
Engine: 530cc liquid-cooled DOHC 4-valve parallel twin
Power: 45.3bhp (33.8kW) @ 6750rpm
Torque: 39lb-ft (53Nm) @ 5250rpm
Transmission: V-Belt automatic
Chassis: Aluminium frame, plastic subframe
Suspension: (F) Unadjustable fork; (R) Shock adjustable for preload and rebound [unadjustable shock]
Tyres: (F) 120/70-15; (R) 160/60-15
Brakes: ABS (F) 2x Radially mounted four-piston caliper, 267mm discs; (R) Single-piston caliper, 282mm disc plus cable-operated hand brake
Seat height: 800mm
Tank capacity: 15 litres (3.3 gallons)
Kerb weight: 216kg
Contact: www.yamaha-motor.co.uk 
WORDS: John Milbank, Motorcycle Sport & Leisure Editor
PHOTGRAPHY: Yamaha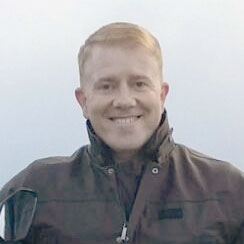 Latest posts by Tony Carter
(see all)
Does this get you revved up? Tell us why...
---
---
Subscribe to MoreBikes Newspaper
Get MoreBikes delivered through your letterbox every month. 12 issues for £15. Click here for more information.
---
Get MoreBikes.co.uk Updates
Enter your e-mail address below and you will receive biking news straight into your inbox...



You can unsubscribe at any time.
---