Hardcore Harley devotees best look away now. Flag-waving Trump supporters probably won't be impressed either, but for many riders – particularly those a little younger – be they open-minded new bikers, or indeed anyone looking for their first Harley, this could well be a game-changer.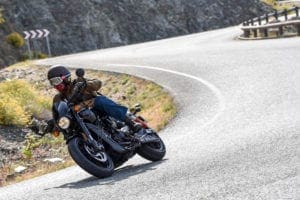 Words: John Milbank, editor of Motorcycle Sport & Leisure // Photographs: Harley Davidson
This bike handles. It's powerful, its got decent suspension, and it's comfortable. And I don't mean for a Harley. I mean that it's great when you keep in mind that it costs just £6745. That's not much more than an MT-07. And it's a grand less than a Triumph Street Twin.
Let's deal with the naysayers first. About half of all the bikes on US roads are Harley Davidsons, so the company needs to encourage new riders into biking – with that market share, it's not easy to get many more riders of competitor motorcycles to make the switch. The aim is to get two million new riders on board in just ten years, and what market research has shown is that there are an awful lot of people who want to get into the H-D brand, but don't see anything that tempts them. They want something that'll be easy to use in the city, but will handle well on the open roads too.