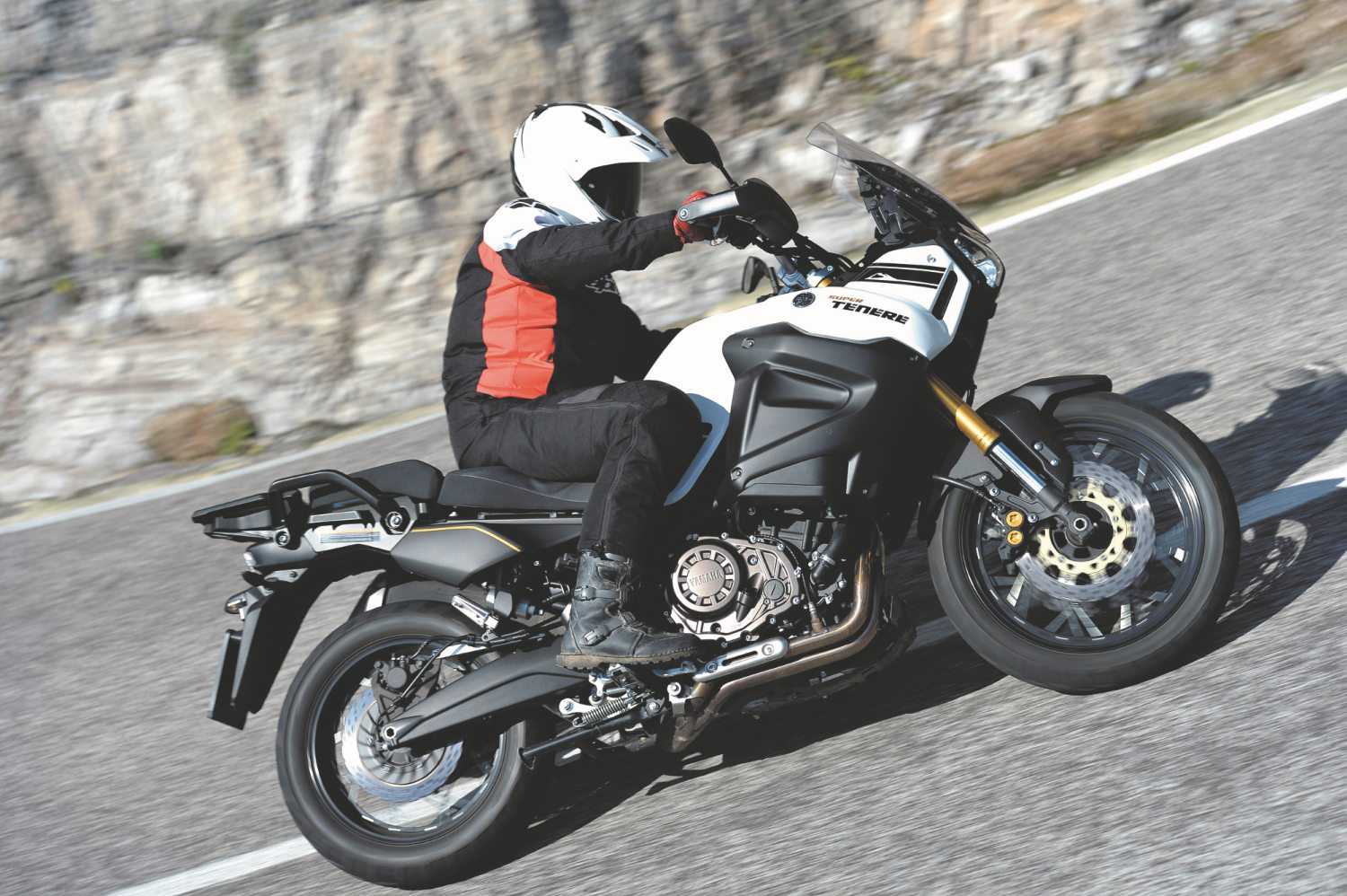 £12,799 | 111bhp@7250rpm | 86lb-ft@6000rpm | liquid-cooled parallel twin
Adventure sportsbikes are currently the UK's best-sellers, many coming fully-equipped with semi-active suspension, sophisticated anti-lock brakes, traction control and advanced engine management. MCM finds out how Yamaha's newly revised Super Ténéré fares against its flagship rivals at the launch in Italy…
The Super Ten's 1199cc parallel twin makes a claimed 111bhp and 86lb-ft of torque. Internal changes for 2014 over the previous Super Ténéré include re-profiled pistons, skinnier piston rings, re-shaped intake and exhaust port, and fuelling tweaks. These all contribute to reduced friction and add 2bhp to the peak power output, but it's still a figure well below its rivals, such as the 125bhp BMW R1200GS, 142bhp KTM Adventure and 135bhp Triumph Explorer.
Big power might not seem relevant on adventure sportsbikes, but it is if they're bought to cover medium-long distances, in comfort, with an unstressed engine at motorway speeds and good luggage and passenger capacity. For these things you ideally want a big, powerful engine, and better still one that's got a slow-revving, easy-going dose of charisma; hence flat twins, V-twins, a V4 or a triple.
The Super Ten's parallel twin, with 270° staggered firing interval crank offering V-twin-style primary vibes, should fit the bill, but the motor is just a bit too pleasant to be truly inspirational. The high-pitched secondary vibes that pestered the old bike are eliminated by bushed top-yoke risers, instead of cast handlebar mounts, and there's nothing malign other than a tendency for the cooling fan to come on, noisily, in town at moderate ambient temperatures. But despite Yamaha removing the link pipe between headers to generate a lumpier torque curve, the engine isn't quite as vibrant as some of the competition: there's no lusty, thumping bottom end, no bulging midrange and no potent top end. Instead it's a moderate, inoffensive drive wherever you want it, with a wide range of flexibility in any gear as long as you keep the revs spinning.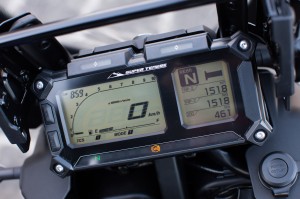 Revised Tour and Sport engine modes reach the same peak power, but Tour has less aggressive throttle response. Both are a little snatchy, especially at miniscule throttle openings such as trundling about town or holding motorway cruising speed. The XTZE also comes with a two-stage traction control if you're feeling brave, but there's little about the Super Ten's power delivery to suggest you truly need to worry about it.
What's the chassis like?
In a class that features some of highest-tech chassis equipment manufacturers have yet thrown at a motorbike, the Super Ténéré might seem to be treading water. The GS gets semi-active suspension, the KTM Adventure gets cornering ABS, and the Super Ten gets electronic screwdrivers. Stepper motors on top of the 43mm KYB forks, and alongside the KYB rear shock respond to button-pushes by the rider, selecting preload set-up at standstill, or damping settings on the move.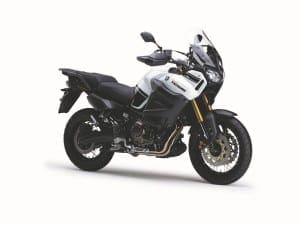 There are three main damping states – Soft, Standard or Hard – and each has six-step fine tuning. The best selection I found was to set Soft at -3, Standard as it comes, and Hard at +3, which gives you both extremes and a middle ground. Soft is good for comfort – very good, in fact – with excellent ride quality. It's a bit too soggy for really spirited riding though, allowing for dramatic weight transfer, which can over-load the 19in front tyre. The Hard damping setting firms things up nicely for better handling and greater control, but at the expense of a harsher ride. Standard is where you end up for the rest of the time. Or, indeed, most of it. It's a good system that both works and is more convenient than tools at the roadside. And while the active suspension of the XTZE's rivals is clearly the future, its merits aren't yet great enough to make them a 'must have'.
Controlling the Super Ten's various engine and chassis settings, and navigating the dashboard menus to do it, is an easily remembered series of button pushes. Moving around these menus, which also give control of the heated grip settings and the usual trip functions, uses buttons on the left bar. The right bar has engine mode and cruise control settings, and a third set of buttons mounted on the clocks are for traction control.
The new bike also features a four-position adjustable screen: A pair of thumbwheels on each side are easy enough to undo, but not while you're moving, and actually wiggling the screen to change its position is harder than it should be – you need both hands and more force than should be necessary.
Elsewhere the Super Ten is traditionally equipped with good ABS brakes, a low maintenance shaft drive (a plus over the KTM Adventure), and tidy 19in front and 17in rear wire-spoked wheels.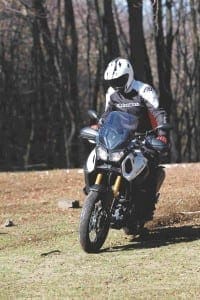 Should I buy one?
If you're a happy existing Super Ténéré owner, the new bike probably won't make you trade up. The existing machine is arguably just as nice as the new one; on standard settings, its non-electronic suspension is a good compromise… Its engine feels harsher, but not necessarily in a bad way; and yes, there are move vibes, but it also feels more immediate and sensory. The new bike is more refined, but has lost a hint of the character that I look for in a bike. Then there's the awkward screen, finicky throttle, whining cooling fan and the gear indicator not showing gear position with the clutch in. They're all niggles that, in isolation, are forgivable, but which could add up for some riders.
If you're contemplating adventure sportsbikes for the first time, there are plenty to choose from, and a bewildering multitude of accessories and spec levels. Most bikes are European flagships, built to showcase their manufacturers' technical expertise. The KTM Adventure, BMW R1200GS and Triumph Explorer are better-equipped than the Super Ténéré, and arguably more thrilling. Aprilia's ignored super-techno CapoNord is bristling with ultra-high tech self-leveling suspension, and Ducati's Multistrada is invincibly potent as a road bike. But here's the rub: they're all, once up-spec'd to near the XTZ1200ZE's level, more expensive than the Yamaha's £12,799 price tag.
The Super Ten's nearest rivals are Japanese; Honda's Crosstourer with its amazing V4 engine that goes like the clappers, and Suzuki's cheap and cheerful, well-equipped V-Strom. The Honda is substantially more expensive, the Suzuki three grand cheaper.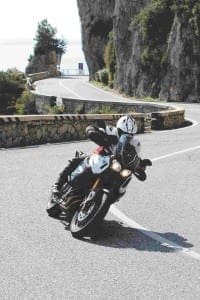 So what's it like to ride?
Really docile. Get on, and the XTZ is tall and meaty, but not unmanageable. The seat can be lowered as per other bikes in the class, and low speed balance is excellent. Bopping around traffic is easy with generous steering lock, and the suspension and engine are both very smooth. Mid-speed A-road work is dispatched with ease, and tyres, suspension and brakes are more than capable until you start pushing really hard. Spirited riding starts to show up weight transfer issues, and the Super Ten can understeer when pushed hard. It's at the edges of performance that other, better-equipped bikes start to show what better-equipped can mean: more reserves of handling.
On motorways the riding position is good but not quite perfect: the seat is rubbery and gets progressively harder as the miles roll by, so after a full day you'll be ready for a comfy chair. The XTZE is unlikely to break up marriages, cause offence or otherwise render its owner apoplectic with rage. Like any bike, it'll give you some memorable rides, and while it's very hard to call a machine of this price 'good value', when compared to the competition it becomes a little more attractive. I like my bikes with a bit more 'character', but as an easy-going ride it's certainly got a lot going for it.
Tested by Simon Hargreaves Photography by Alessio Barbanti and Marco Campelli
Tech Spec
Price: From £12,999
Engine: Liquid-cooled parallel twin
Power: 111bhp (82.4kW)@7250rpm
Torque: 86lb-ft (117Nm)@6000rpm
Weight: 265kg
Seat height: 845-870mm
Tank size: 23litres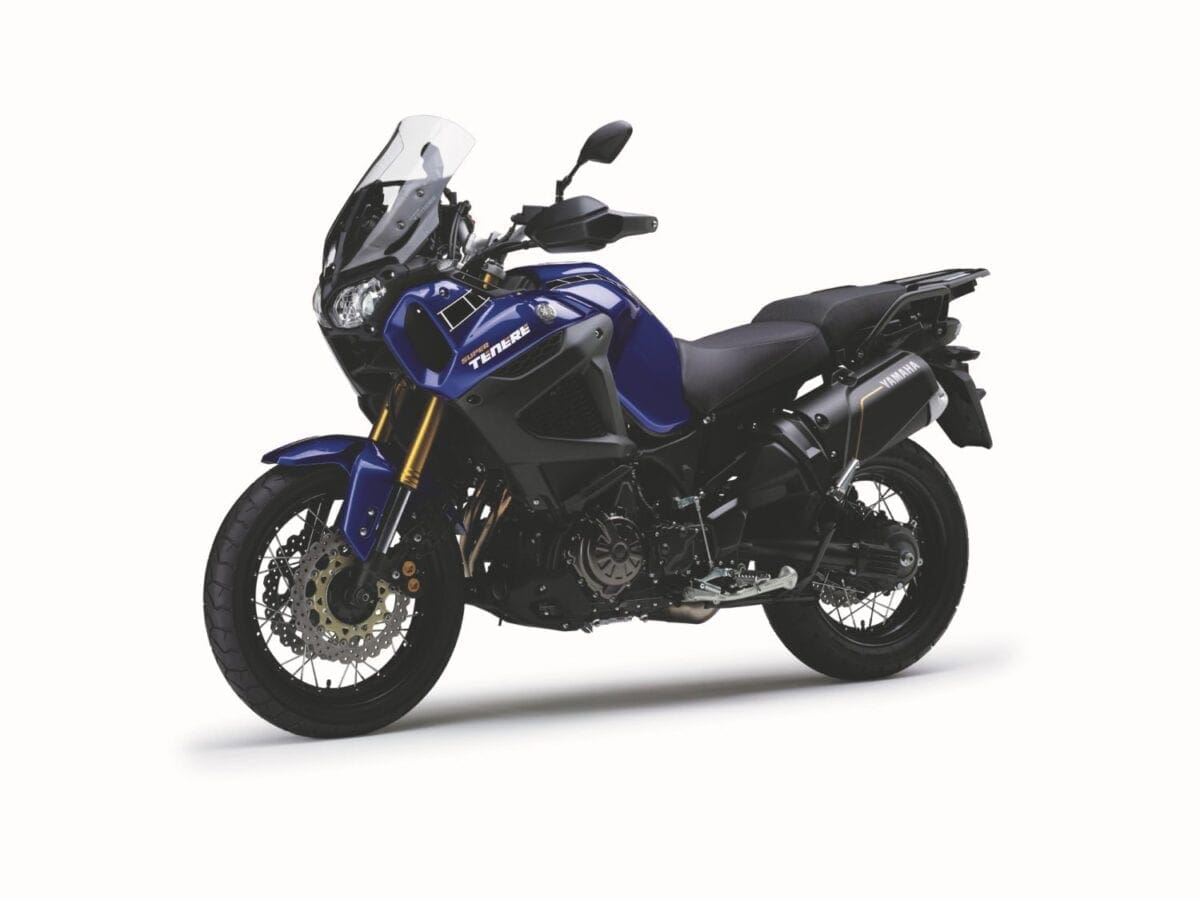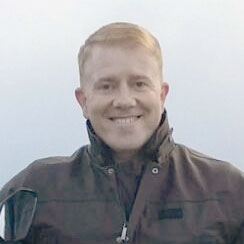 Latest posts by Tony Carter
(see all)
Does this get you revved up? Tell us why...
---
---
Subscribe to MoreBikes Newspaper
Get MoreBikes delivered through your letterbox every month. 12 issues for £15. Click here for more information.
---
Get MoreBikes.co.uk Updates
Enter your e-mail address below and you will receive biking news straight into your inbox...



You can unsubscribe at any time.
---