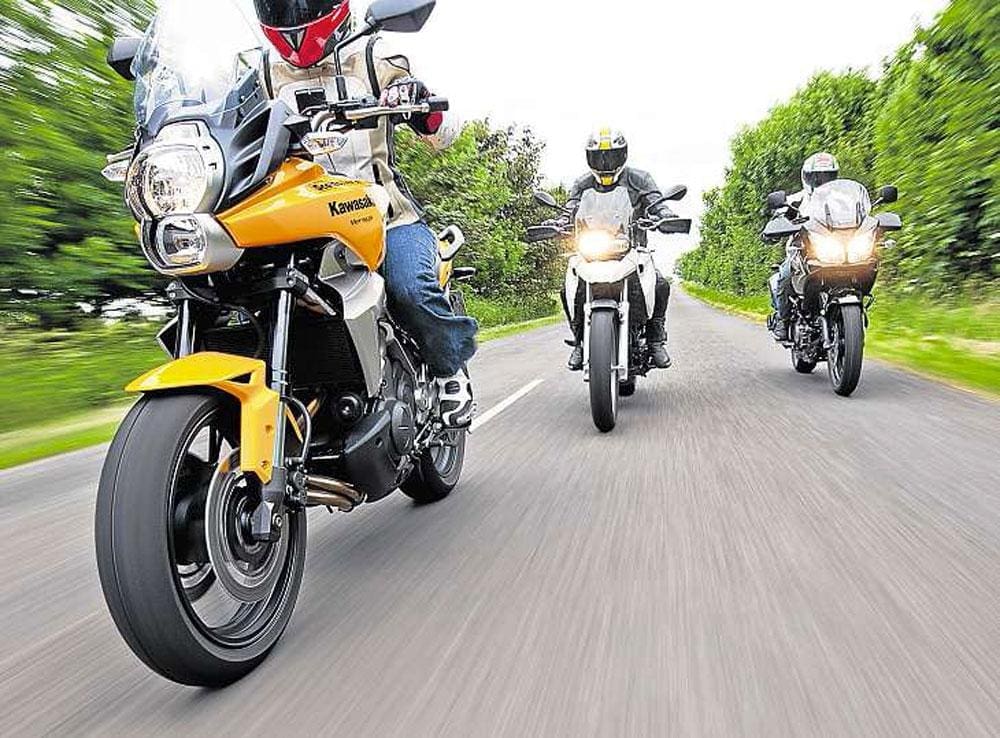 I wish I was on commission from Kawasaki, as the number of Versys' I've heard that MCM readers have gone out and bought this year are in double figures. It seems the Versys is pretty much a slick salesmen's dream, the type of product that sells itself once you've swung a leg over it. And that's no mean feat for any motorcycle, let alone a bike that unashamedly promotes itself as being all things to all men. 
Let's be honest: spec-wise there's nothing too show-stopping that makes the parallel 650 twin scream 'buy me!' first of all. What it looks like is a competitively priced, albeit somewhat ambiguous all-rounder that will suit riders looking for a capable, sporty middleweight or an entry-levelmachine that new riders can grow into.
While all of that is true and definitely good enough for many riders, Kawasaki have also managed to make a bike that people who get to ride one genuinely care about, even after the first 500 miles, me included. It feels like an old friend sitting out there in the garage.
But what is it that makes this averageon- paper bike the most fun I've had on two wheels all year?
Well, it's incredibly rideable without being boring. The grunty parallel twin combined with the deliciously neutral handling and upright, commanding riding position makes for a bike that excels on fast, twisty A-roads, is plenty capable enough at motorway cruising speeds (with the three-way adjustable screen on its highest setting) and returns 225 miles religiously from the 19-litre tank, even if you are a bit heavy with the throttle some days.
<!––nextpage––>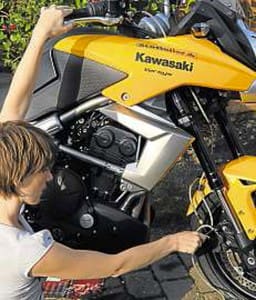 The high, wide bars, short (1415mm) wheelbase, 108mm of trail and very manageable kerb weight make the cheeky 650 a quick-turning, yet stable bike you can chuck into corners easily – a Versys in the right hands will catch somesportsbike riders unawares.Above 6000rpm the motor is quick-revving and the Versys feels like a sportbike, albeit with downgraded suspension. If the 650 was my bike, the two areas I'd improve are the brakes and rear shock. I've already fitted HEL brake lines, and this has improved lever feel and reduced the amount of pressure needed to haul the twin up, but it still feels a little wooden for my liking – the optional Bosch ABS could be worth looking at too.
Kawasaki have also used a sussy design with no rising rate linkage – I don't know if that's the reason for the sometimes crudely-damped feeling on bumpy back roads, but less than £300 will get you a decent Hagon shock unit that will isolate the bumps more effectively and make the bike feel more planted when cracking on a bit. But to be fair, these are still fairly minor niggles in an overall impressive package. I like the adventure bike/tall-rounder feel, decent ground clearance and love the oh-so flexible, punchy engine with waves of torque, and the fact that it doesn't feel like a 'budget' bike. The Versys is almost theTDM900of theNaughties if you like – both of them are fun, lightweight middleweights. And that's not a bad thing at all.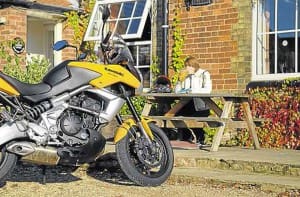 Good times
One of my favourite memories this year was a few weeks ago. It was a balmy 20º, the sun beaming down out of a liquid blue sky. Dressed in a pair of Kevlar jeans and a leather jacket, I savoured a pint of ice-cold cider outside my local after an hour's blast through a dry B-road heaven. The best bit? It was mid October and I was aboard the Versys. That one-day Indian summer may be long gone, but thankfully the Versys isn't.
And if I needed any more proof that I'd grown pretty attached to 'my' Versys, it was an unfortunate victim of a garage spill recently that saw it impale itself via the left-hand handlebar into an Aprilia Falco, ending up in a undignified belly-up heap on the floor. As the Versys was wedged firmly into the Falco, it took me the best part of 20 minutes to work howto free both bikes without paying a swift visit to the chiropractors. Once the Versys was back on its stand, it was time to assess the damage. To my amazement, the only casualty were the handlebars – as the Versys fell, it fell directly onto the left-hand bar end, which took the full force of the resulting impact onto the Aprilia. So while that was fantastic news, the bars were of course a little worse for wear, making it a little tricky (and strange) to ride. A new pair of bars were ordered, but until they arrived, I was Versys-less. Boy, was I grumpy! Having to join the ranks of cage-drivers for a couple of weeks was bad enough – by the time the new bars had turned up, I was desperate to get back out on the 650, even in the frankly horrible early November weather.
I'm not sure when the Versys is due to go back, but I'm determined to hang onto it for as long as possible as it's definitely the best bike on the long-term test fleet to have during winter.However, the wheedling requests fromother riders in the office with not so suitable machines have already started, so I guess Kawasaki's do-anything machine will have a number of short-term 'owners' apart from me over the next couple of months.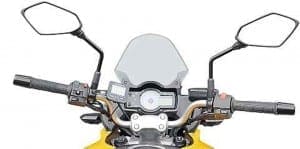 It'll be interesting to see how the bodywork, fasteners and such like stand up to the corrosive, salt-strewn A-roads and mud-clogged farmer's back routes: I've issued a strict edict to anyone wanting to borrow it that they have to own a bucket, sponge and a plentiful supply of Scottoiler FS 365: I love this stuff, it really is brilliant at protecting bikes from corrosive nasties.
Alas, it can't repel the inevitable "Please could we have our bike back please?" phone call from Kawasaki, but I'm hoping we'll get a decent shot at winter riding on it before that happens. Here's hoping…
Words: Melanie Falconer Pics: Ben Wilkins
---
Advert
---
Enjoy everything More Bikes by reading the MoreBikes monthly newspaper.
Click here
to subscribe, or
Read FREE Online
.
Sign-up to the More Bikes Newsletter
Enter your e-mail address below and get regular updates straight to your inbox… You can unsubscribe at any time.