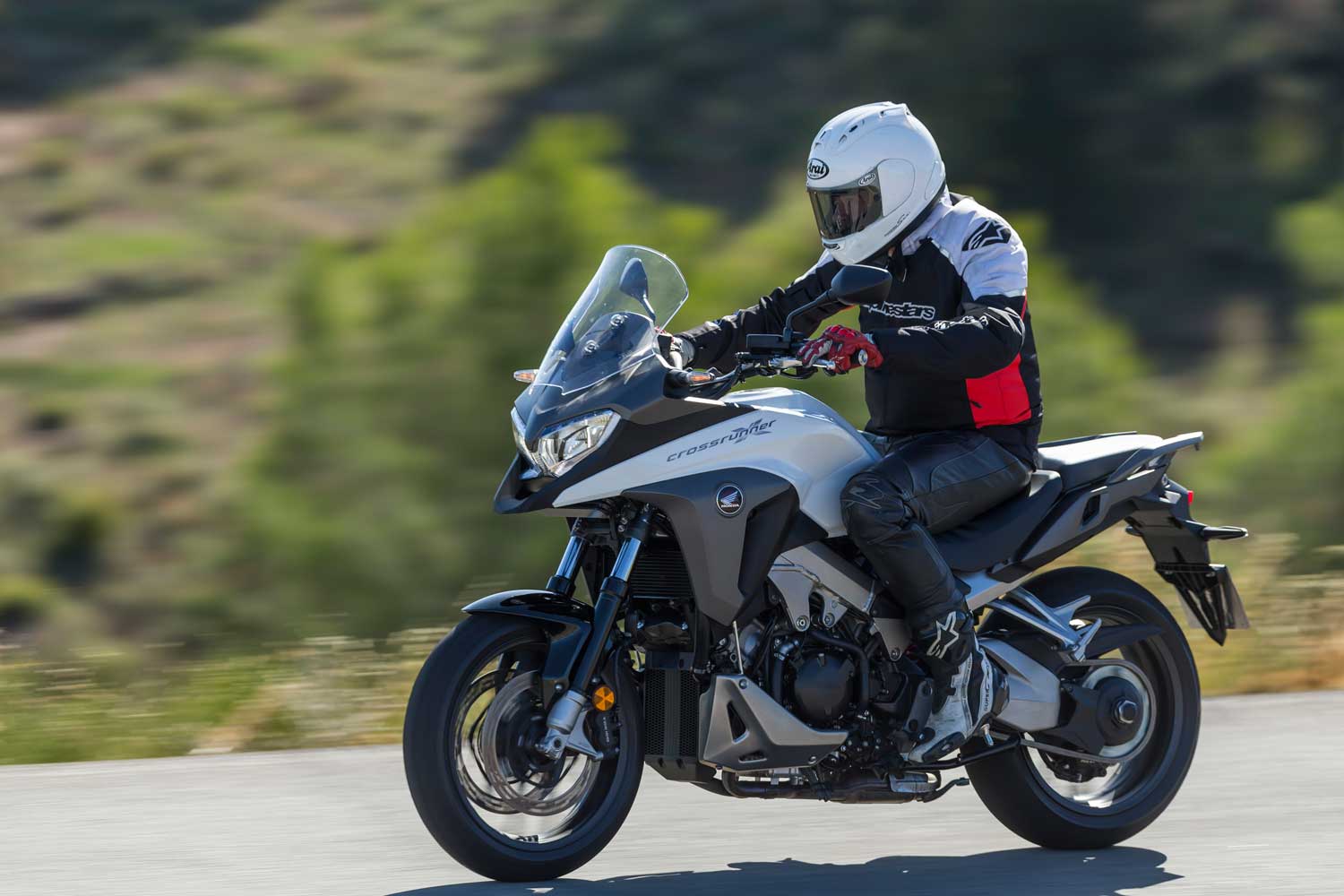 Honda Crossrunner VFR800X | £10,229 | 105bhp@10,500rpm | 55lb-ft@8500rpm | liquid-cooled 90° V-4 Tested by Simon Hargreaves Photography by Honda
The Honda Crossrunner, launched in 2011, was a recycled VFR800 engine and chassis with bland supermoto/adventure Euro-styling. Dynamically a good bike, it never caught on. The 2015 Crossrunner uses the revamped VFR800F engine and chassis, but now shares family looks with the adventure-styled VFR1200X Crosstourer.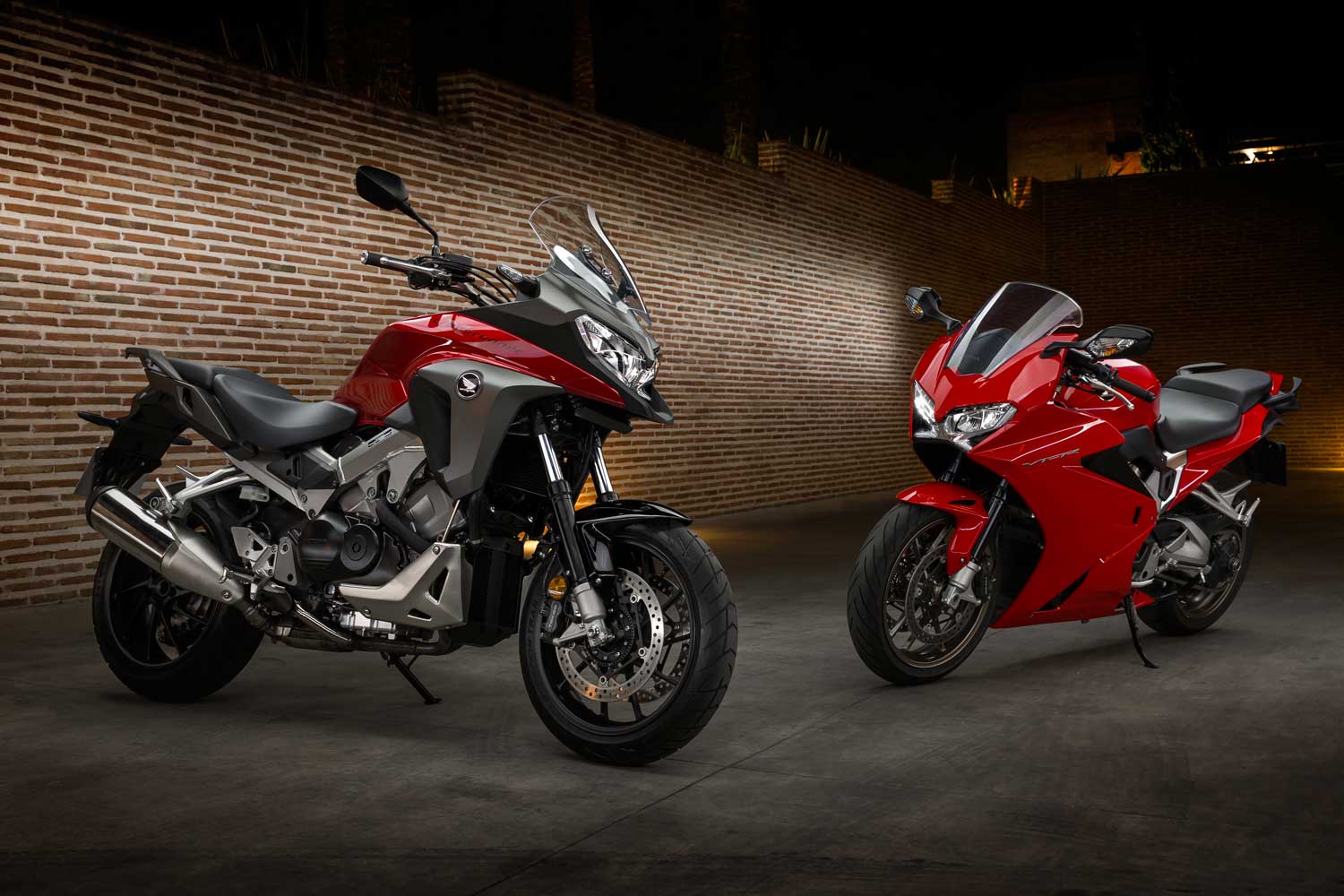 Tell me about the engine
The 2015 Crossrunner uses an almost identical version of the same 782cc 90° VTEC V4 as the conventional sports touring 2015 VFR800F. It makes a claimed 105bhp at 10,000rpm and 55lb-ft of torque peaking at 8500rpm, which is 1000rpm lower than the previous Crossrunner motor thanks to minor exhaust, intake and engine management modifications. It retains all the qualities you'd expect from a V4: smooth, burbling power delivery with just enough V-grumbling to add charismatic vibes without being intrusive or awkward. Drive is deceptively potent, with the motor producing a linear, harmonised flow of low-down grunt that doesn't sound as aggressive as it really is – below 6750rpm, the exhaust note is whisper quiet.
But above that the engine changes character completely. Honda's long-standing VTEC valve mechanism, which switches between two-valve, single-inlet and -exhaust valve per cylinder operation at low rpm to full, four-valve running above 6750rpm, is still present – it's been around for 12 years, since the 2002 VFR800 (the same year the motor ditched gear-driven cams and went to a conventional camchain). The VTEC idea is that a two-valve head favours low engine speed gas flow and a four-valve head favours higher rpm, giving the VFR a best-of-both-worlds spread of torque. In reality, on early VFRs the transition between the two modes was a pronounced step in the power delivery, almost like a powerband. Successive iterations have smoothed out the switch until now, on the Crossrunner, it's almost impossible to detect other than by the sharp change in exhaust and airbox note as the engine starts to moan with a throaty, mid-frequency rasp.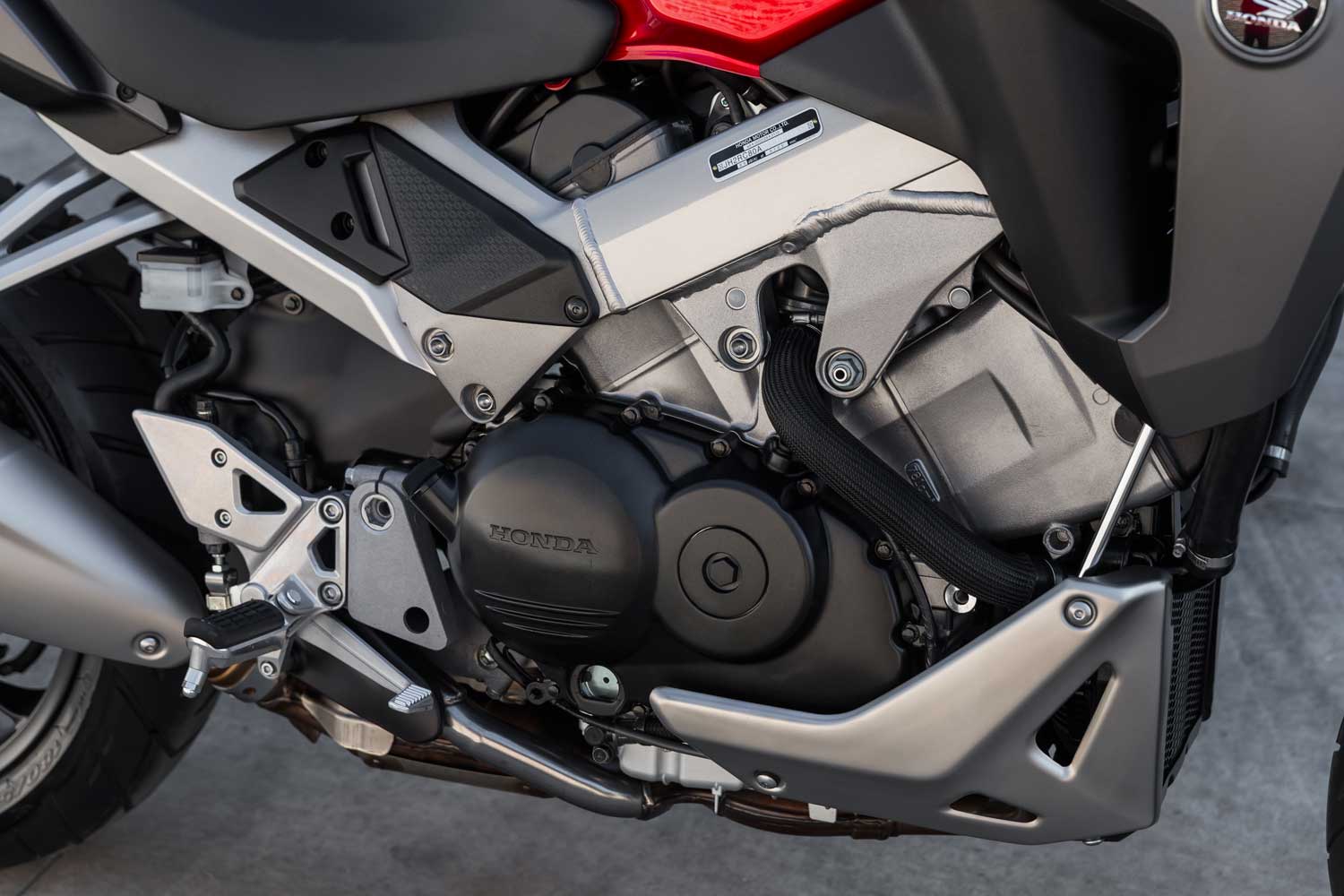 Honda has been building V4 engines since the mid-1970s, when they boxed themselves into a corner by doggedly insisting on developing a four-stroke engine to compete with two-strokes in Grand Prix racing. The only way to get comparable power from a four-stroke within the 500cc, four-cylinder rules was to bend them, by creating four oval pistons that performed like an eight cylinder motor. And the only way to package what were effectively eight cylinders on a bike was to line them up in a V. And thus Honda's tenacious obsession with the V4 configuration was born.
By the mid-80s there were six V4s in Honda's road bike line-up, but the world wasn't ready and within a couple of years there was only one; the VFR750. It looked like the V4 project was over. But Honda persevered and, when MotoGP rules 'turned' in their favour, Honda's V4 message was, literally, back on track. Today Honda's range is stuffed with them: the VFR800F, 800X, VFR1200F and the VFR1200 Crosstourer – and of course the Pan European and CTX1300.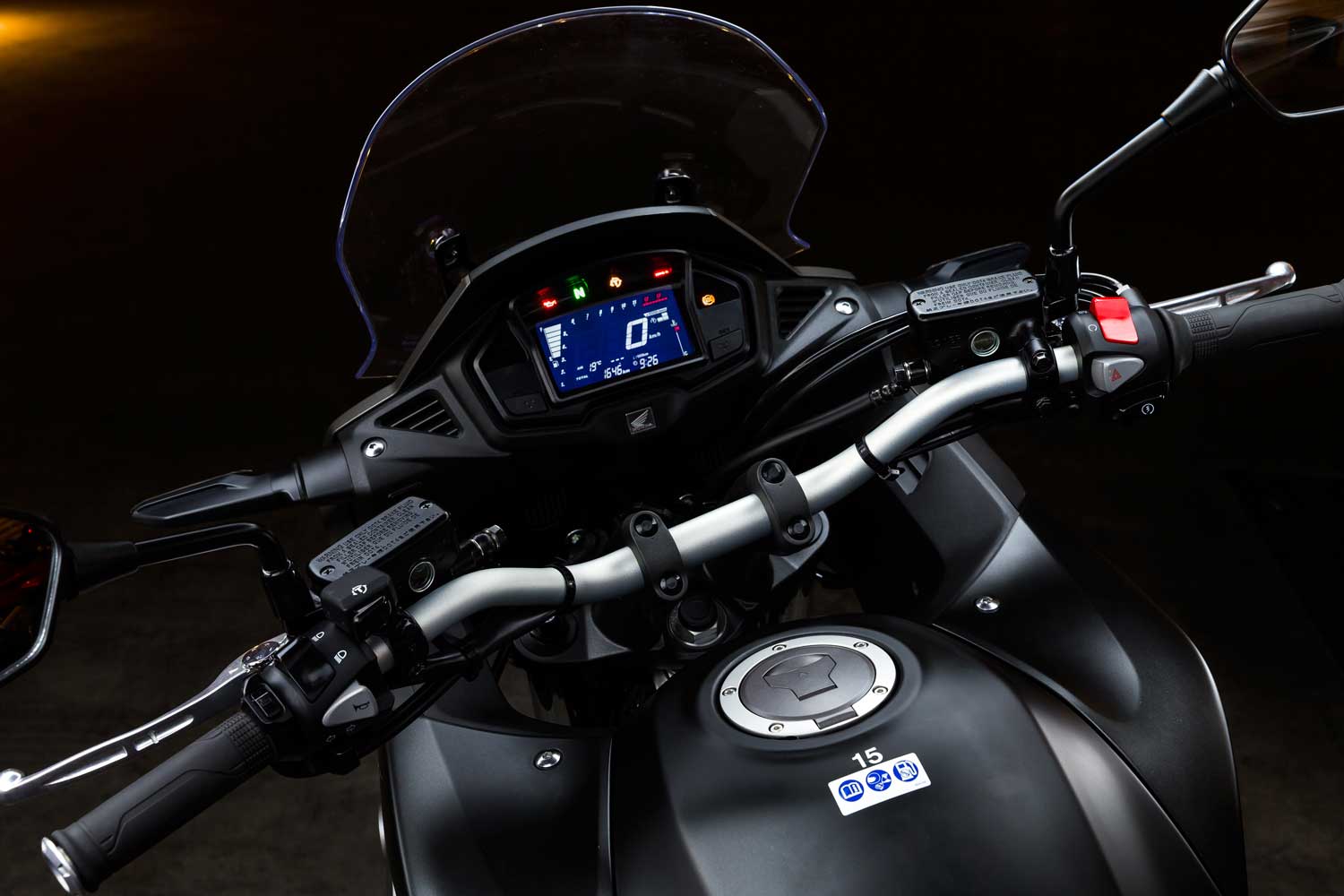 What's the chassis like?
Like the Crossrunner's engine, its twin-beam aluminium frame, single-sided swingarm, conventional Showa forks with adjustable rebound and preload, adjustable rebound and remote preload Pro-link Showa rear shock, ABS brakes and cast wheels (not wire, as per the VFR1200 Crosstourer) are all lifted from the 2015 VFR800F. And seeing as they all work well in that bike, it's no surprise to find they all work well in the 800X too.
In keeping with the Crossrunner's new adventure-based styling, its suspension gets 25mm more front wheel travel and 28mm more rear wheel travel for an overall increase in ride height of 39mm which, apart from the obvious cosmetic effect, also raises the bike's centre of gravity and improves general riding agility and steering response. So the VRF800X turns easily and naturally, capable of delicate low speed balance, swooping in and out of cars at mid-speed, and tracking a steady line at faster pace. It's a very easy bike to control.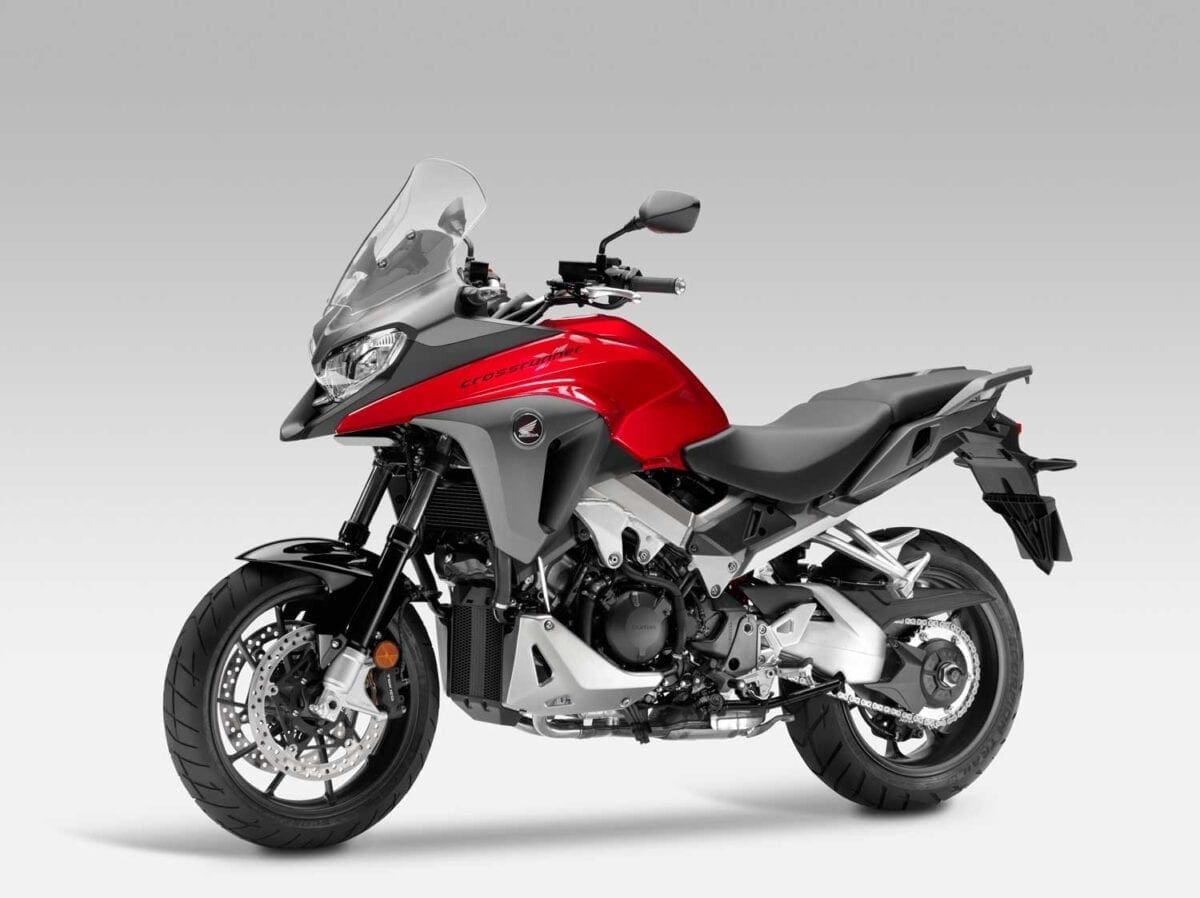 But it's also a bit on the soft side; the extra weight transfer from the longer suspension travel, generated under braking or on the gas, isn't completely handled by the bike's damping and spring rates. So while ride quality soaking up high speed stutter bumps is excellent, low speed damping and chassis attitude over longer yumps, dips and undulations sets up a sea sick-style pitching to and fro. Increasing the damping a few clicks and turning up the preload via the remote rear adjuster takes away most of the problem, but adding a pillion and a full load of luggage will test the suspension to the limit. It'd be worth getting a fully-loaded test ride before you buy a Crossrunner, if that's how you plan on using it.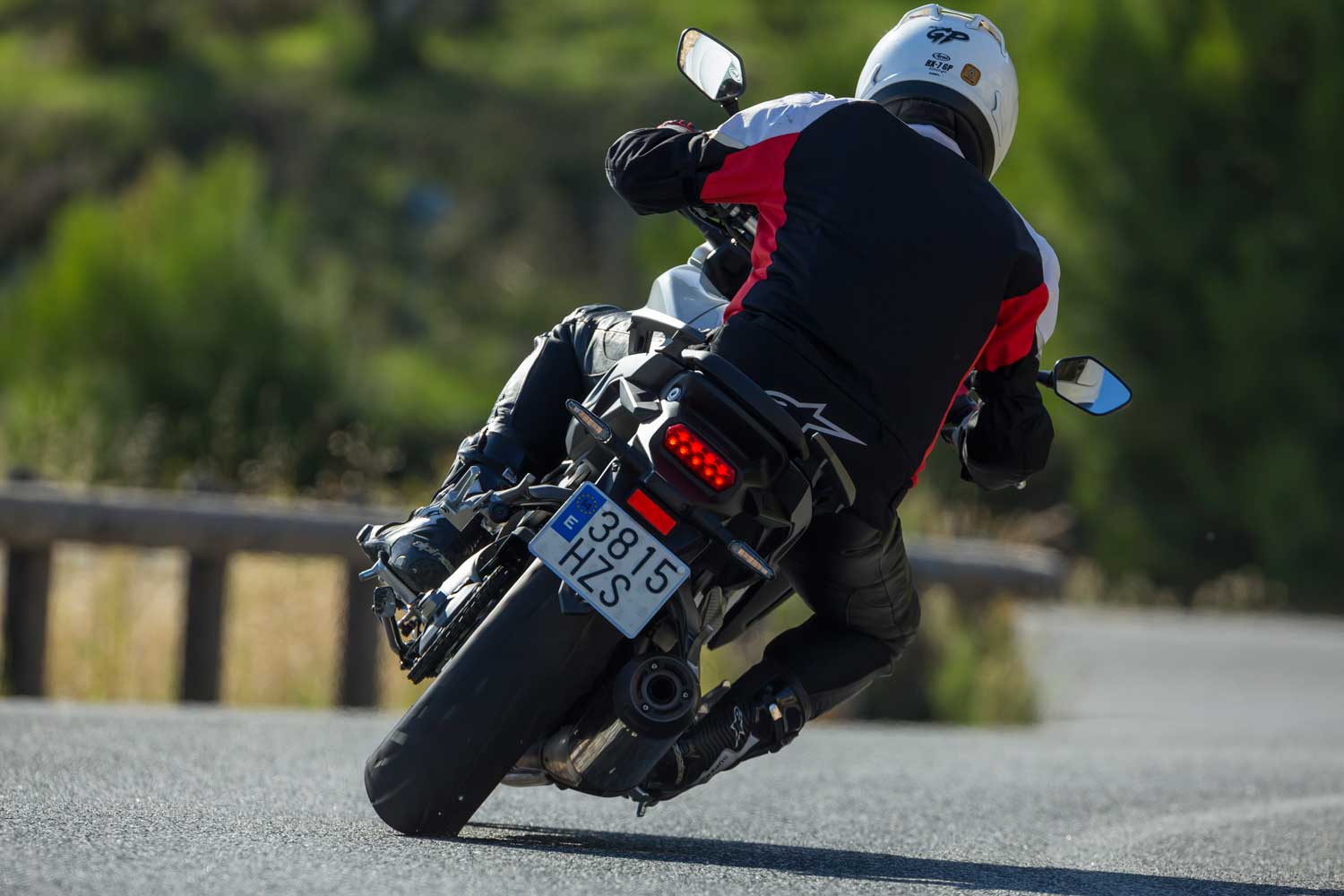 Should I buy one?
Honda are keen to rebrand the VFR800X as an alternative to the VFR800F: the latter for riders who want their sports touring with a conventional, sporty riding position, and the former for those who want it served adventure-style with a strong family resemblance to the VFR1200 Crosstourer. It's a long way from the previous Crossrunner, which was a curious mixture of VFR engine and chassis dressed in an anonymous set of clothes that put it somewhere between supermoto, adventure sports and roadster. It was a neither here nor there bike. At the very least, the new Crossrunner has a point.
And so now there's no reason why you shouldn't buy one (although when it gets to its expensive, time-consuming 16,000-mile valve-clearance service you might think twice). Honda's modern build quality might not be a patch on the stunning levels of finishing found on their mid-1990s bikes, but it's still at as good as anyone's and better than most.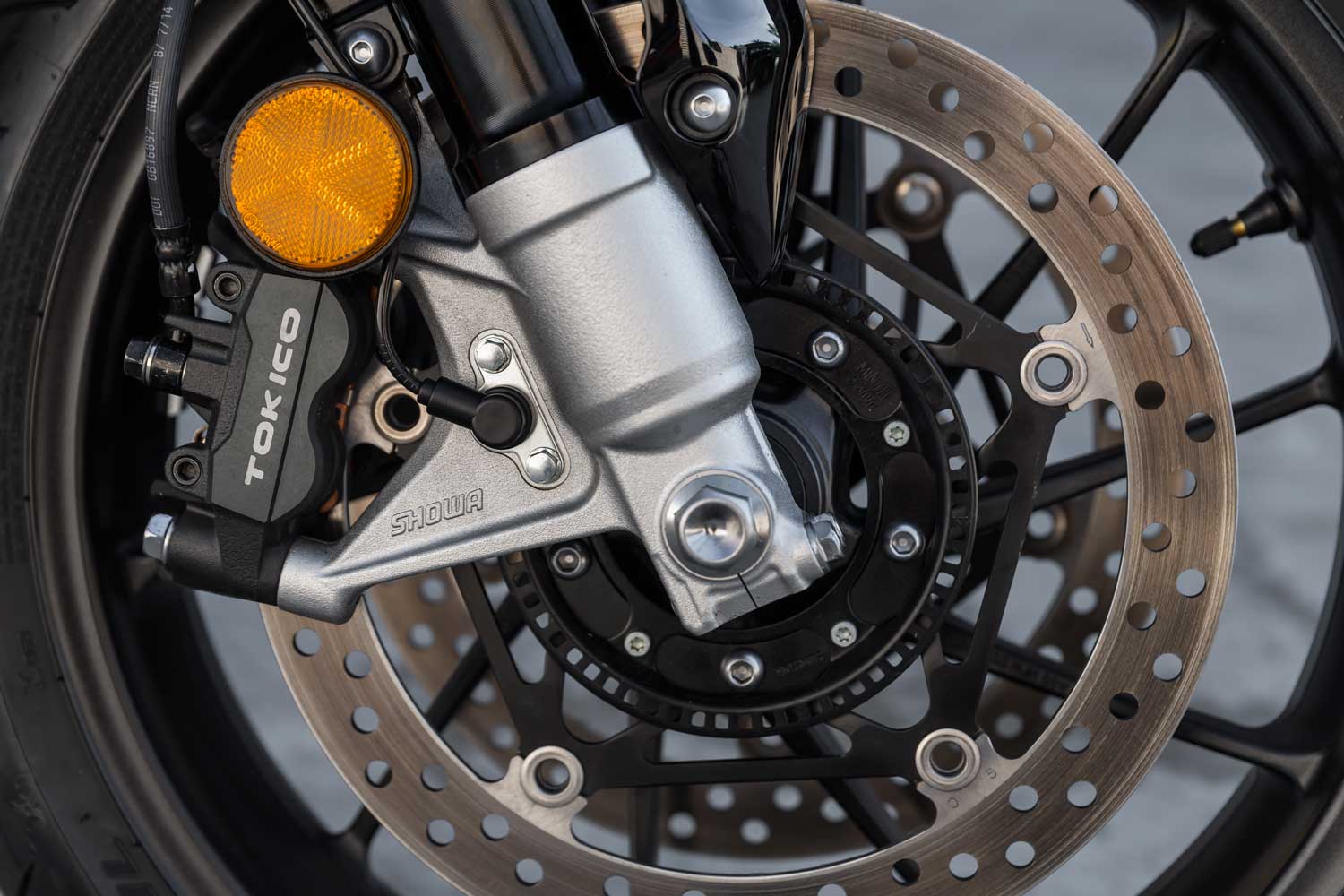 The VFR800X Crossrunner costs £10,299, for which you get a comprehensive package of extras as standard. The list includes handlebar switchable 3-stage traction control, ABS, heated grips, LED lights, a 31 litre topbox, centrestand, Akrapovic exhaust, and even a Tom Tom sat nav – all standard fitment (optional extras include Honda's quickshifter – which is great fun – crash bars, panniers and LED fog lights). It's an impressive spec that no other bike comes with as standard: to buy an equivalent BMW F800GS you'd be looking at over £11,000. Triumph's Tiger 800 ABS is close, but isn't available with a traction control option.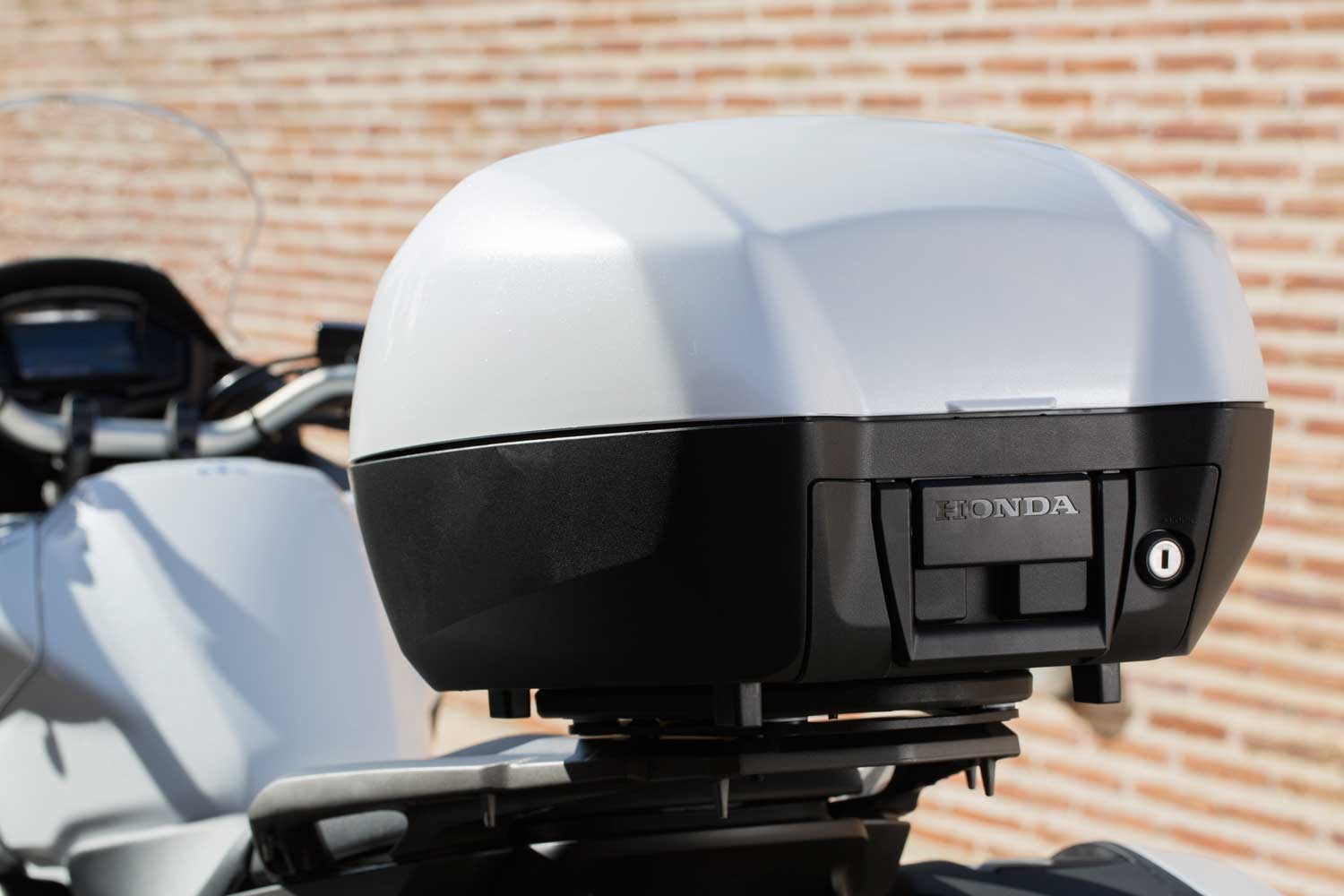 So what's it like to ride?
The first thing to strike you about the new Crossrunner is just how easy it is to ride. Nothing interferes or intrudes with the process, to annoy or distract. Honda is good at this sort of thing. The seat height is manageable, the bars meet hands exactly where feels best, the springs take your weight like a sofa. The engine starts up with a gentle thrum, settling into the classic V4 off-beat burble. The gearbox is positive, the brake performance is well modulated, the throttle response natural and free of snatch. It's a hard bike to be clumsy with.
The ergonomics are excellent. Seat height, like the VFR800F's, is two-position: the highest is suitable for six-footers; the lowest is equivalent to the old Crossrunner and is fine for just about anyone. The riding position is classic adventure sports – a long pair of bar risers from the top yoke present the handlebars at chest height and at a nice width, giving the rider room to move around and adding a slight forward lean that resists the temptation for the rider to slump into the seat. It's a very natural, instinctively comfortable riding position.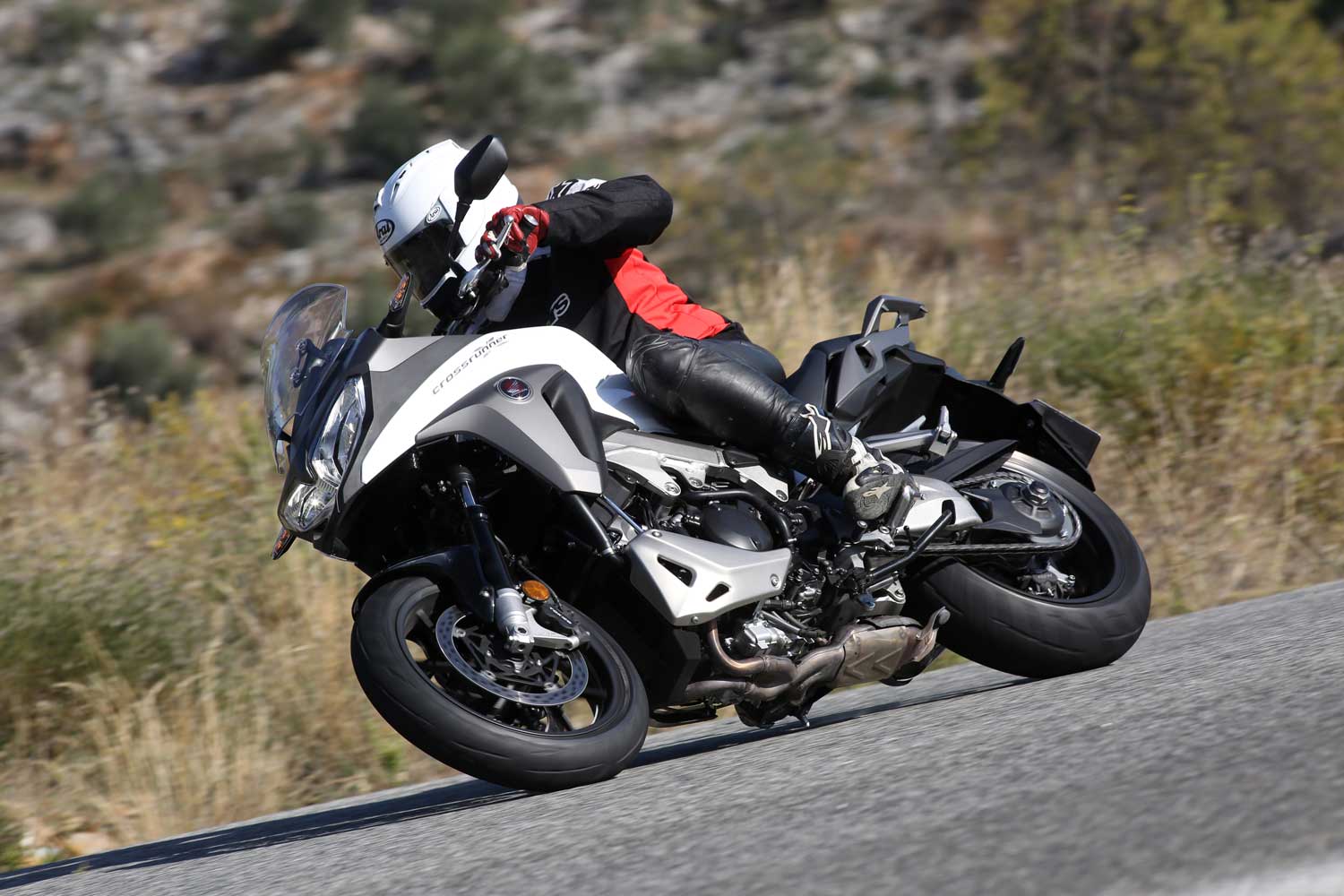 The new clocks share the inverted colours of the VFR800F, with light segments on a black background for easy viewing in all lights. Some of the small print functions, like the average mpg, average speed etc, are hard to need a magnifying glass. But there's plenty of info there.
The 800X also gets the 800F's traction control, three-way adjustable (including off) from a handlebar button. It works, it's a safety back-up, and even if it is helps you out just once, it's worth having. A bit like ABS, which of course the Crossrunner also has as standard.
Tech Spec
Price: £10,299
Engine: Liquid-cooled 90° V-4
Power: 105bhp (77kW)@10,000rpm
Torque: 55lb-ft (75Nm)@8500rpm
Weight: 242kg
Seat height: 815/835mm
Tank size: 20.8 litres
www.honda.co.uk/motorcycles
---
Advert
---
Enjoy everything More Bikes by reading the MoreBikes monthly newspaper.
Click here
to subscribe, or
Read FREE Online
.
Sign-up to the More Bikes Newsletter
Enter your e-mail address below and get regular updates straight to your inbox… You can unsubscribe at any time.