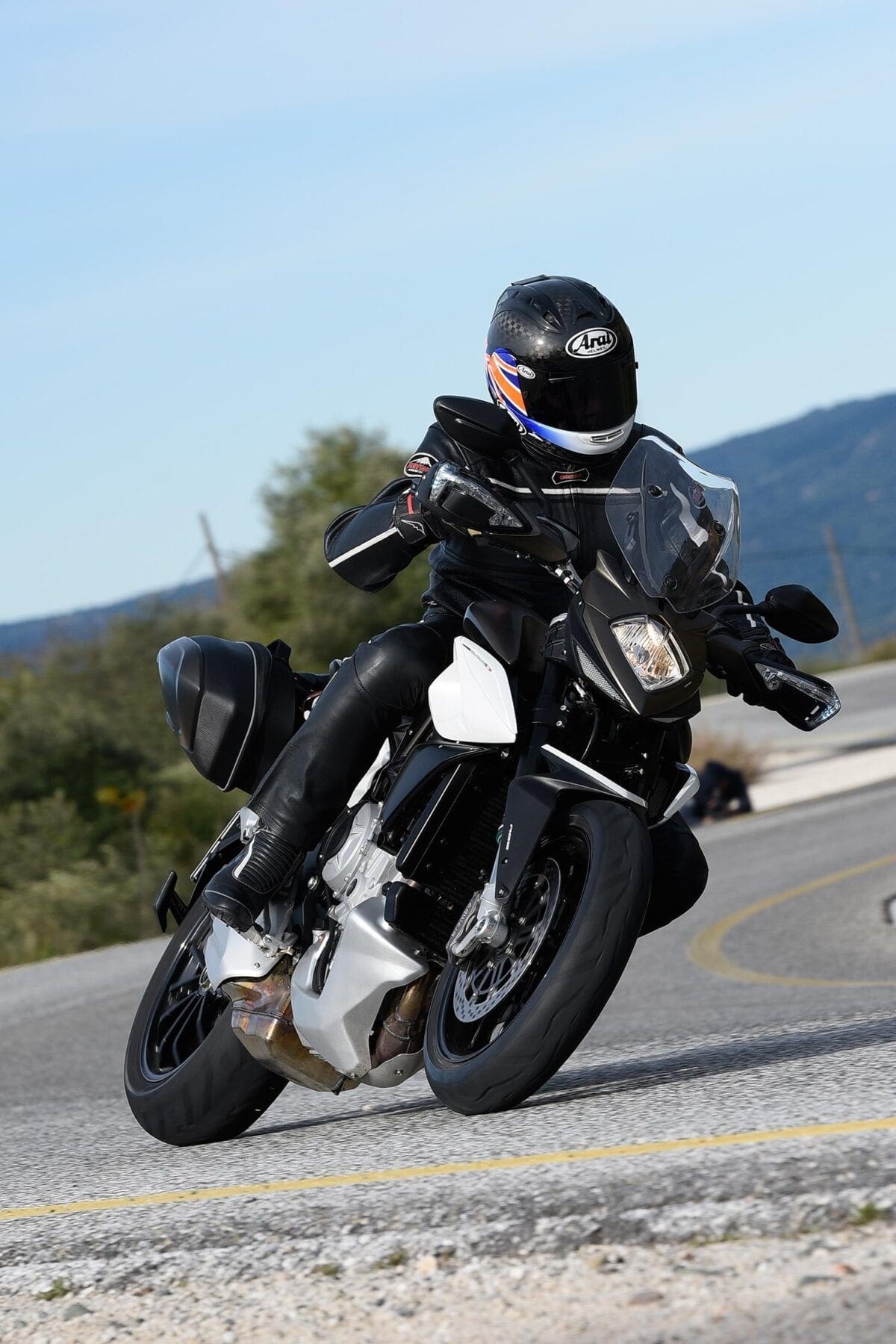 MV Agusta Stradale 800 | £11,899 | 798c | 115bhp@11,000rpm | 57.9lb-ft@9000rpm | 12-valve three-cylinder in-line 798cc
Tested by: Alan Cathcart Photos: Milagro
This year, MV Agusta is entering the Touring market for the first time, and in a big way for a small, high-end sporting brand. It's doing so with two new three-cylinder models quite unlike anything else ever produced by Italy's most historic two-wheeled manufacturer; the fully faired Turismo Veloce 800 and MV's entry into the mid-to-high mileage touring market, the Stradale 800 sports tourer.
Tell me about the engine
The Stradale retains the essentially identical three-cylinder 798cc engine employed by all members of the middleweight MV family, save for a self-adjusting hydraulic clutch which is claimed to give greater precision compared to the cable-operated one on all MV's other triple models. However, the engine has quite different mapping, more aimed towards ease of use than performance and outright power, as on the 120bhp/62lb-ft Rivale.
There are three basic engine maps which you can easily swap between via a switch on the right handlebar, plus a fourth Custom map that allows you to dial in whatever parameters you opt for, with your selection retained when the ignition is switched off. The three factory maps each result in distinct riding experiences, with Normal and Rain modes producing 90bhp and different degrees of progressivity in power delivery to the rear dual-compound Pirelli Diablo Rosso II. Switching to the Sport map offers access to 115bhp at 11,000 rpm.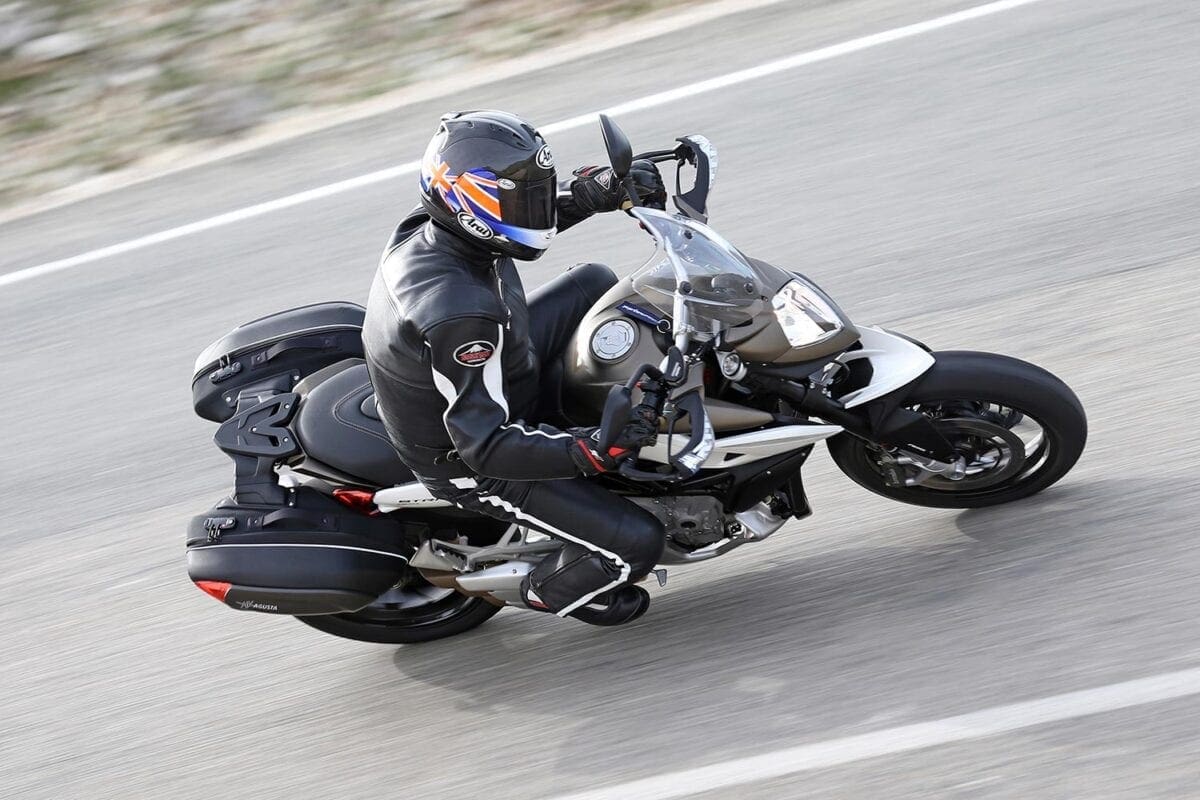 But even in Sport mode, there's a huge, ultra-flat torque curve, which allows you to hold a gear for mile after mile along a twisty stretch of road, letting the revs drop as low as 2,000 rpm in a tight turn, before accelerating wide open with zero transmission snatch all the way to the 11,000 rpm mark, where you can feel the performance subtly peak. 4,000 rpm to 9,000 rpm is the Stradale's happy zone. Keep it there and you can make full use of the wide-open powershifter and clutchless auto-blipper both included as standard on the new MV for the first time ever in the middleweight sector.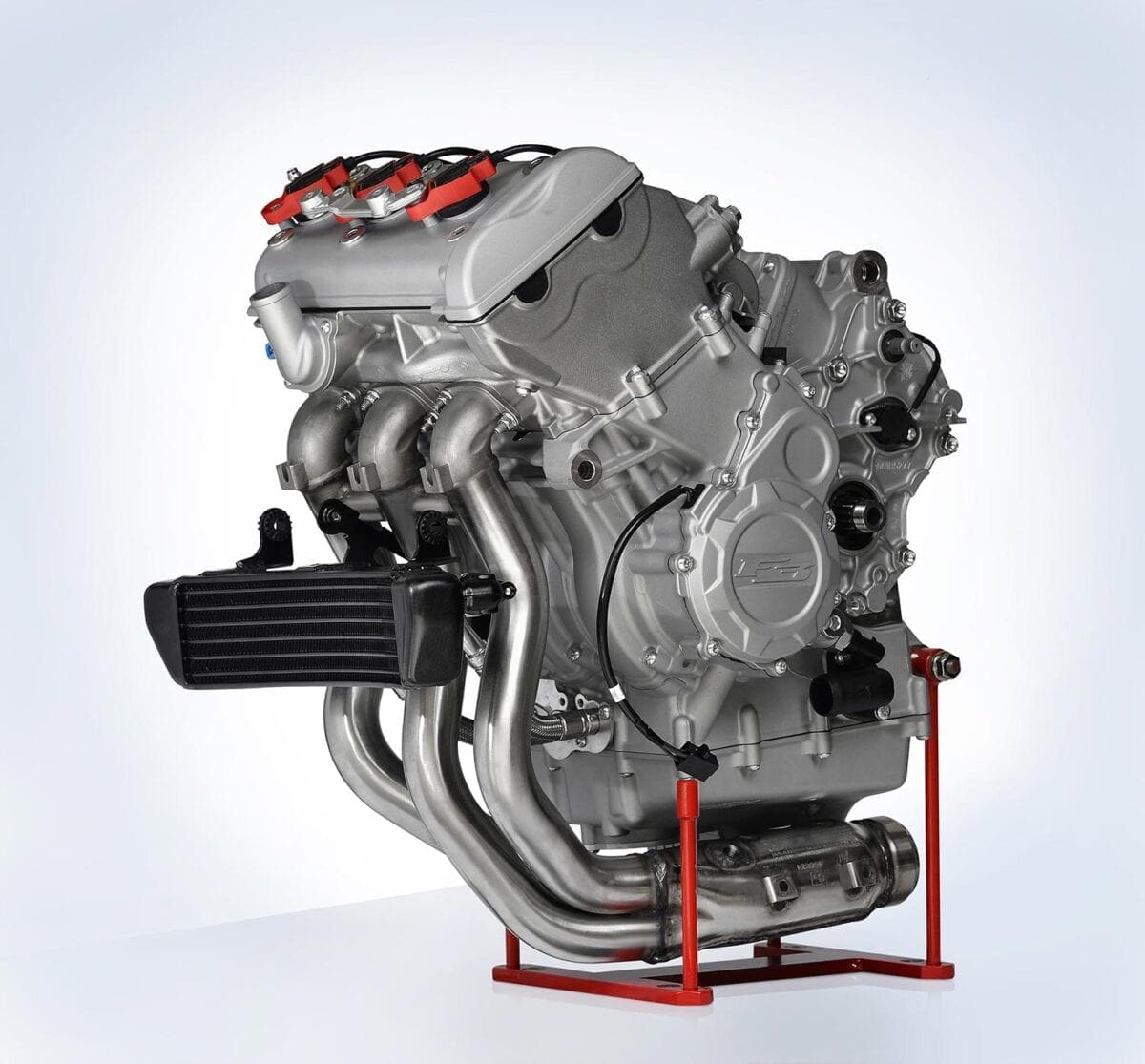 Brought straight from the racetrack, the autoblipper downshifter system means you need never use the clutch lever again after setting off from rest, until you come to a halt once again. Scrub your speed off for a corner, then stab the gearlever back a ratio or two with your left foot. The auto-blipper takes effect with a momentary musical rise in revs, while you focus on trail-braking into the turn and lining up your apex without having to worry about fingering the clutch lever nor, of course, blipping the throttle. Best of all, the downshifter is so perfectly dialled in that you can repeatedly shift back and forth clutchlessly on a twisting road, and avoid touching the brakes, just using your faith in the front Pirelli coupled with the flawless mapping of the autoblipper and adequate setup of the powershifter. 'Adequate' only for the powershifter, because it was very hard to shift cleanly wide open with this Stradale setup, a fact which MV technical boss Brian Gillen put down to their deliberately extending the cutout time a little more than on the F3 800 sportbike, because of the more relaxed riding style they expect their Stradale customers to adopt.
The engine's fitted with a larger silencer that reduces noise levels – in keeping with the likely use of the bike, without completely sacrificing the glorious three-cylinder muted howl that's become such a trademark of the MV triples.
What's the chassis like?
The Stradale is based on the Rivale hotrod which entered production two years ago, and has been a sold-out smash-hit around the world. Light, powerful, and full of clever engineering, this supermotard-style sportbike was once memorably described as being about as practical as a pair of stiletto heels. But it's loadsa fun to ride – MV Agusta is addressing this by producing a sports touring derivative that's still fun, but way more practical.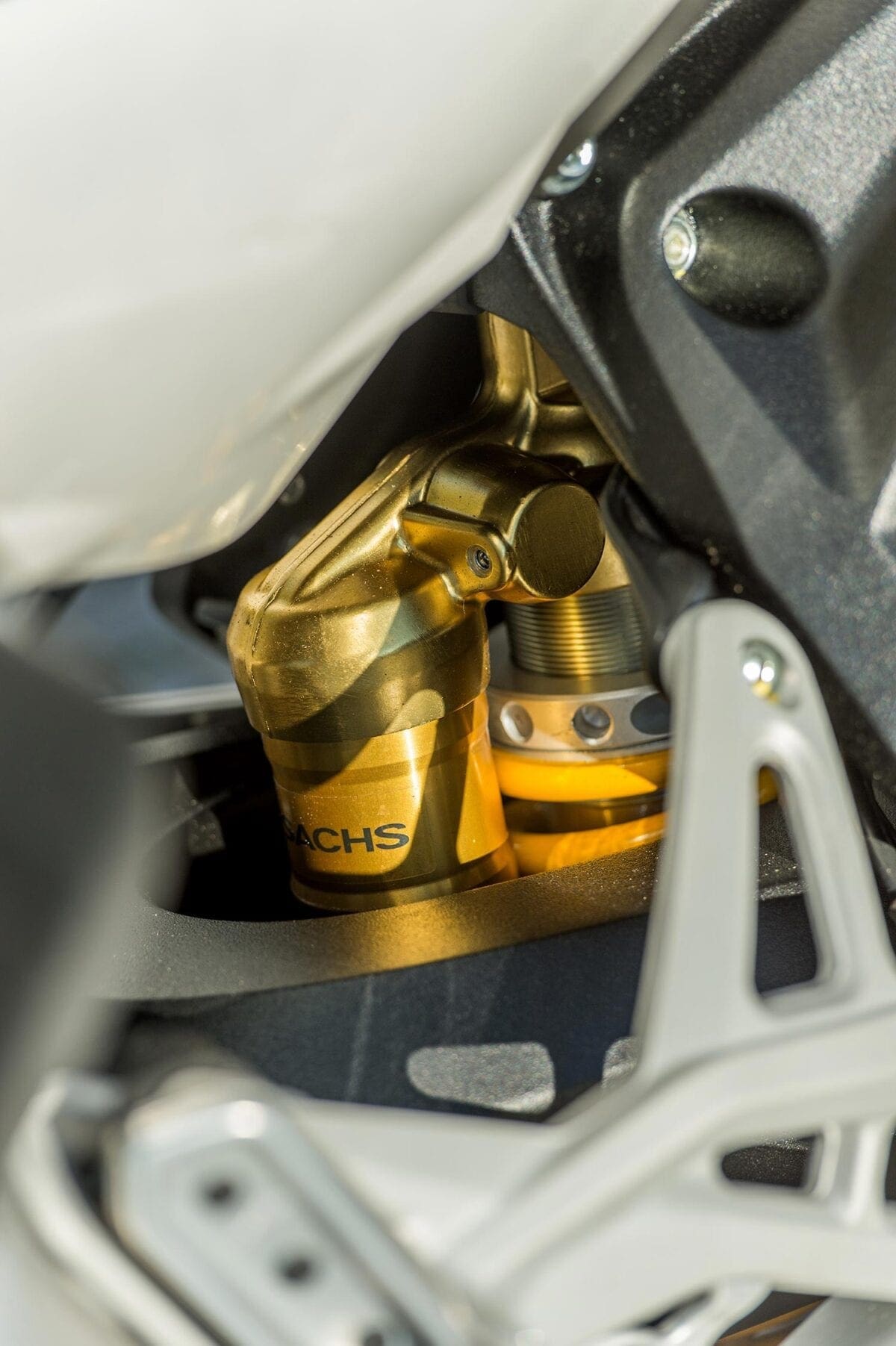 A new dedicated chassis has been designed – one that's been stretched at the front and employs more conservative steering geometry than the Rivale, with the steering calmed down and stability enhanced via a 27.5° rake for the fully adjustable 43mm Marzocchi upside-down fork carrying 109mm of trail, plus a longer swingarm resulting in a much rangier 1457mm wheelbase, which gives extra space for the passenger seat. Coupled with a very upright riding stance, with a relatively wide one-piece taper-section handlebar bolted to tall 80mm risers attached to the upper tripleclamp, the result is a practically unique motorcycle quite unlike any other MV Agusta ever made. MV's British designer Adrian Morton has produced a practical everyday ride that looks both distinctive and ultra-modern, yet classy – a very difficult remit.
The 870mm seat height is 11mm lower than on the Rivale, though it doesn't feel it. Shorter riders might want to consider the optional 20mm lower seat.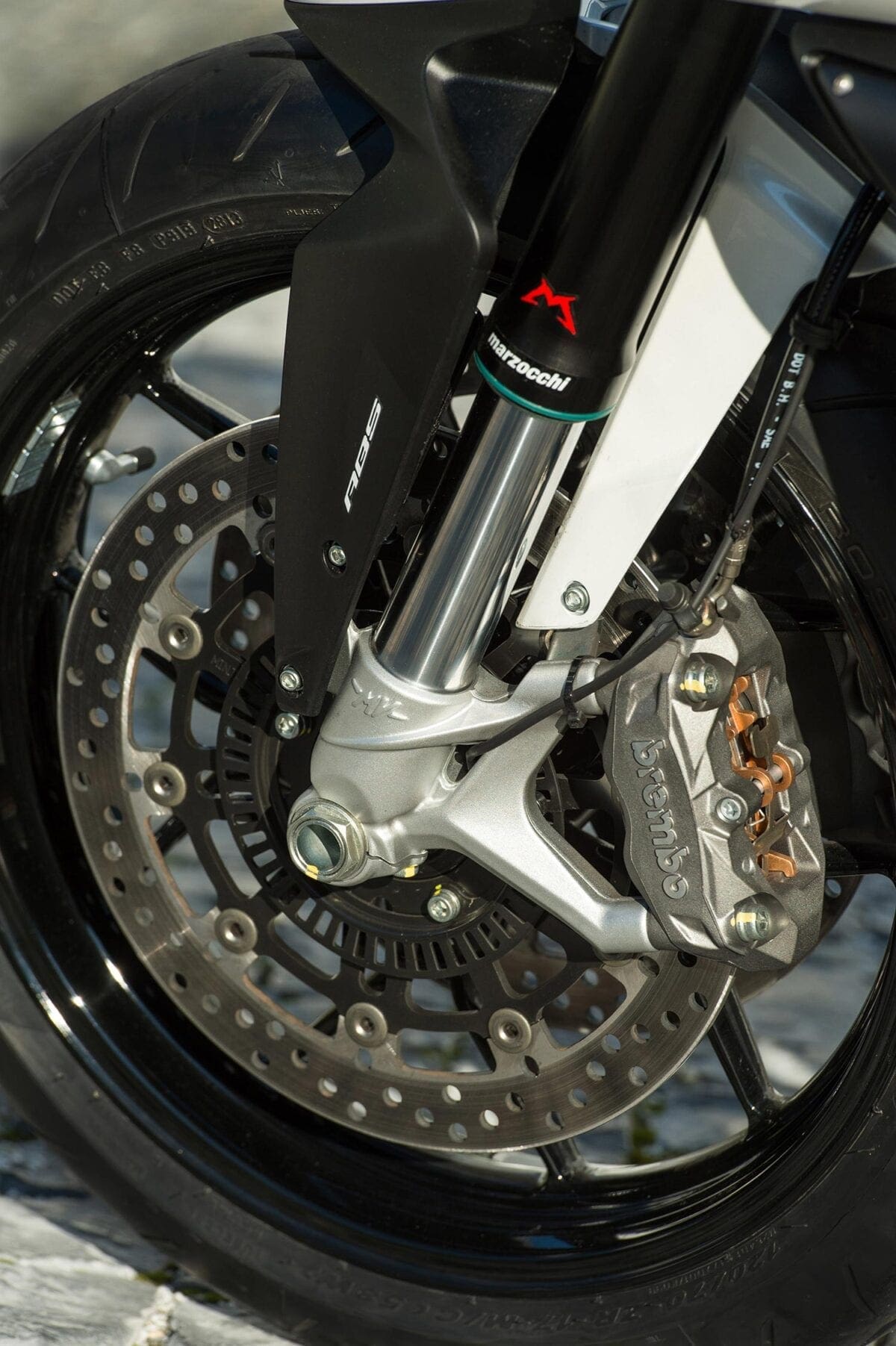 Should I buy one?
If you're looking for an everyday bike with plenty of performance and a famous badge on the tank, then the Stradale could be for you. The fact that it's referred to in-house by MV staff as lo scooterone – the maxi-scooter – gives some idea as to its target audience, for this stripped-down high-barred roadster with a vestigial screen and soft luggage as standard is MV's entry into the commuter sector, as well as a weekend tourer with the necessary credentials to hold its own on a Sunday morning scoot along Racer Road.
It's available in a choice of three colour schemes: white and grey, bronze and grey, and the traditional red and silver.
So what's it like to ride?
In spite of the longer wheelbase, the Stradale's stance is pretty compact. The handlebar grips are quite close to the rider meaning you ride with your elbows bent. The footrests are quite low and slightly set back, which gives a sense of spaciousness. Despite this, there's not a lot of room to move around on the bike, though this isn't the kind of machine on which you'll be looking to deck a knee.
The Stradale's unusual riding position – not just by the standards of MV, for whom this kind of motorcycle is very much new ground – is however improbably relaxing, and the well-padded seat is pretty comfy, with the small, hard backrest set in the back of it providing extra support that is very welcome.
You feel as if you're sitting with your chin waving over the top of the screen – a screen which does a good job of protecting you from windblast at speed, especially as you can adjust it for height over a 50mm range with just one hand, even when on the move, while the tilt angle can be varied by 5° – functional as well as good-looking.
Working the comparatively wide handlebar to flick the Stradale from side to side demonstrated how well MV's engineers have dialled in this bike's handing – it's agile, yet totally stable, whether cranked over round fast bumpy sweepers, or braking hard downhill into a hairpin bend, where I could feel the rear wheel start to lift, before the anti-lift electronic system cut in and resumed normal service. Though the steering has been slowed down via the geometry changes, the Stradale doesn't feel at all heavy or cumbersome, and its slim build means you can split lanes very easily. Brembo brakes haul it down from high speed well, with good modulation on the front discs, even though the calipers are not the one-piece Monoblocs favoured by MV Agusta until now, here replaced by two-piece ones in pursuit of a less extreme riding experience. These work very well within their chosen context.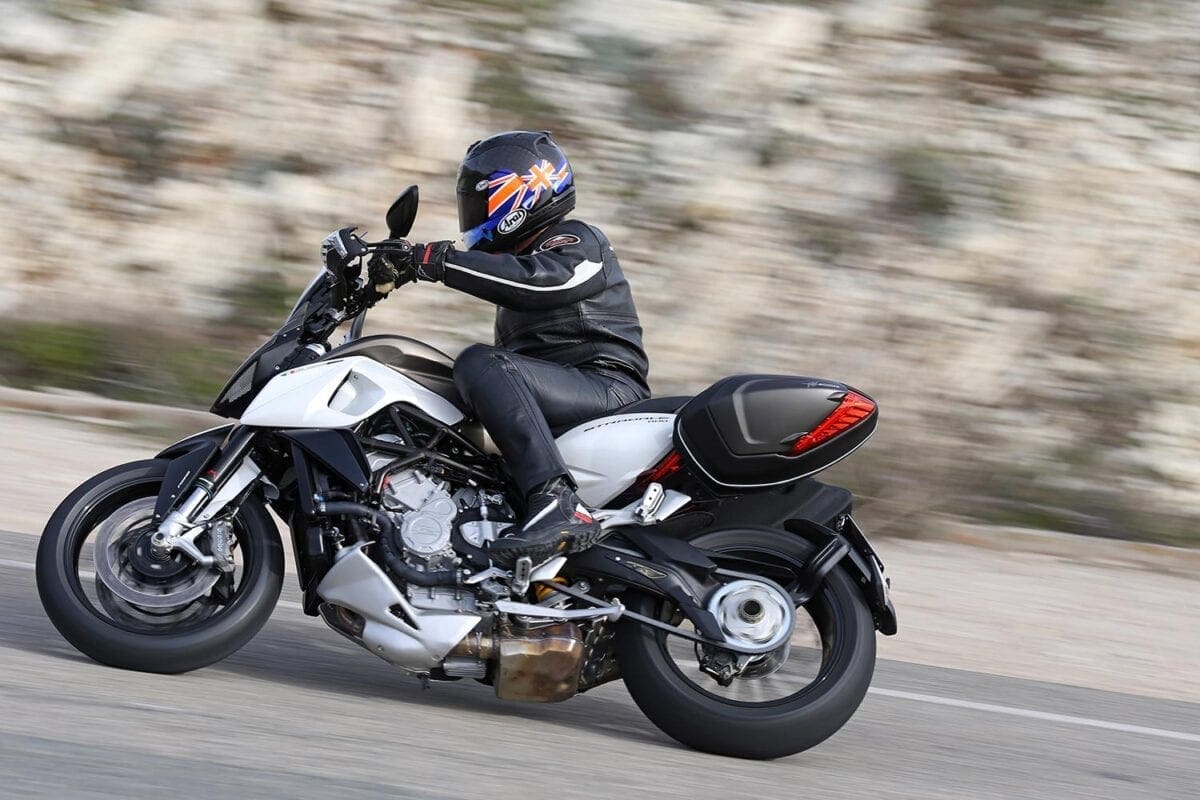 There's good ride quality thanks to the 150mm of controlled wheel travel available at either end of the bike, plus good compliance from the Marzocchi/Sachs suspension combo, which is taut enough in setup to make the Stradale a good country roads ride, while still delivering comfort thanks to the extensive wheel travel. Best of both worlds. The tall stance delivers a good view over cars in front of you and there's a good view rearwards through the traditional-style mirrors.
The dash is simple and tells you the basics including speedo, fuel level, gear selected and time. However, I would have liked a 12v socket to plug in a GPS unit or charge a phone as well. I found the warning lights across the bottom of the dash a bit dim, which often meant you'd cover some distance with your turn lights still flashing, and the clock would have benefitted from being larger and clearer too. Those with larger hands might find the switchgear a little fiddly – I ended up blowing the horn instead of turning on my indicators!
As standard, it comes with two soft 18-litre bags which have an extremely clever security lock that clamps the zipper handles together. They aren't big enough to fit a full-face helmet, but there is an optional 34-litre top box that can be added which would. They aren't waterproof, but MV does supply a protective plastic cover. The way the rear running lights and brake lights are incorporated in the bags themselves is a neat touch, and an industry first.
Overall, this motorcycle is all things to all men, and while for sure the MV Agusta Stradale 800 lends itself to being treated as a twist 'n' go scooterone, it has the kind of reserves of performance coupled with effective handling, that will make it a super-satisfying Sunday morning ride. As Brian Gillen says, this is the motorcycle equivalent of the Swiss Army knife: whatever you want or need to do, the Stradale will be able to do it for you – and with you.
TECH SPEC
MV Agusta Stradale 800
Price: £11,899
Engine: Four-stroke DOHC 12-valve three-cylinder in-line 798cc
Power: 115bhp (84.5kW) @ 11,000rpm
Torque: 57.9lb-ft (78.5Nm) @ 9000rpm
Kerb Weight: 196kg
Seat height: 870mm – 20mm lower option seat sold as accessory
Tank size: 16 litres
Contact: www.mvagusta.co.uk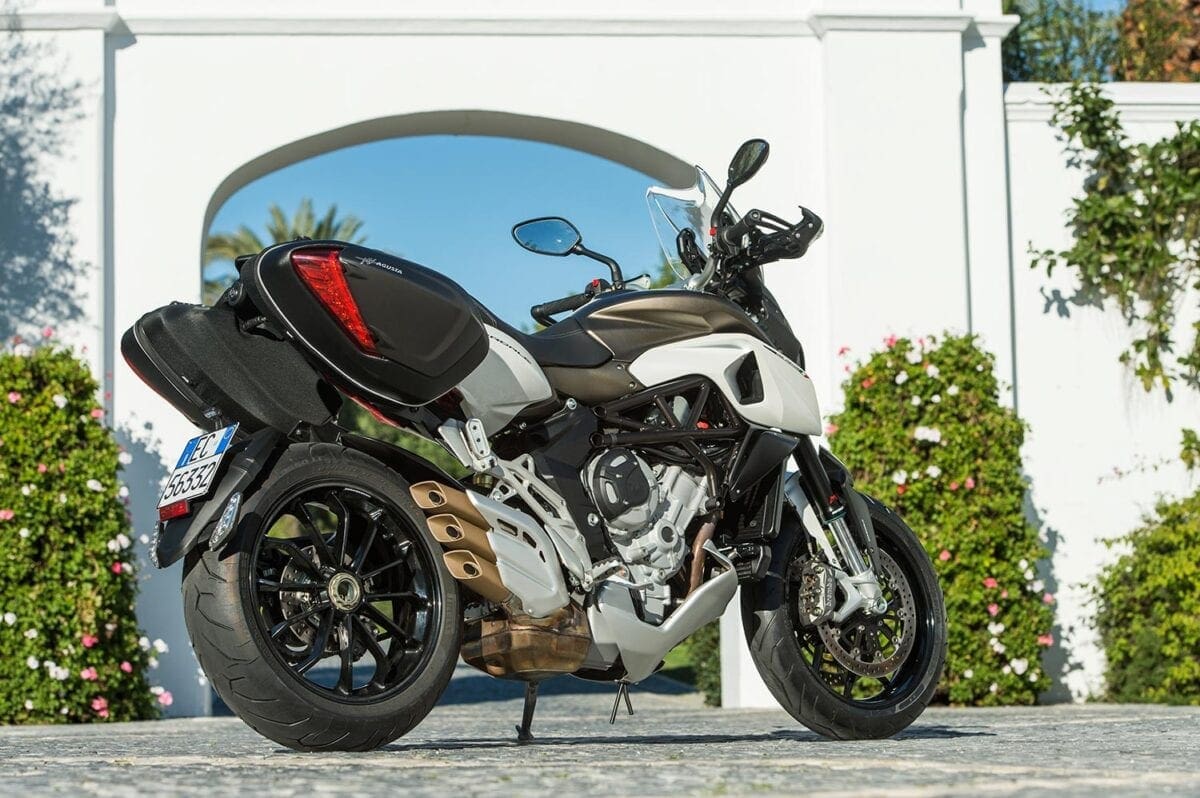 ---
Advert
---
Enjoy everything More Bikes by reading the MoreBikes monthly newspaper.
Click here
to subscribe, or
Read FREE Online
.
Sign-up to the More Bikes Newsletter
Enter your e-mail address below and get regular updates straight to your inbox… You can unsubscribe at any time.