When Honda launched the reborn Africa Twin earlier this year, much emphasis was put on the argument that this was a genuinely off-road-capable big adventurer. Now Honda has put its money where its mouth is and launched a Honda Adventure Centre on the edge of the Brecon Beacons National Park in Wales.
The centre is equipped with a fleet of brand new Africa Twins, and it has secured a huge area of private land with dedicated training areas and a seemingly endless maze of trails. To make sure that the training is of the highest possible quality, Honda has teamed up with David Thorpe, three-times world motocross champion. There are courses on offer for all riders from beginners to experts, and the two-day format of the training allows for plenty of time on the dirt.
Easing off the tarmac
When we received the invite to the press launch of the Honda Adventure Centre, with a chance to experience for ourselves exactly what customers can expect, I was the first to put my hand up. I already have an Africa Twin on long-term loan from Honda, so the chance to see how the bike I love on roads would handle off them was more than appealing. The best thing was that I didn't have to use my own bike. Bikes are included in the price, which makes the whole training more care-free. I can't imagine many people wanting to put their £10k bikes through the drills that we did.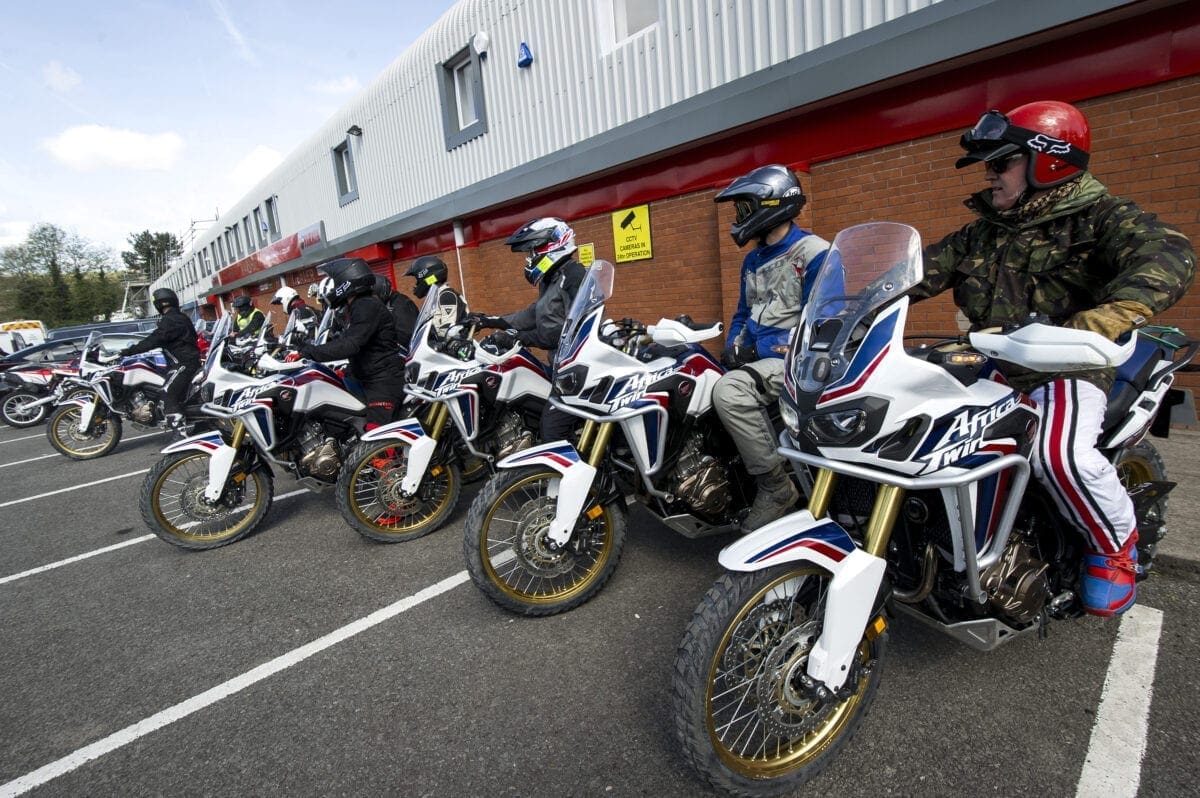 Like many adventure bike riders, I had no real off-road experience prior to attending the training at the Honda Adventure Centre. The thought of skipping a whole range of smaller options in favour of the Africa Twin as my first off-road bike was more than a little daunting. I had done over a thousand miles on the bike on roads, but to take the 232kg, 1000cc bike off-road was a different thing altogether. But I had two full days to get to grips with it, and arguably the best people around to stop me making a complete pig's ear of it.
Safety first
With no off-roading background, I also lacked the suitable kit for such exploits, so I hired mine from the centre. It was all good quality kit, although the flimsy off-road gloves scared the hell out of me. But apparently that's the way to go.
The training itself started at the Honda Adventure Centre HQ in Merthyr Tydfil. Before the engines were started, we were shown how to get on and off the bike the right way, how to ride standing up on the pegs, and how to lift the bike up after a fall. "You will drop it at some point, so better we show you how to pick it up now", Pat, one of our trainers merrily explained. Gulp!
If you go down to the woods today…
After the briefing we jumped on the bikes and headed out to the training ground a few miles down the road. Once there, we started with some basic exercises: riding standing up, getting used to uneven surfaces, testing different torque and ABS settings and generally getting a feel for how the bike handles on dirt.
It was great to have a chance to test the different settings and feel the wheels either lock, find grip or spin depending on the selected settings and the amount of braking and acceleration. Doing all this in a secure environment away from other road users was great, and it helped me feel a lot more confident with the bike's controls and how I reacted to slides and spins. It takes more than a few exercises to get fully relaxed about it, but I felt I was well on my way to appreciating the differences in riding on and off-road.
Pat's prediction of dropping the bike came true pretty soon. We were practising steering the bike while standing on the pegs by going round a slalom course when I suddenly got my clutch, throttle and brakes combo completely wrong and collapsed into a heap. No harm done though, the bikes have crash bars and they're sturdy enough to take a few knocks. My self-confidence took a little longer to recover, but as I quickly found out, dropping the bike is simply part of riding off-road: it happens quite often, so there's no point getting hung up about it!
I had already noticed how easy it was to ride the Africa Twin at crawling speed in city centres. It turns out that the same easy handling and balance are evident off the tarmac too. As long as you managed to get the controls right and not upset the balance by your own movements, the big bike was very happy to turn in small circles, slide and skid without losing control and plough through big puddles as if that was nothing out of the ordinary.
Hitting the trails
After seeing us manage the early drills without too much trouble, David and his team decided that we were of a sufficient standard to hit the trails. With a normal beginners' group the level of difficulty would be lower and the pace slower, but since our group consisted solely of bike journos (many of whom were experienced off-roaders) we had a chance to experience some intermediate trails and drills too. I was conscious that I was an off-road novice, but there was nothing threatening about the trails we rode, and at every point you had an option to refuse a particular drill if you wanted to — and to be honest, I was having far too much fun to say no!
Riding on the trails gave us a chance to put all the newly acquired skills from the earlier drills into practice — or at least try to do that. For me, the beginning was a mixture of highs and lows: at times I felt like I was starting to 'get it', controlling the bike through ruts and bumps, picking the right lines and even adding a bit of throttle for extra fun. But these moments were followed by almost instant tumbles. Confidence seems to be a funny thing: too little and you gently topple over, too much and you crash in style. Finding the middle ground is easier said than done.
Half way there
At the end of the first day everything ached. Balancing on the bike is physically demanding, and having to concentrate all day drains the mind. But as tired as I was, I felt that my riding had improved tremendously, I'd had a great day, and the big bike had been much easier to ride off-road than I had anticipated.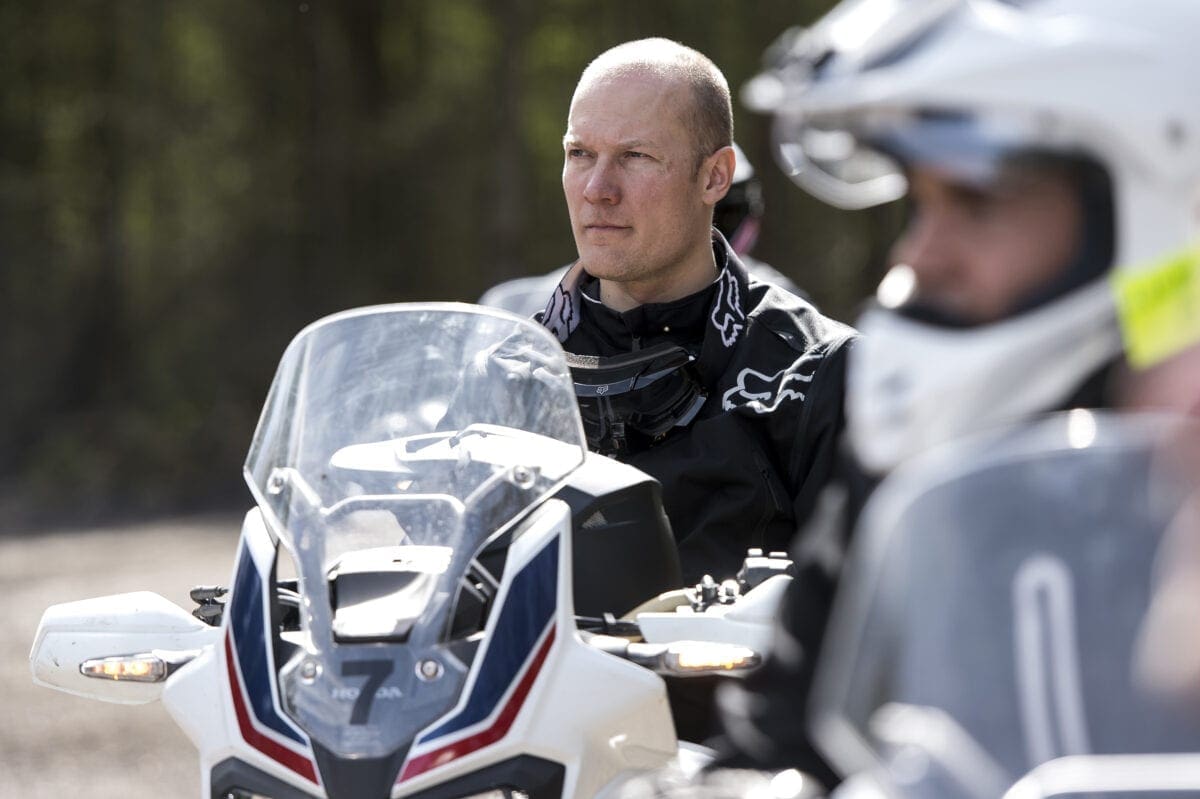 One of my worries before the training had been the size of the Africa Twin. It's a long way down from the 750mm seat, and once that 232kg starts to go there's no stopping it. As it happened, I did indeed drop a few times during the day, but aside from that, the bike felt incredibly nimble and light bouncing around the Welsh trails. In the right hands it's a very capable off-roader.
The suspension is perfect for trail riding. Long travel means that you're unlikely to bottom out the suspension unless you hit a massive crater. On roads I have felt that the suspension could be a little harder, but on the dirt the initial softness in the forks in particular translates into steadier handlebars and easier control.
Being able to switch the rear ABS off gives more control for experienced riders on steep declines, but I felt more comfortable with the ABS firmly on.
Experimenting with torque control (or traction control if you like) was interesting. It was impressive how you actually gained more control going uphill by reducing the level of interference.
Day two
The second day of training built on the skills acquired earlier on. We went for longer rides on the trails and instead of stopping to analyse each section beforehand, we ran through them without stopping. It was brilliant to be able to ride (fairly) confidently over terrain that a day ago would have been a complete no-go zone. When you start from nothing, the progression is pretty rapid.
As day two went on we attacked more demanding trails and bigger hills, and added a bit more speed to our riding. We were lucky to have dry riding conditions and glorious sunshine for the duration of our training. The dust cloud kicked up by a dozen Africa Twins on the move must have been seen miles away.
Towards the end of the day we also had a chance to try a few different bikes. I had a go on the DCT version of the Africa Twin (like the one I have on loan), which turned out to be very pleasant in this environment too. The fact that you don't have to worry about the clutch made riding a lot simpler. I also tried the Honda CB500X, the adventure-styled 500cc bike, but to be honest I preferred the Africa Twin on the trails. After a litre machine, the smaller bike was lighter to manoeuvre, but seemed to lack power and needed more gear changes.
Is it for me?
The level of support and the expertise of the instructors is impressive at the Honda Adventure Centre. There was always someone at hand if you had questions, and when we were riding the trails there were plenty of instructors mixed in with the group to make sure everyone was ok and knew where they were going. Our training was slightly modified to fit the skills levels of the group, and it was easy to see that the equipment, staff and the setting were able to accommodate any level of rider.
As an off-road novice I was amazed how quickly you can improve under good instruction, and how much fun you can have from the start. I had never been particularly interested in trail riding before, but after this training I've definitely got the dirt bug.
Honda Adventure Centre offers two-day courses for Levels 1 (beginner), 2 and 3. Prices start from £499 including two days of training on the centre's bikes, three meals and loads of off-roading fun. For further information, visit hondaadventurecentre.com
---
Advert
---
Enjoy everything More Bikes by reading the MoreBikes monthly newspaper.
Click here
to subscribe, or
Read FREE Online
.
Sign-up to the More Bikes Newsletter
Enter your e-mail address below and get regular updates straight to your inbox… You can unsubscribe at any time.